With Dr. Seuss Day right around the corner, I'm excited to share these inspiring Dr. Seuss book quotes! These are great to share with kids on this special day.
Dr. Seuss has played a special role in all of our lives. Whether it be the nostalgia of our childhood or reading the fun books to our children or grandchildren.
If anyone deserves to be celebrated, it's Dr. Seuss. These books have taught our children how to read, count, and identify colors. From lessons to funny stories, Dr. Seuss always seems to delight the reader.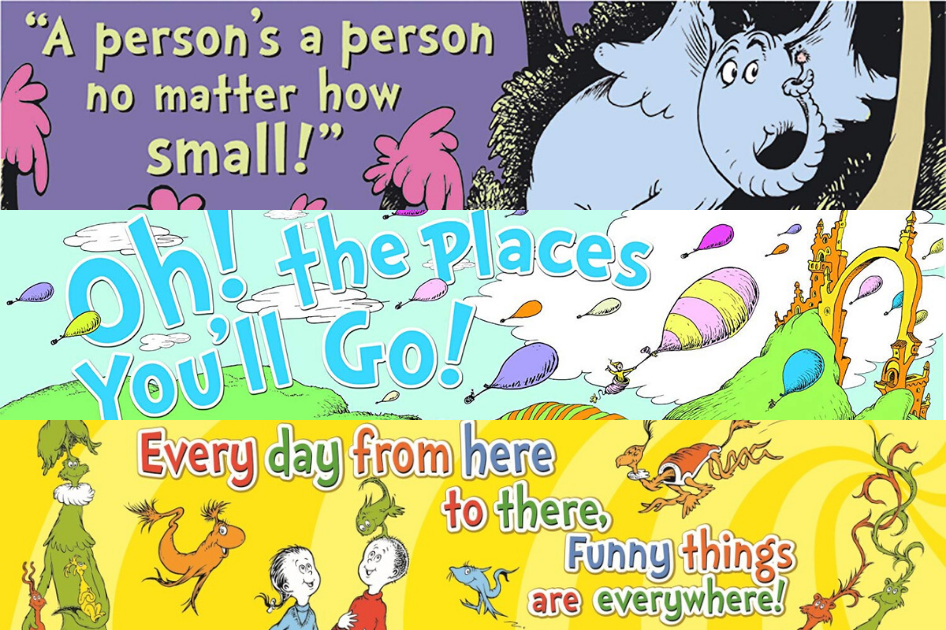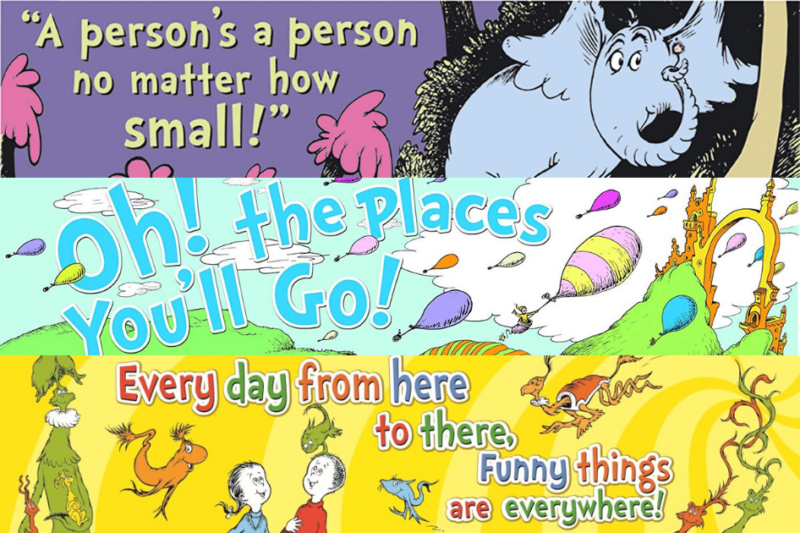 Inspiring Dr. Seuss Book Quotes for Kids
These quotes from Dr. Seuss books are perfect to share in notes or captions on Dr. Seuss Day, March 2, 2019.
I love the idea of writing your favorite Dr. Seuss book quotes on slips of paper and pulling them from a hat. Then, you can discuss the meaning of the quotes with your children.
1. "You're off to Great Places!
Today is your day!
Your mountain is waiting,
So… get on your way!" – Dr. Seuss, Oh The Places You'll Go!
This is a great Dr. Seuss quote to share with children before school, especially on the first day! In fact, if there's time – I'd read the whole book!
2. "A person's a person, no matter how small." – Dr. Seuss, Horton Hears a Who!
It's important to teach children about equality and this quote is a wonderful start. Teach kids that everyone has feelings and we're all the same on the inside – the outside doesn't matter.
3. "Unless someone like you cares a whole awful lot,
Nothing is going to get better. It's not." – Dr. Seuss, The Lorax
This quote is perfect for helping children understand the importance of standing up for what they believe in.
4. ""You'll miss the best things if you keep your eyes shut." – Dr. Seuss, I Can Read With My Eyes Shut!
This quote can be interpreted in many ways, once of which can relate to children with their faces stuck on a tablet or on the television. Use this Dr. Seuss book quote to help children understand the importance of being present.
5. "You'll get mixed up, of course, as you already know. You'll get mixed up with many strange birds as you go. So be sure when you step. Step with care and great tact and remember that Life's a Great Balancing Act." – Dr. Seuss, Oh, The Places You'll Go!
This is one of my favorite Dr. Seuss book quotes as it teaches children to act with kindness, no matter how strange or difficult the situation may be.
You may also like: 100 Children's Books to Read in a Lifetime
6. "It's not about what it is, it's about what it can become." – Dr. Seuss, The Lorax
This is another beautiful quote and it helps children understand that we are everchanging beings that make mistakes and make changes.
7. "I know, up on top you are seeing great sights, but down here at the bottom we, too, should have rights." – Dr. Seuss, Yertle the Turtle and Gertrude McFuzz
This is another inspiring quote by Dr. Seuss that can help children understand the importance of treating everyone with respect!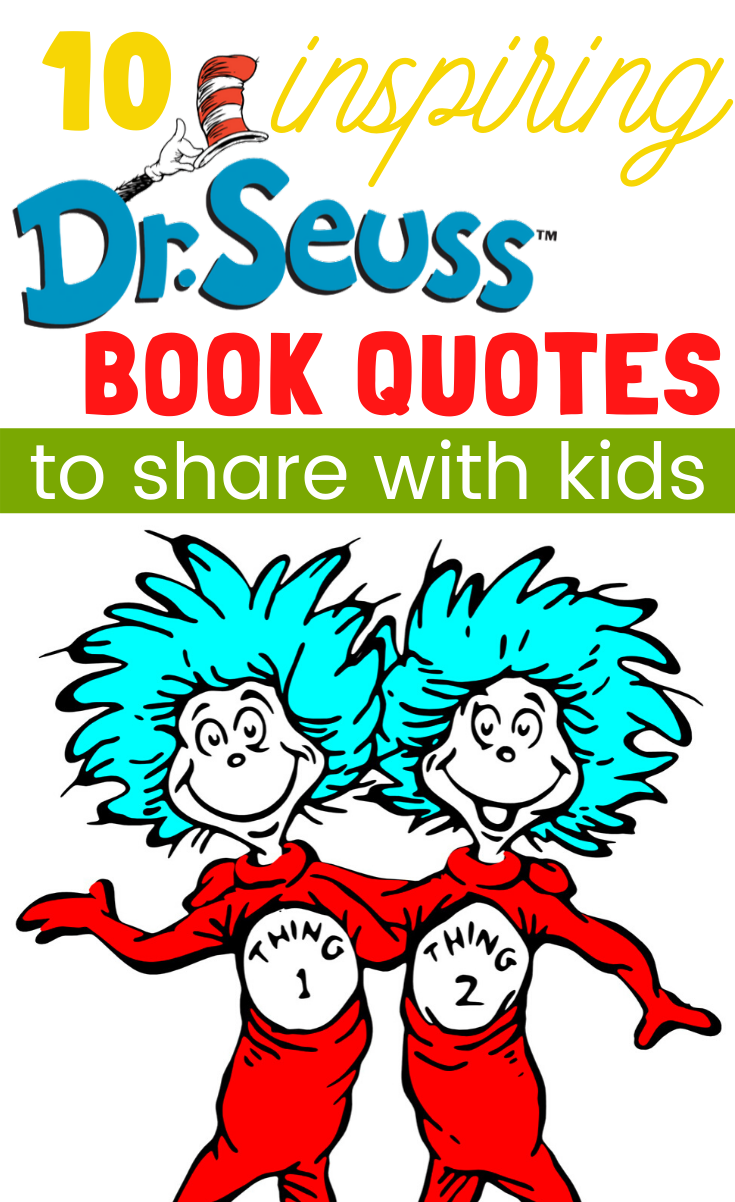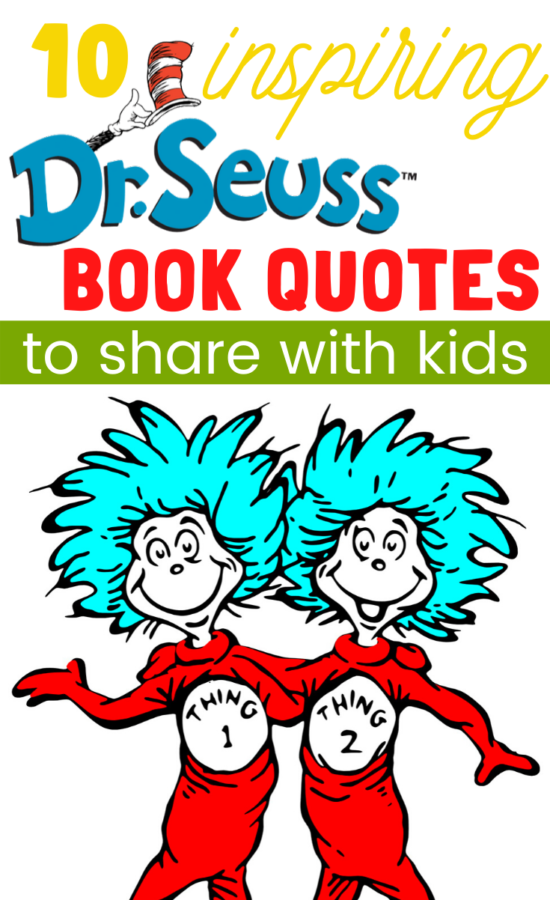 8. "Be grateful you're not in the forest in France
Where the average young person just hasn't a chance
To escape from the perilous pants eating plants
But your pants are safe, you're a fortunate guy
You ought to be shouting how lucky am I" – Dr. Seuss, Did I Ever Tell You How Lucky You Are?
I think a lot of children these days need to hear this because in a world where social media is king, kids have a hard time appreciating what is right in front of them. This book quote from Dr. Seuss can remind them that things could be much worse.
9. "I know it is wet and the sun is not sunny, but we can have lots of good fun that is funny." – Dr. Seuss, The Cat in the Hat
You know I love positivity quotes and this is a great one! It's so very important that we remind our children that they make their own fun.
You may also like: How to Teach Children Empathy
10. "For a host, above all, must be kind to his guests." – Dr. Seuss, Thidwick the Big-Hearted Moose
This is a very simple reminder to be kind to anyone who visits your home.
If you're looking for more ways to celebrate Dr. Seuss Day, visit She Saved for Dr. Seuss inspired recipes.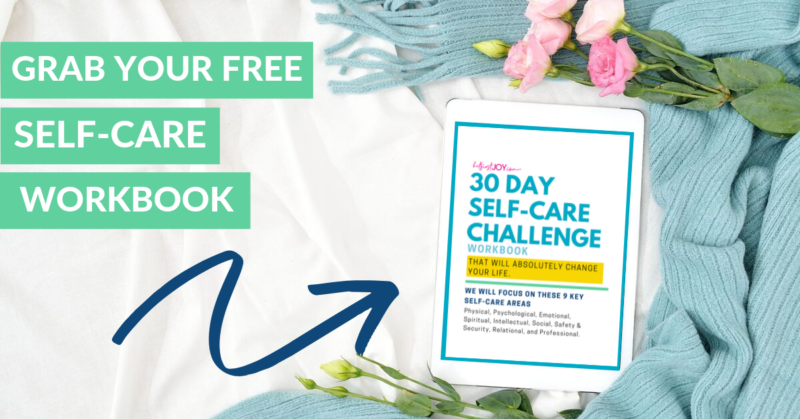 DISCLOSURE
As an Amazon Associate I earn from qualifying purchases. This post may contain affiliate links and/or promotional products, all opinions expressed are that of But First, Joy only. Read my full disclosure.