This post was sponsored by RITZ as part of an Influencer Activation for Influence Central and all opinions expressed in my post are my own.
Ever since I moved in with my husband, I dreamed of the day when we'd host parties. That dream became a goal when we purchased our first home last January. As fun as it sounds, hosting is really intimidating! Think about it: You have to have the cleanest home, be appropriately dressed for photos, plan activities to keep the guests entertained, and then, most important part of hosting, you'll need to have a food spread that will be devoured within seconds.
As Game Day approaches, my honey and I are planning a home party with just the 3 of us. We get to skip all of the difficult stuff, like getting dressed, and spend all our time cheering on our favorite team & eating like we're starving. With that said, I knew I needed to practice my appetizer-making skills. I decided to surprise my husband with our favorite snack: a charcuterie board. Meat and cheese plates have always been our favorite and RITZ Crisp & Thins have the perfect amount "crunch" that every charcuterie board needs. I must say, I was pleasantly surprised with how beautiful my spread turned out!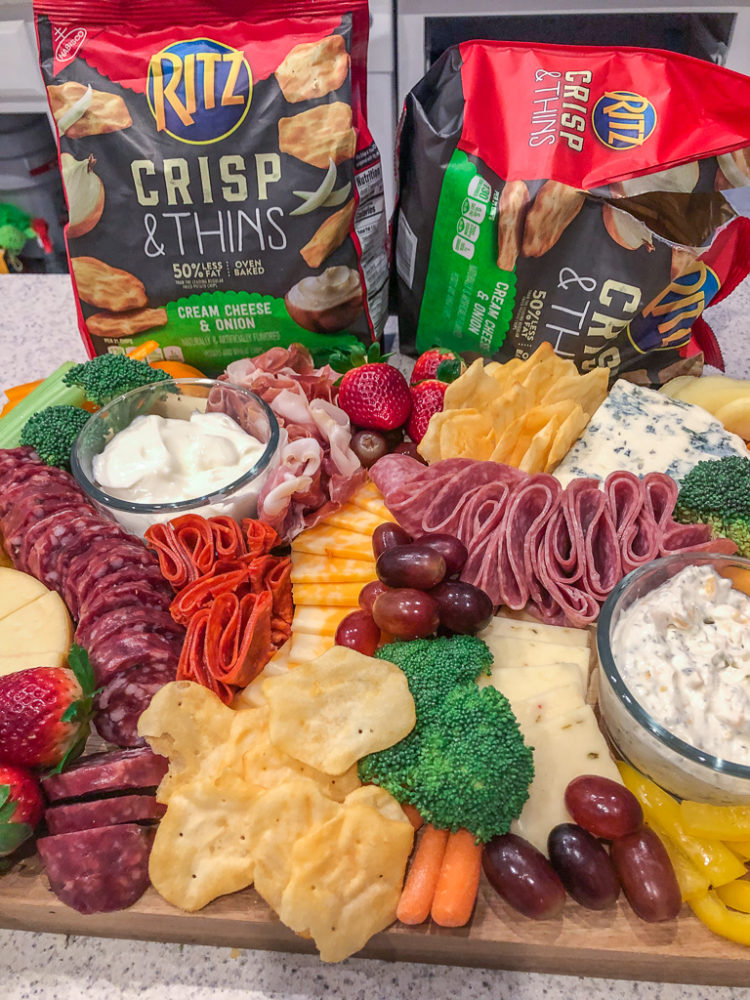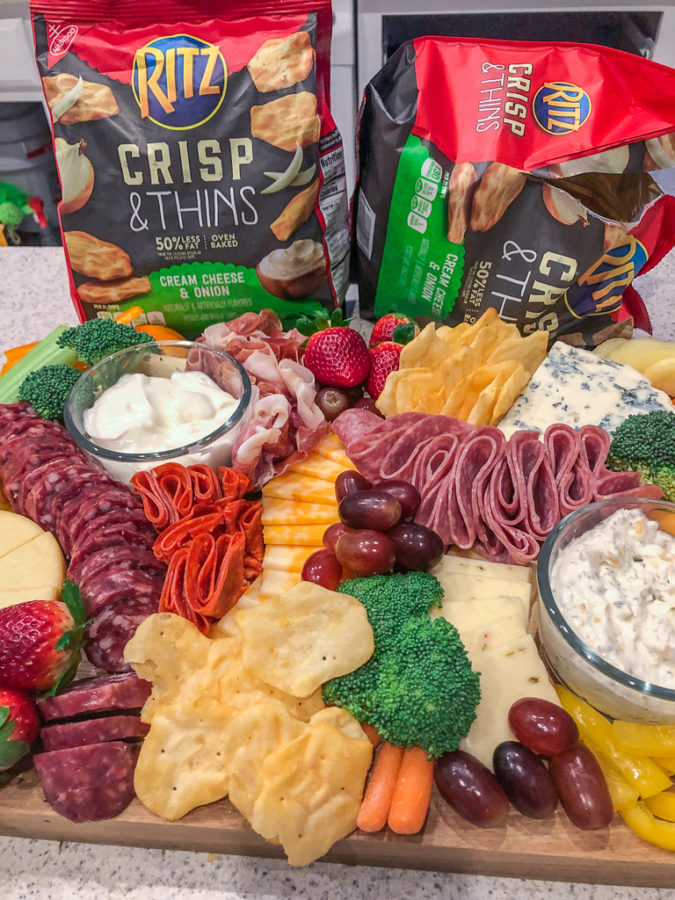 Easy DIY Charcuterie Board for Game Day & other Home Parties
For the past few months, I've drooled over meat and cheese plates on Instagram. After much research, I decided it was time to put all my effort into making one that's perfect for our family! I hope you'll find this DIY charcuterie board as delicious and easy as I did!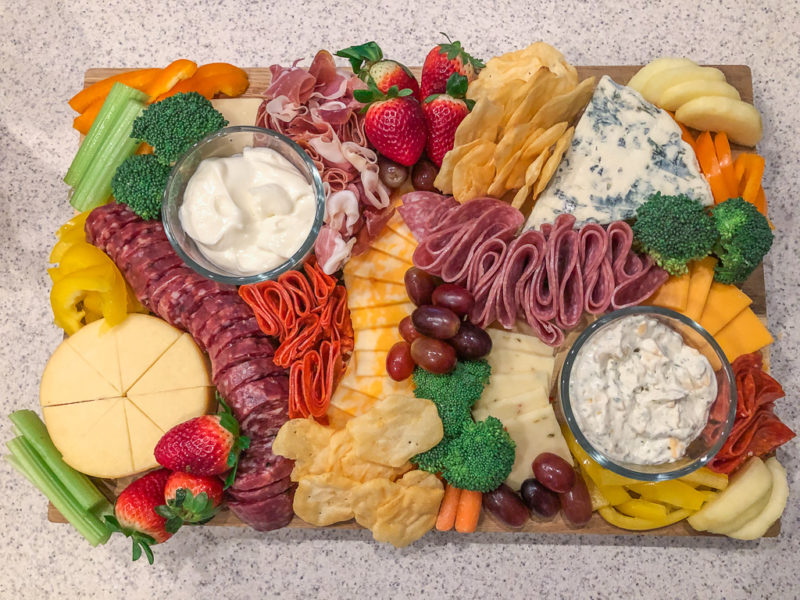 What You'll Need
A wooden cutting board or a serving platte of your choice
Small bowls for dipping sauces
Knife
Charcuterie Board Ingredients
Sweet dipping sauce for fruit and sweet peppers
Savory dipping sauce for veggies, meat, and cheese – I found a yummy store brand bacon, cheddar, ranch dip.
RITZ Crisp & Thins Cream Cheese & Onion (or RITZ Crisp & Thins Sea Salt if you want less flavor) – Check the Game Time product racks at Walmart or visit the cracker aisle!
Multiple cheeses: I used blue cheese, gouda, pepperjack, colbyjack, and cheddar.
Multiple precooked meats: salami, pepperoni, sausage, and prosciutto
Crunchy veggies: celery, carrots, broccoli, sweet yellow & orange peppers (this are great for both dips)
Fruits for dipping: grapes, apple slices, strawberries
How to make a charcuterie board
Place small dipping bowls on opposite ends of cutting board.
Fill bowls with the sweet and savory dips of your choice.
Cut cheeses as desired and place all cheeses on board in different locations. Try to spread them out and separate colors.
Slice meats as needed. Fold large, thin salami/pepperoni slices into fourths and line them up between dipping bowls and cheeses. If you want to have fun with it, create shapes with the meats!
Add veggies to different locations on the board. Again, spread out colors and save space for other ingredients.
Add RITZ Crisp & Thins to multiple locations on the board. You can stack them or line them up. Don't forget to include a bag of RITZ Crisp & Thins on the side to refill later!
Fill in open spaces with fruit and don't be afraid of stacking on top of meats and cheeses.
Be sure that all spaces on your board are nice and full! Any open spaces you have, can be filled with more fruits, veggies, or RITZ Crisp & Thins!
I'm officially allowing you to play with your food. Try different setups or copy mine!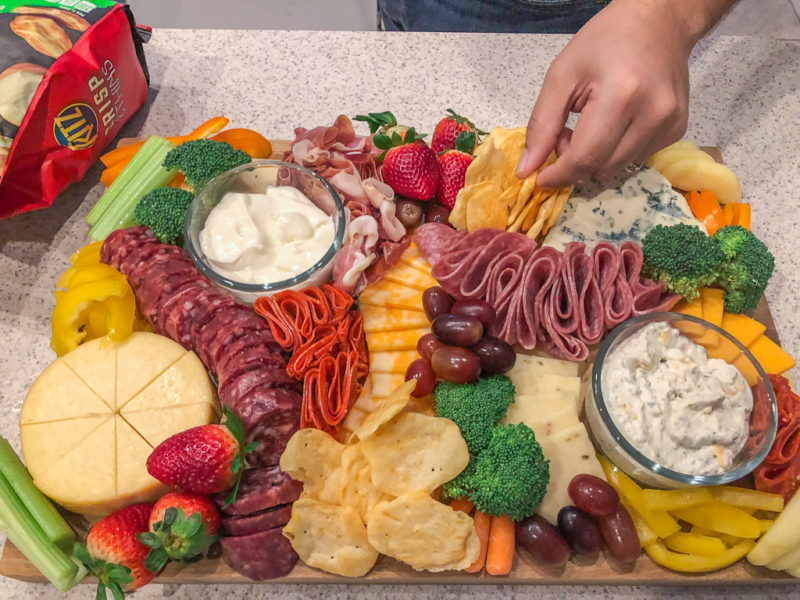 RITZ Cash Back offer with iBotta!
I highly recommend RITZ Crisp & Thins for your DIY charcuterie board. I love stacking my favorite meat & cheese on them or dipping them in a savory sauce. They are thin and oven-baked, making them perfect for snacking alone, too!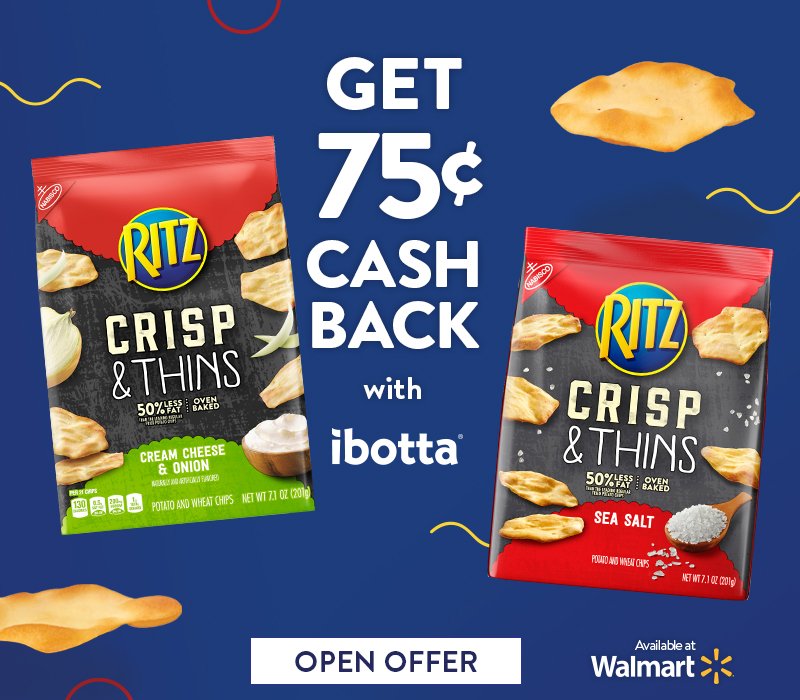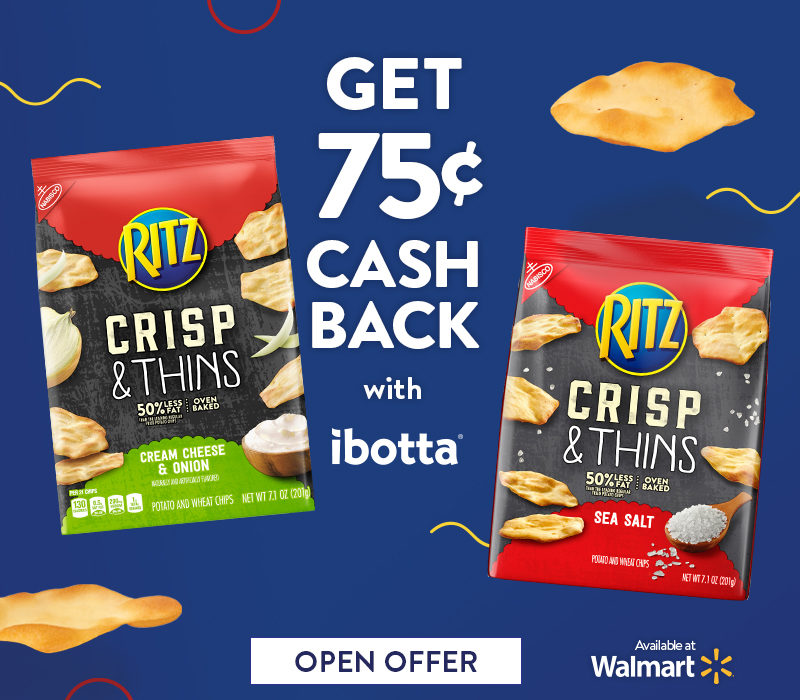 RITZ CASH BACK OFFER: Using the ibotta offer, customers get $.75 cash back when purchasing RITZ Crisp & Thins at Walmart! The ibotta offer is available for 7.1oz varieties!
Enter the RITZ Crisp & Thins Game Day Sweepstakes
Enter to win 1 of 7 Walmart Gift Cards by using the giveaway tool below! 6 winners will receive a $50 Walmart Gift Card and 1 will win a $200 gift card! Good luck!
RITZ Crisp & Thins Game Day Sweepstakes
I-C will randomly select winners from all program entries and will facilitate fulfillment of the 7 winning prizes.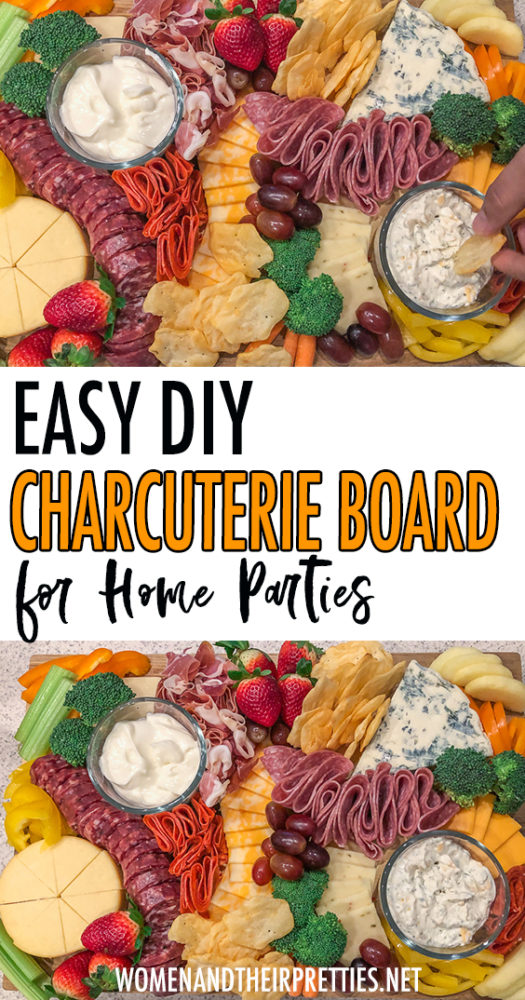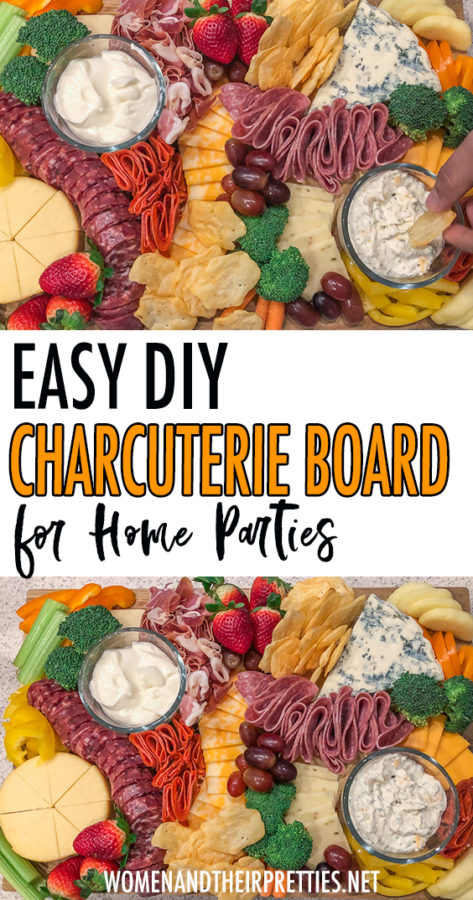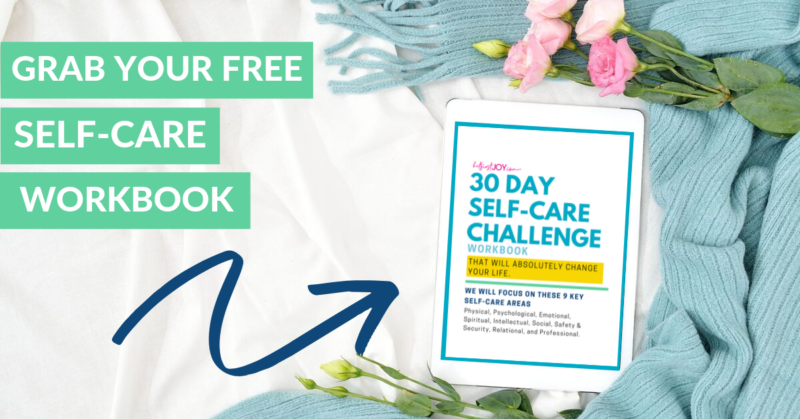 DISCLOSURE
This post may contain affiliate links and/or promotional products, all opinions expressed are that of But First, Joy only. Read my full disclosure.