Learning for babies begins at home. If you're a parent looking for educational toys for babies, then I've got you covered with a list of unique educational gifts for babies under 1 year old, such as toys, games, and books!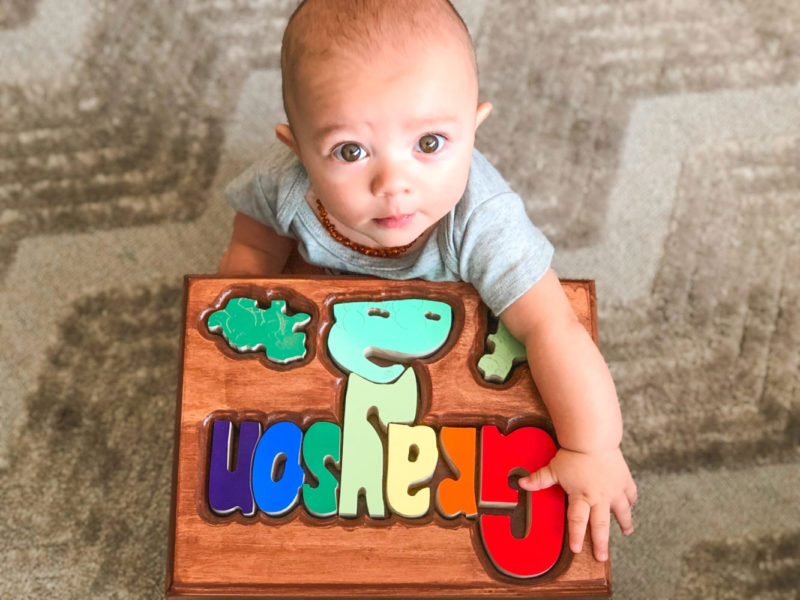 I can hardly believe that my baby boy is already 6-months-old. It feels like it was just a month ago that I was holding this boy in my arms for the first time. As I watch him day in and day out, it really sets in that this boy is growing up. The more his mind expands, the more I feel like I should be doing as his mother. There's only so many things I can do to keep his attention on my own. I'm not afraid to admit when I need some help and I know other mamas out there who feel the and way. That's why I've teamed up with some of the best brands to bring a Gift Guide for mamas who are dedicated to teaching their babies as much as they can at home. 
The educational toys & more in this guide are great for babies under 12 months old. I specifically chose this age range because I personally hit a dead end when searching for educational materials for my son. It took awhile to find everything here so I hope this helps other mamas shop for their babies all in one place! 
Educational Gifts for Babies under 1 Year Old
1. Hollow Woodworks Personalized Puzzle Stool (6+ months)
Hand-Eye Coordination is so important at this age. Why not give him or her a customized gift that teaches coordination, colors, shapes, and spelling?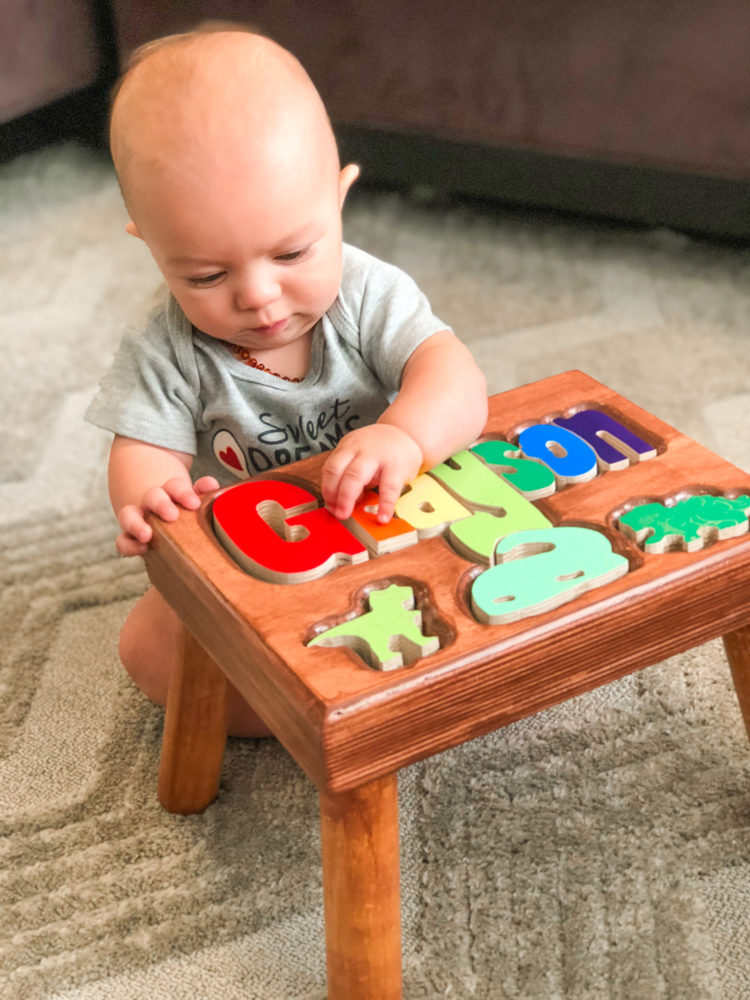 At Hollow Woodworks, you can fully customized a stool for your little one. Shoppers can choose names, wood color, and themes, such as dinosaurs, space, flowers, etc.
2. Hello Magazine from Highlights (0-2 years)
Get it here → Highlights.com, $3.33 per issue
3. 
Paddington Jack-in-the-Box (6+ months)
This musical Paddington Jack-in-the-Box provides countless opportunities to develop sensory stimulation and hand-eye coordination as the crank turns and the lid pops open to reveal a 5" soft plush Paddington puppet inside! Paddington is made of soft velour with embroidered details. Playing the traditional nursery rhyme "London Bridge is Falling Down" and decorated with detailed designs on all sides of the box, this fascinating cause-and effect toy helps children to develop both auditory and visual awareness.
4. 
Egon The Elephant Fabric Book (6+ months)
Egon the elephant takes his little picture book friends with him to Africa so they can get to know the rhino, the giraffe, the lion, and the other animals! Great soft picture book fun that teaches and helps develop tactile functions. Egon can be passed through the two funny loopholes of the pages.
5. 
GiftLit Cuddle Collection for Babies (0-12 months)
Make story time even more special with this monthly subscription box of sturdy board books that come with a stuffed animal character from the book. You can customize this collection by swapping out any selection with a book from our catalog. This book and plush combination is a unique baby gift perfect for a Baby Shower or baby welcome gift. Dragons, and Penguins, and Bunnies, Oh My!
Get it here → GiftLit.com, prices vary depending on subscription preference
6. 
Teach My Baby Learning Kit (6+ months)
Teach My Baby is the multi award-winning all-in-one learning kit for babies 6 months+. Full of activities for infants and babies as well as screen-free, the kit has everything necessary for teaching baby the basics! Teach My Baby is divided into four sections to teach babies – First Words, First Numbers, Self and Sound & Touch. From finger puppets and books to blocks and puzzles, the kit is full of learning toys for babies that will give your mini scholar a head start. Teach My Baby promotes fine motor skills, hand eye coordination, parent-child interaction and self-esteem.
7. 
Learning Lovey Blanket (0+ months)
8.  Skip Hop Explore and More Baby's View 3-Stage Activity Center (4+ months)
Get it here → Amazon.com, $99.99
Do you have Education toys for babies that you'd like featured in this guide?
If you have any other gift ideas that you think make the cut for this Educational toys, games, and books for babies under 12 months send me an email joyce (at) womenandtheirpretties.net or comment below!