I am probably the biggest fan of Family Game Night than anyone my age. I have always found so much joy in it. Maybe it is because it makes me nostalgic of my game-filled childhood or maybe it is my competitive nature. Either way, if you ask me to play a board, card, or any other home game, chances are I will drop whatever I am doing to play. It is a blessing and a curse, I tell ya! I cannot control myself. "Hello, my name is Joyce and I am addicted to Family Game Nights." Whether it is with my friends, family, or my boyfriend, I am always pressuring others to play games with me! They are just so fun! With that said, I bring to you another fantastic family game from a company with a ton of unique and creative games!
About Endless Games
Endless Games offers card games, dice games, party games, word games, strategy games, trivia games, survey games, and pop culture games for everyone. Every game is uniquelly creative with it's audience in mind. Do not expect to be disappointed or confused when playing their games; all games are tested and approved by the "Gamesmen". The Gamesmen are the founders, Mike Gasser and Kevin McNulty, and the game inventor, Brian Turtle. Can you believe this fantastic company is run by 3 men with a dream? They have created games that provide endless fun to the homes of families everywhere!
They have a variety of games that are new and/or classic! You have to check out their fun games! They are perfect for this holiday season.
The Oddly Obvious Game
This game was recommended to me as the game inventor's personal favorite! This game is for ages 12+. It is a VERY clever and fun group game! It is really fast paced and keeps your on your toes! You must think QUICK and think CLEVER! It is a read between the lines type of game. This is how it works: There are a ton of cards. On one side of the card is a group of words. The other side of each card has an A Round and a B Round. You choose which round you are going to play. One person is chosen to be a host. This person will be holding the card up, facing the group of words toward the group. On the side of the card that the host is reading, are a list of clues with clever wording. The host reads off the clues and the group of players can shout out which word matches the clue. The first person (or team) to pick the correct answer, wins that card! Only 1 guess per player, per clue. The point of the game is to get 5 cards. After all of the 5 tokens have been won, that round ends. You continue on until one person, or team, has won 5 cards!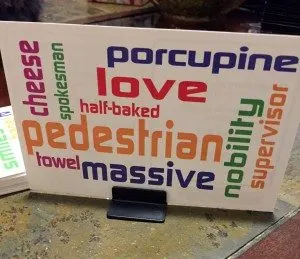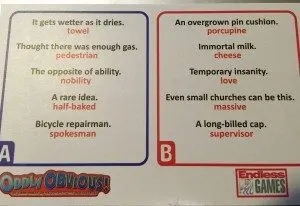 I love this game because it is so clever and thought out. The clues are so clever that they make you laugh. For example, one of the clues is "It gets wetter, as it dries" and the answer is "towel". haha. You may think at this point, "Oh that will be simple," but it is not so easy. When you have a group of people around you that could answer at any moment, the pressure is on! This is a really FUN game! I would really suggest this for a family with teenagers or for a party game! I have never played a game like this before, but I can say that I will be playing Oddly Obvious anytime we have 3 or more people in our home!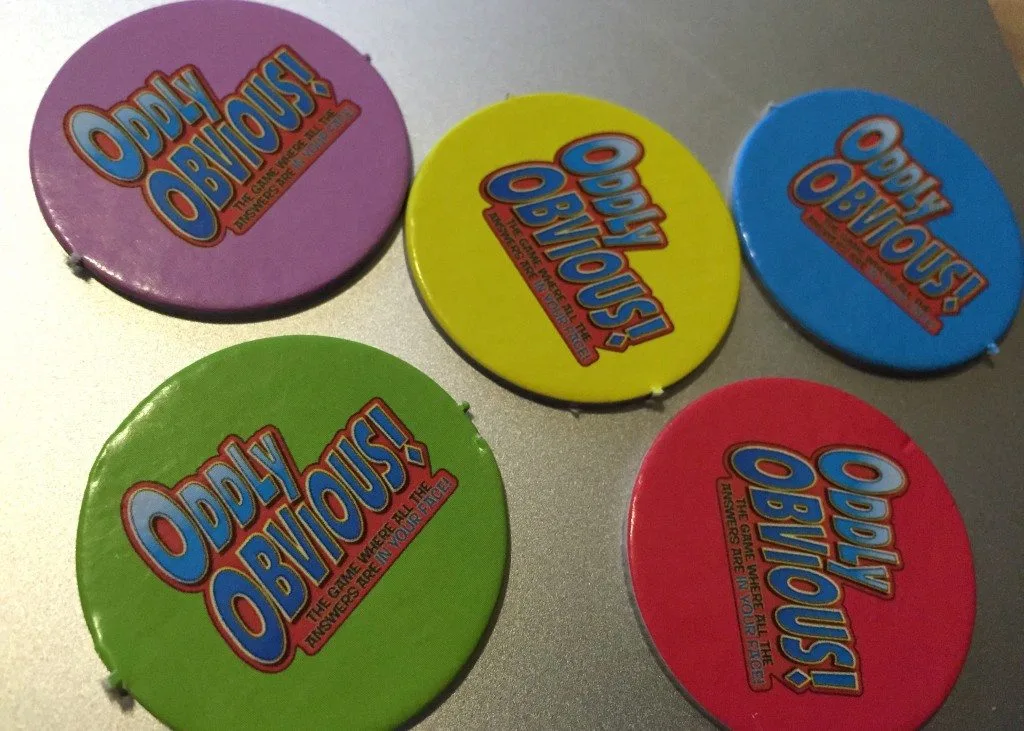 Purchase and Connect
PURCHASE Oddly Obvious by Clicking HERE

Visit EndlessGames.com to see all of their games
Connect with Endless Games on Social Media: Facebook / Twitter