Winning Moves has a variety of classic games, reinvented classic games, and new games! They have children's games and family games! They even have games that can exclusively be found on their site. The type of games range from board games, to card games, to puzzles. The games that are created by Winning Moves, like the Splash Cards, are incredibly clever and unique! They have a close relationship the Hasbro, so they sell very popular games such as Yahtzee, Pass The Pigs, and Pay Day.
Games are one of my FAVORITE gift to give and receive! I love unique games, classic games, AND new twists on the classic! I got one of each from Winning Moves and I am super excited to share my experience with you!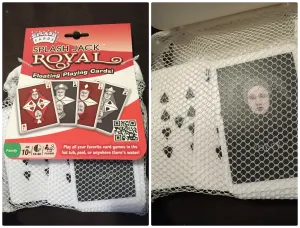 I will start with the Splash Cards game created by Winning Moves. They have 4 different types of Splash Cards. I chose the Splash Jack Royal. What are Splash Cards? They are light weight playing cards that can be cleaned and PLAYED in the water without damaging them! These are the PERFECT games for a hot tub or the pool! I chose this one out of the 4 because I love Poker! Check out the video below to see how great they are!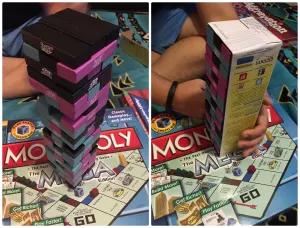 My boyfriend and I decided to have fun and play a couple of the games one night! First, we played Throw 'N Go Jenga. This is a twist on the regular Jenga. In the classic version of Jenga, you take turns pulling any blocks that you choose without the tower of blocks falling. In Throw 'N Go Jenga there are 3 different colored blocks. You roll a dice to see which block or blocks you have to pull. It is so much fun! My boyfriend and I were laughing the entire time while playing this game. I love that the die tells you to remove an end piece, middle piece, or more than one block at a time. It's really fun and an awesome game for the entire family!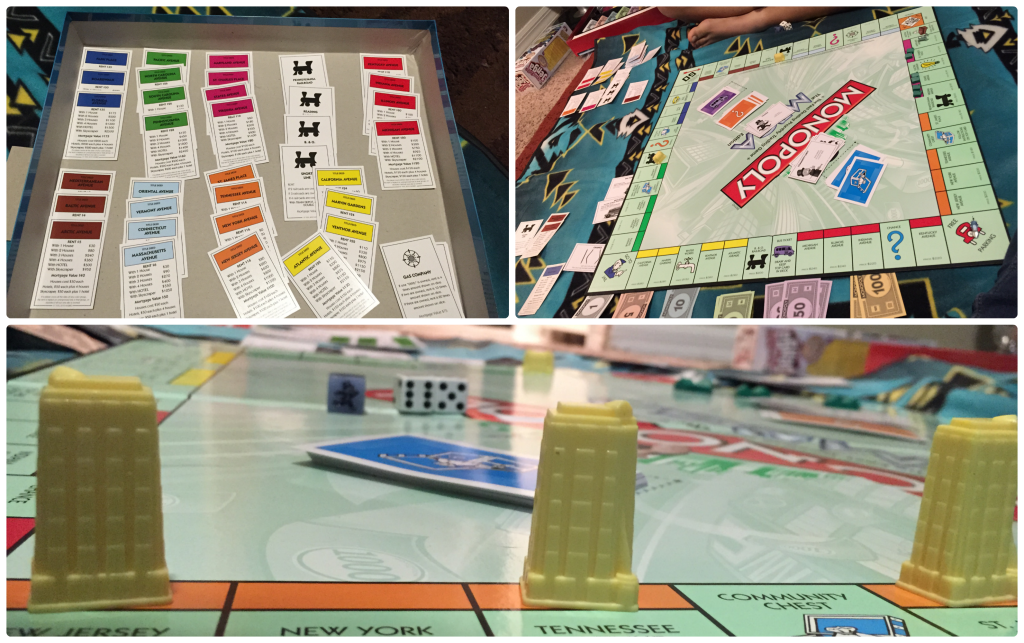 The next game we played was Mega Monopoly. I've always wanted to play a different version on Monopoly. This game exceeded our expectations. We actually like it better than the classic Monopoly! It is so much fun. There are 9 new properties, 1 new of each color and 1 new utility. There is a new money bag token too! This version of Monopoly has 3 dice to roll. It has the 2 original dice and an extra die. The 3rd die has #s 1-3, the monopoly man, and a bus on it. Each roll has different rules. It is so much fun! There is also a new deck of cards, called "Bus Tickets" these bus tickets allow you to choose not to roll and instead move to any spot on the side of the board that you are on. One of my favorite changes in the new game is that you can purchase Skyscrapers for your properties, as well as Train Depots for the train stations that you own! Oh and there is a $1000 bill now!! It is such an awesome and fun twist on the original Monopoly! I can't wait to play this with a group of people!
The last game that we got was the game Aggravation. You can never get enough of this classic game!
Overall, Winning Moves is a great company to purchase games from. They are unique, professional, and reasonably priced. Head over to www.winning-moves.com to see what games you'd like to play!
Also, connect with them on Social Media: Facebook / Twitter / Youtube / Pinterest