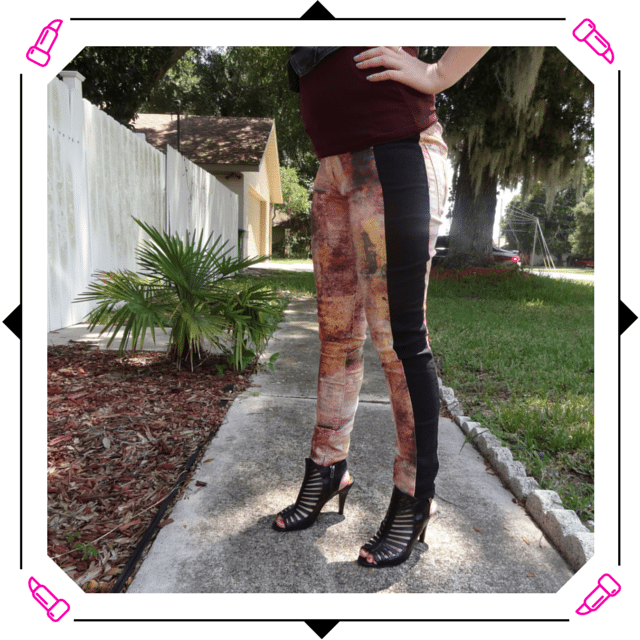 I have a creative soul. Art inspires me. All forms of art inspire me, whether it's music, painting, photography, or writing, I just love the artistic talents of others. I think it's beautiful for someone to follow their happiness by creating art. I am all about supporting small businesses and supporting an artist. I've had shirts that were designed by artists before, but never jeans. I was so excited to see the gorgeous FIGI Jeans that have different collections designed by different contemporary artists. They don't only have jeans though! Each collection has a variety of clothing items. I have to tell you about the FIGI jeans from the John Rossi Collection!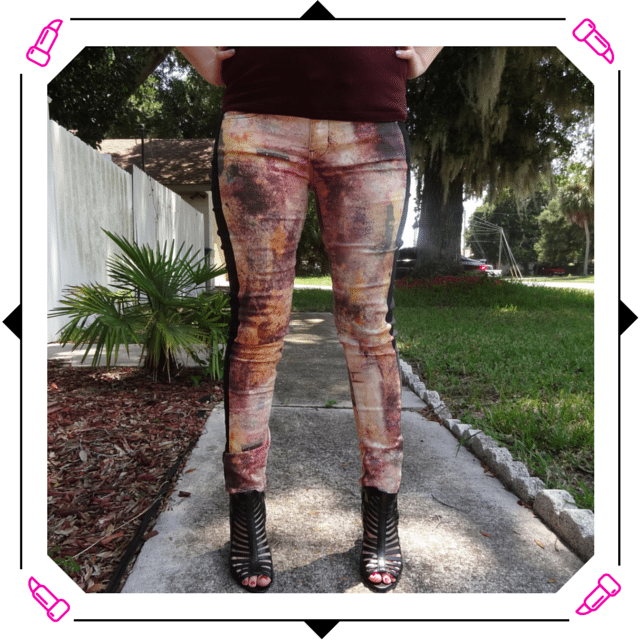 The John Rossi Collection features printed denim bottoms, graphic tee shirts, button up denim shirts and denim jackets. The jeans that I chose from the collection really stood out to me. The beautiful bright colors on top of the black make the jeans pop. These are the FIGI Milky Way jeans and they are a slim fit. The name is interesting because they really do resemble the Milky Way, with the white, black, and blended colors. Something especially unique about the design on the Milky Way jeans is that each leg has a thick black stripe down it. I think that these are absolutely fabulous! I personally think that these look great with solid color tops. I think that a patterned top would really clash with the jeans. I paired mine with a spaghetti strap top and a little vest. Since these are slim fit, heels are perfect to wear with them.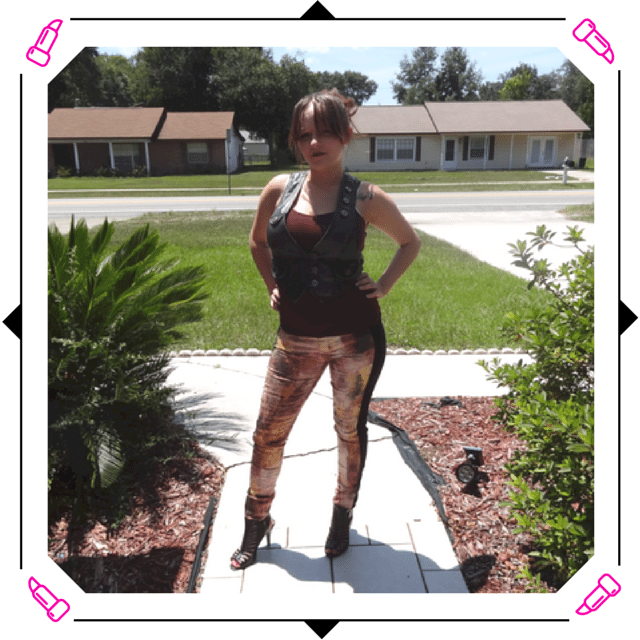 As for the fit, they really fit true to size. They do come in European sizes, so be sure to translate the size before buying. I wear size 7 in US sizes and a 27 in EU sizes. I am always concerned when I don't try clothing on first, but I took a chance and I am so glad that I did. They fit perfectly!! They aren't too tight around the waist or too baggy on the legs (those are my main issues with jeans). I am 5'0, so they were a few inches too long for my little legs, but I tucked them under at the bottom and they looked great. Something else that I love about the fit is that they don't get baggy at the end of the day. Have you ever had that problem ladies? You wear jeans for too long and they loosen up too much throughout the day. These stayed form-fitted all day long!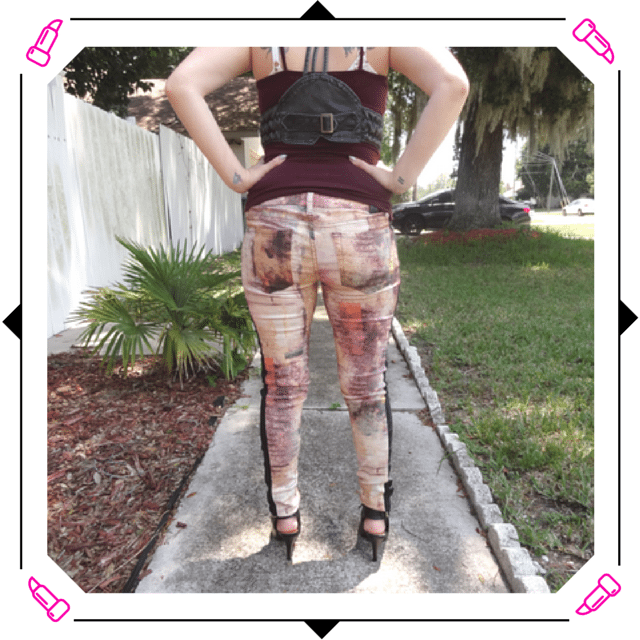 The quality of the FIGI jeans is impeccable. They are very well-made. You'd think by looking at them that they may feel stiff because of the design, but they don't at all. The print is top-quality and you cannot feel it when you run your hands on the jeans. That means that you do not have to worry about them fading in the wash. This is a very smooth and soft denim. The stitching is spot on and I didn't find any loose threads. The quality is great!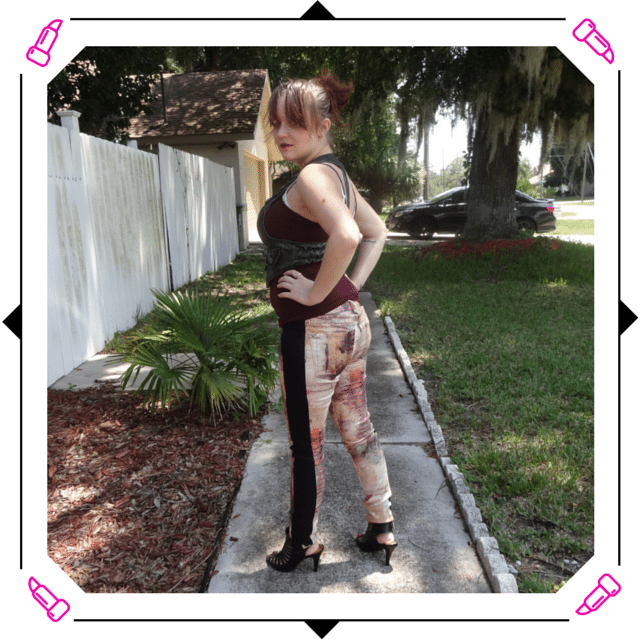 I love everything about these jeans! They are sexy and form-fitting. I feel great in them. They really compliment my figure. This is definitely my new favorite pair of jeans! I absolutely adore them and I think you will too!
Check out the full Rossi Collection
Connect with them on Social Media: Facebook / Twitter / Instagram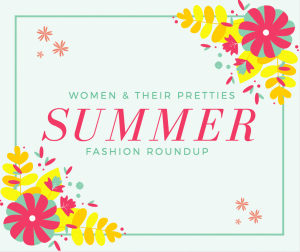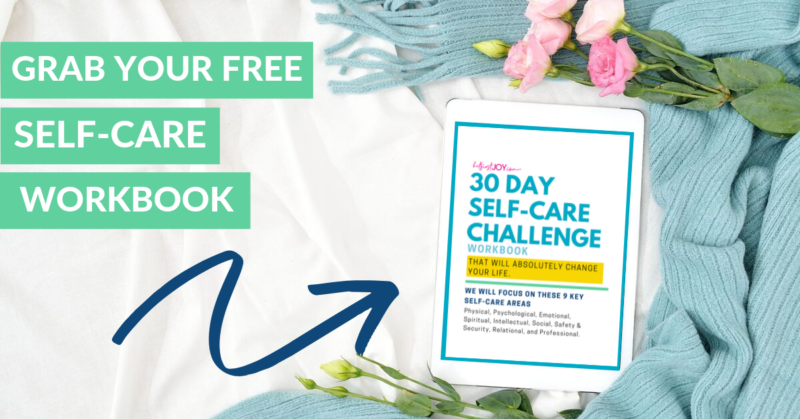 DISCLOSURE
As an Amazon Associate I earn from qualifying purchases. This post may contain affiliate links and/or promotional products, all opinions expressed are that of But First, Joy only. Read my full disclosure.