Just before my son's 2nd birthday, we scheduled for his first haircut at Disney, at the old-fashioned Harmony Barber Shop. Here's everything you need to know about our magical (and wild) experience.
Sending a special thank you to Disney for providing us tickets in exchange for sharing our real experience at the park!
My son was a bald baby, with his head not filling in until after he turned a year old. A haircut didn't feel necessary until the hair on the back of his head grew past his neck. With his second birthday approaching and a big party planned, we felt it was finally time to plan my son's first haircut at Disney, of course.
My son had visited Disney a good 20 times in his little 2 years of life. I still remember his first visit, when he was only a few months old. SIGH.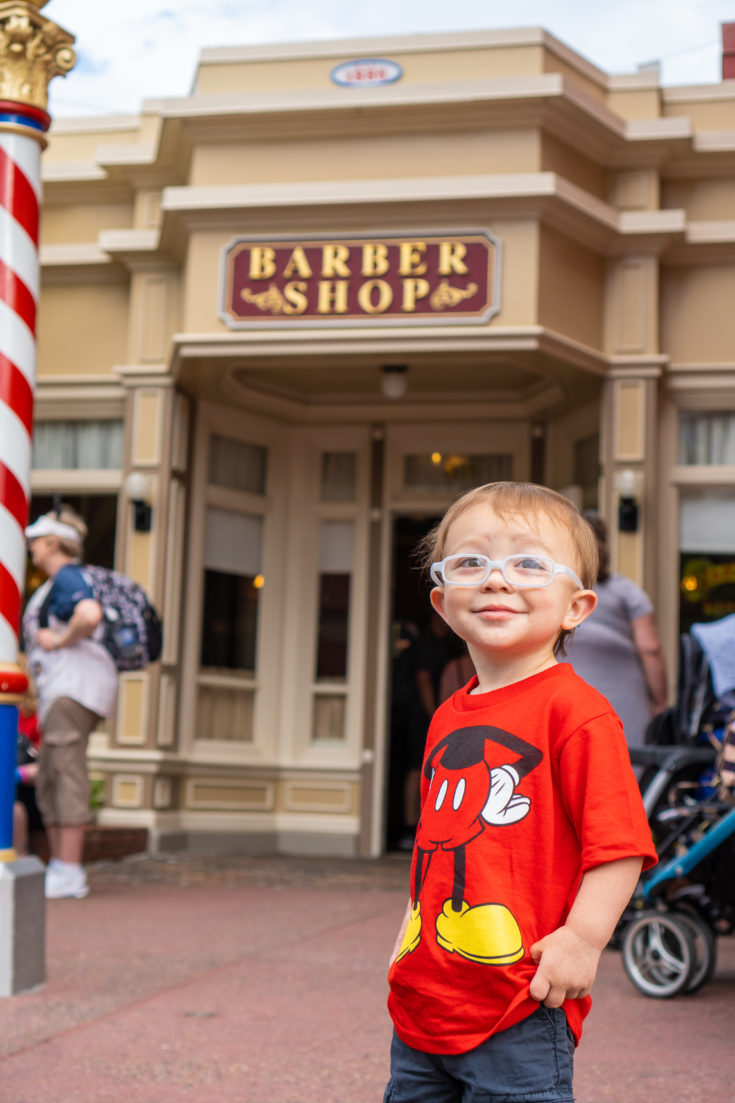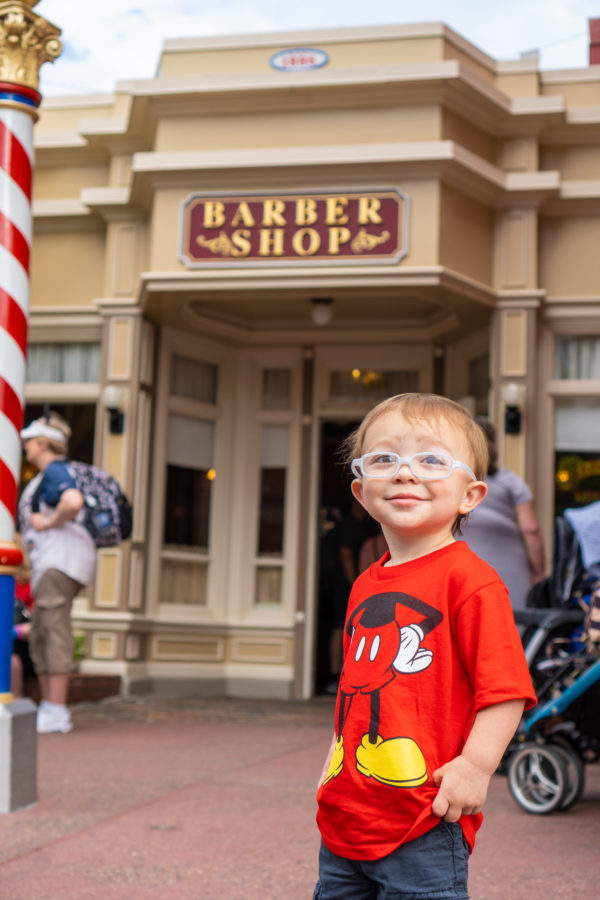 First Haircut at Disney
While my son's hair was still rather thin and only seriously growing in the back and on the sides, we wanted to give him a magical first haircut. We'd heard minimal talks about Walt Disney World's Harmony Barber Shop in Magic Kingdom, but we felt it would be a nice first experience. Plus, it gave us a great excuse to head back to Disney.
Making Reservations at Harmony Barber Shop
In mid-January, my husband and I made the decision to get his haircut before his 2nd birthday, on February 28th. I was fearful that the reservations would be all booked up. After hearing that walk-ins weren't a great guarantee – I decided to do some research.
Making & Changing appointments
Using the Disney website, I booked our reservation at Harmony Barber Shop in Magic Kingdom.
I was surprised to see at least a dozen available dates and times. With us being so close to the preferred week, I expected to see only a couple slots available – if that.
In our experience, a month in advance seemed to be just fine. In fact, I was able to change the reservation time a the night before our appointment. We were able to make changes to accommodate us during the rainy weather.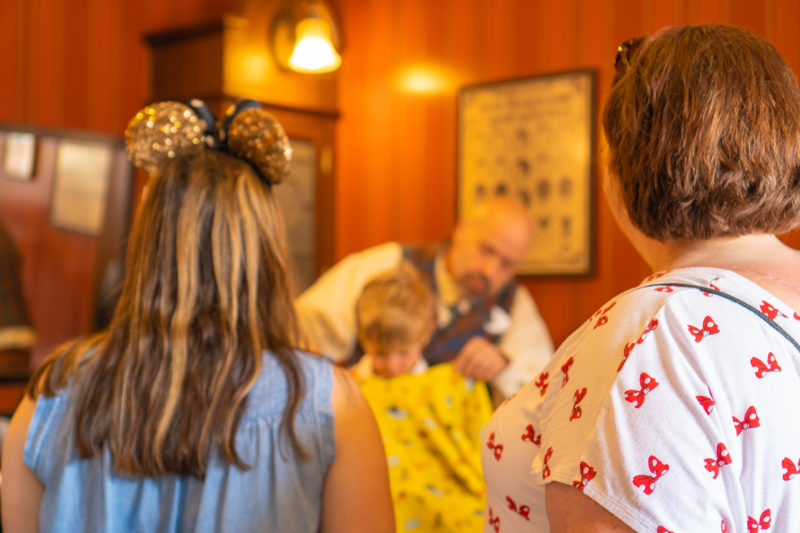 Does Harmony Barber Shop accept walk-ins?
Yes! I was actually there to witness the barber shop accepting numerous walk-ins. Many times, the guests were asked to come back at a later time that day but there was even a moment when chairs were empty!
Please remember, this was at the end of February – different times of year may yield different crowds.
Length of Time & Showing Up Early
We showed up for our appointment 20-30 minutes early. We checked in and waited for my son's name to be called. I would say that we ended up beginning the haircut about 10 minutes earlier than our designated time.
The full experience for us was no longer than a 20 minutes. Obviously, times would vary depending on your child's temperament during their first haircut and the length of the hair. My son was not a fan of the process but he just needed a quick trim!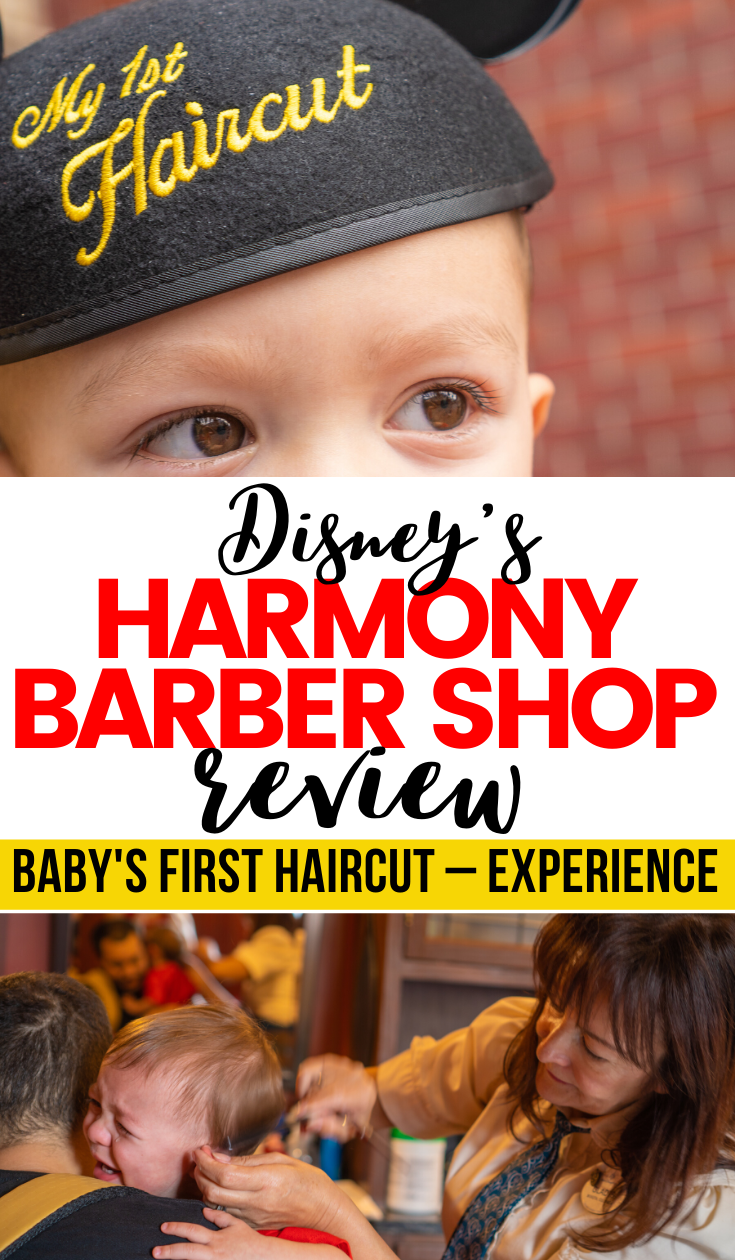 Disney First Haircut Package: Prices and Details
The full price for Disney's first haircut package was only $25 plus taxes. While I'd seen the price on the website, I still couldn't believe how much of a steal it was!
As with everything, prices may go up but for now – I'd say it's a great deal considering all that's included in the Harmony Barber Shop First Haircut Package:
Haircut
"My First Haircut" embroidered Mickey Ears Hat (Toddler/Baby Size)
First Haircut Certificate with date, child's name, and barber's name
Keepsake Lock of Hair (Tip: You can ask for more for other family members if needed. We got a separate lock in a different bag for Gramma)
Lots and lots of Mickey stickers to keep the little one distracted!
Memories that will last a lifetime.
Harmony Barber Shop Review: Our Experience
Upon first arriving at the Harmony Barber Shop, just off of Main Street, I was really surprised by how small the shop is. I had read several reviews and this was mentioned in all of them but I wasn't quite prepared for the size of the one-room barber shop. It is just big enough to fit the 3 barber chairs, cash register, and bench for waiting.
The actual barber shop was beautiful to see. It was made to be very old-fashioned, leaving you wondering how many people this shop had seen.
The cast member cashier was very pleasant and hyped us up even more about my son's haircut. We watched the 3 barbers work their magic on babies, toddlers, and older children. I was in awe at their "toddler whispering" abilities.
An unhappy toddler getting his first haircut:
When it was finally time for my son to get those sweet baby hairs snipped, he was not very happy.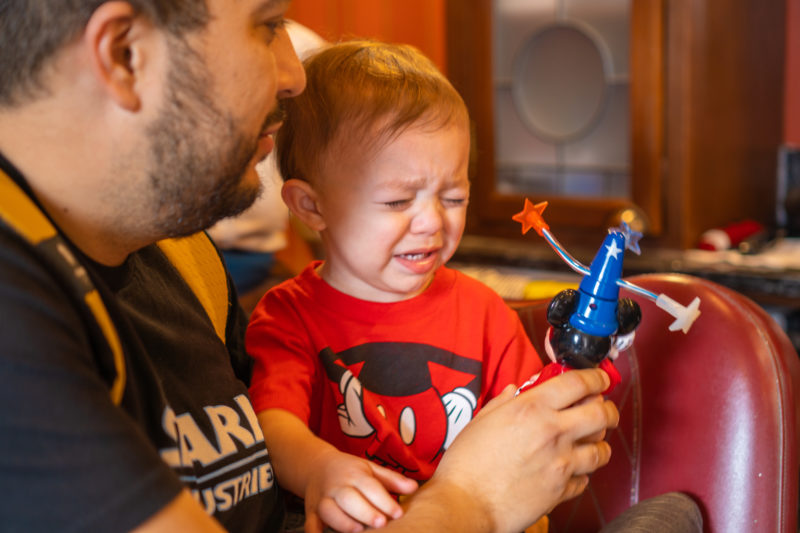 Our barber, Gladys, wasn't exactly thrilled either it seemed. She was nice but we were a bit disappointed that she didn't put more effort into entertaining my son.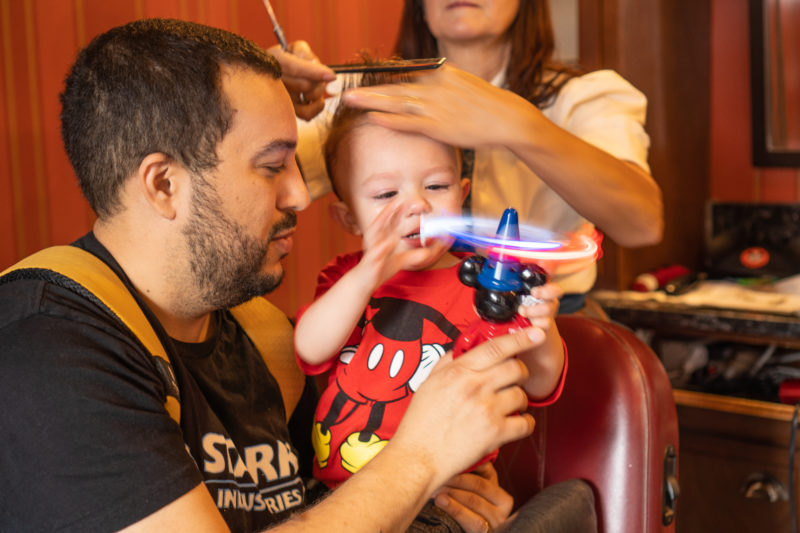 While I usually would never expect someone else to contain my son's chaos, I had watched her work Disney magic on the child before him, and read reviews about the barbers taming even the most wild of children.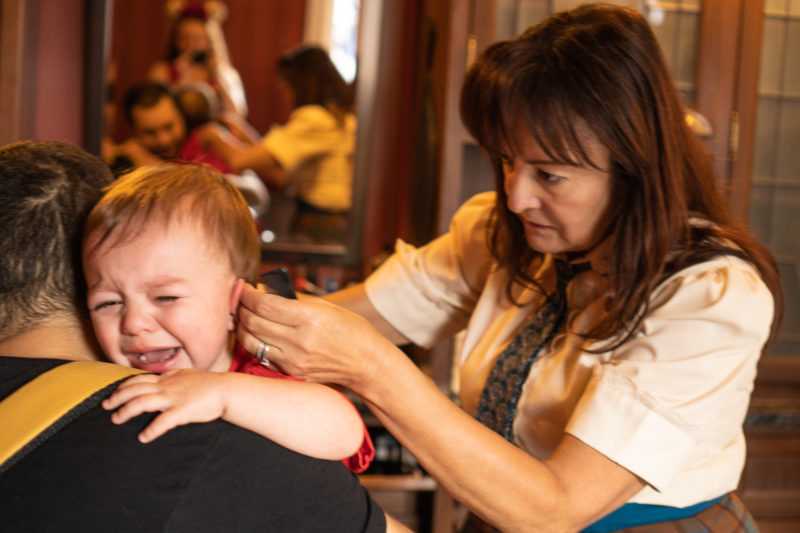 However, my son sat with my husband and cried as he got his first haircut. While I'd hoped for a little more effort to distract him, I also understood that my son is a very smart 2-year-old. In other words, he doesn't do well with distractions.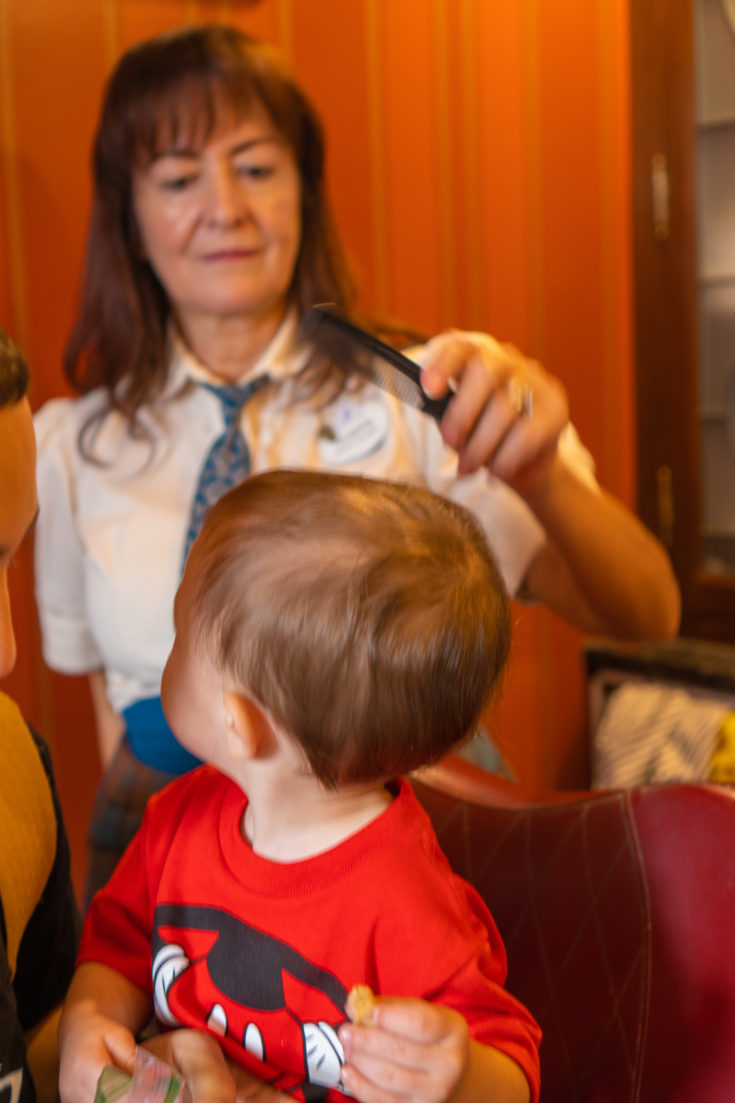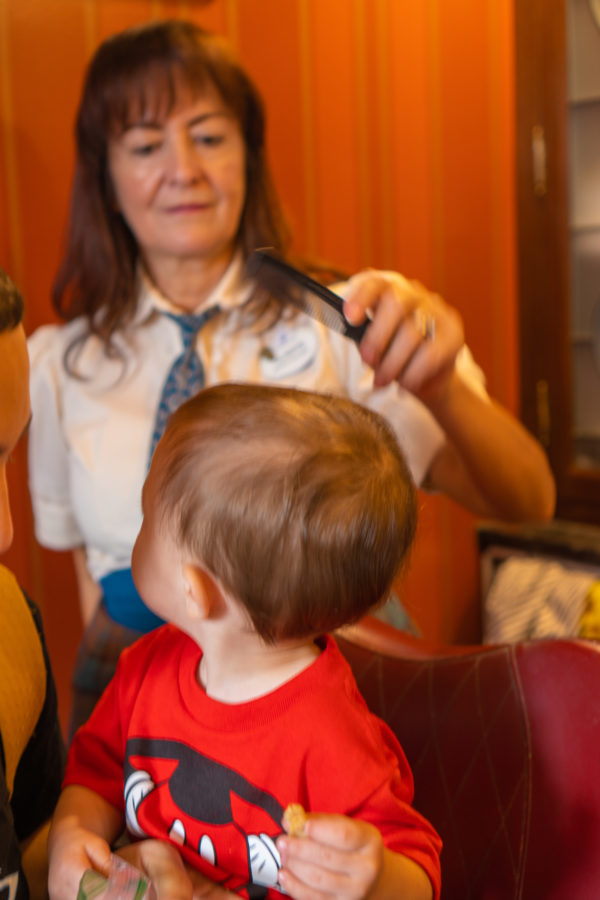 Gladys did her best to trim his hair nicely and quickly, stopping a few times while Daddy calmed his nerves and distracted him.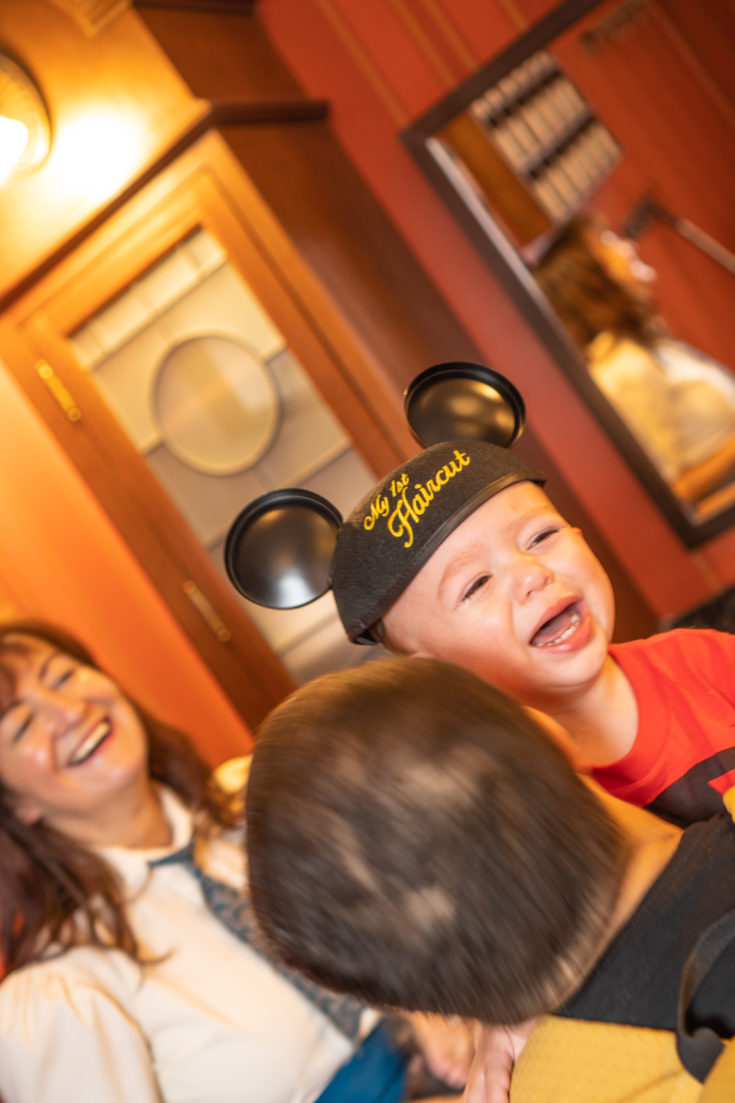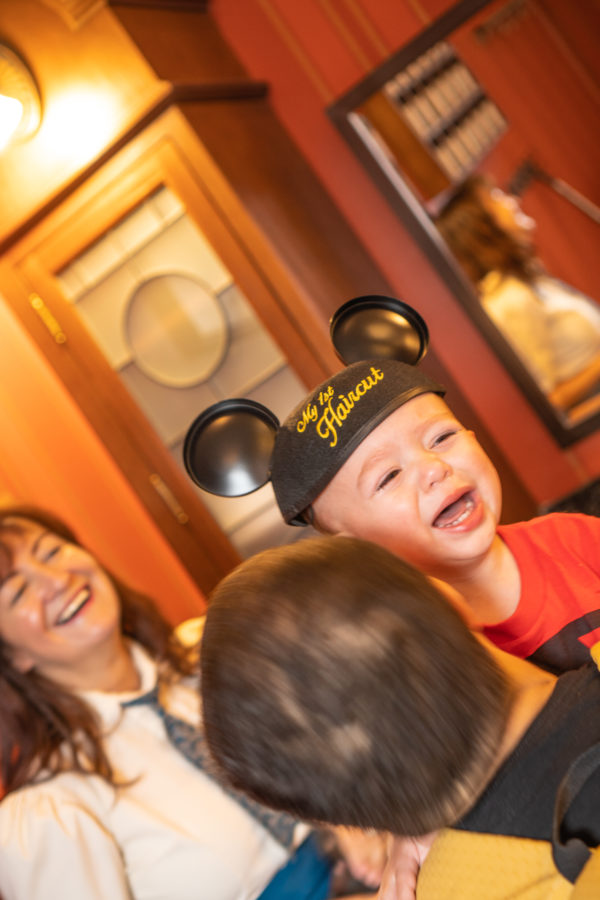 Finally, we snapped a quick family photo and went on our way. Sadly, we didn't get some of the cute posed photos I had seen other barbers do. Either way, I was happy with my son's new do!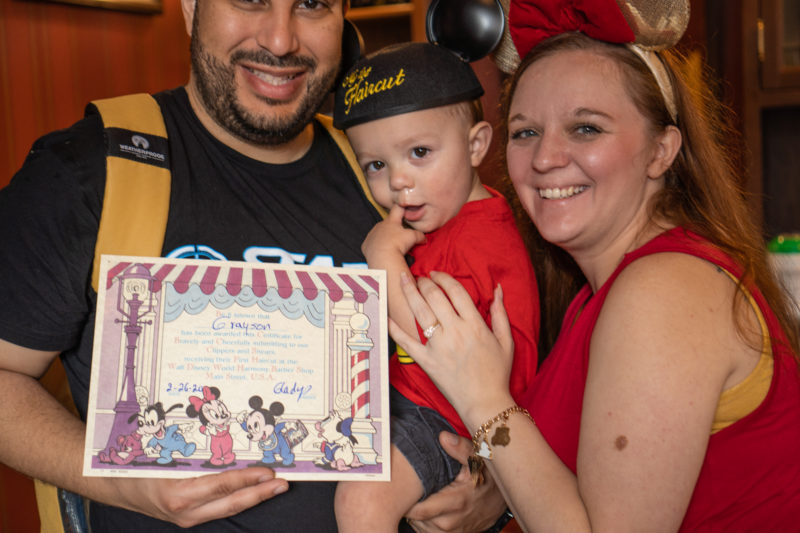 She did a very nice job on his hair which I am not sure how she accomplished with how much he was moving.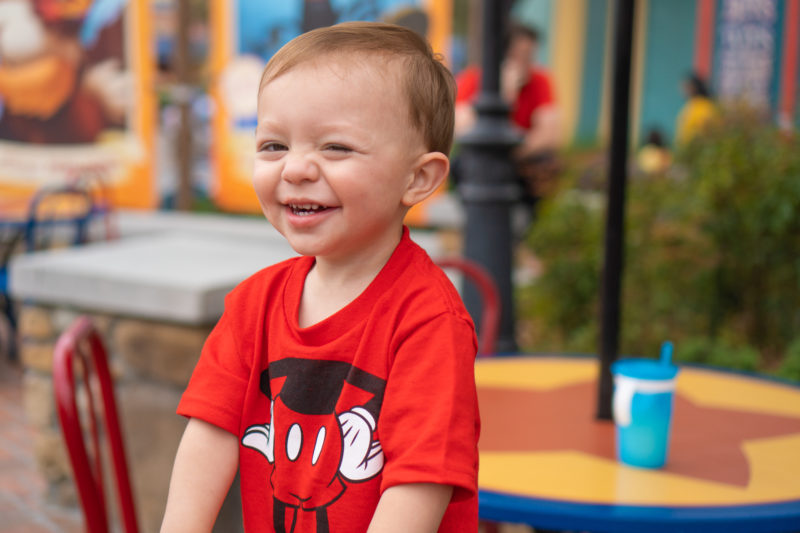 Final Thoughts and Suggestions
While the experience wasn't as magical as I'd hoped, it was pretty much what I expected for his first haircut. The only difference is we have some cute memorabilia to mark the occasion.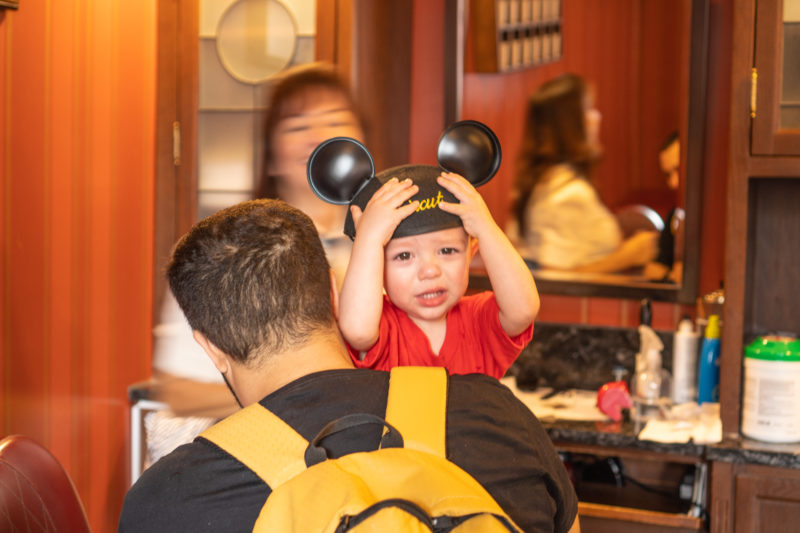 I have another little boy on the way and I can confidently say that I'd certainly do it again! I know every child is different and mine is a stubborn one.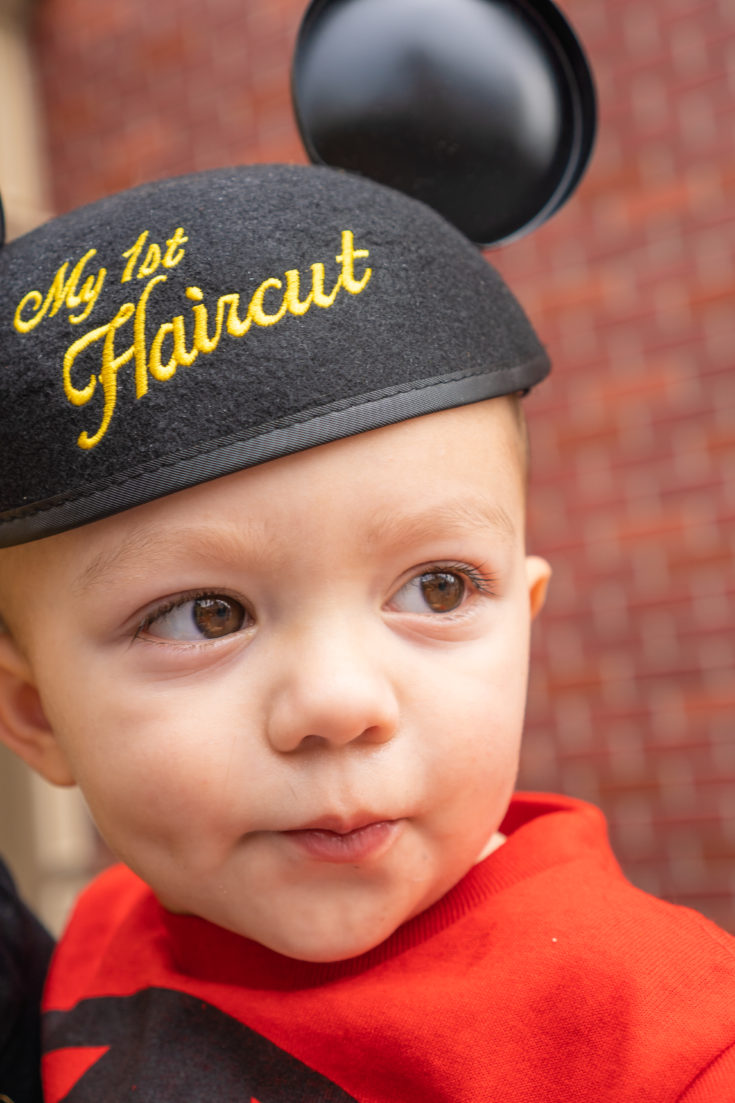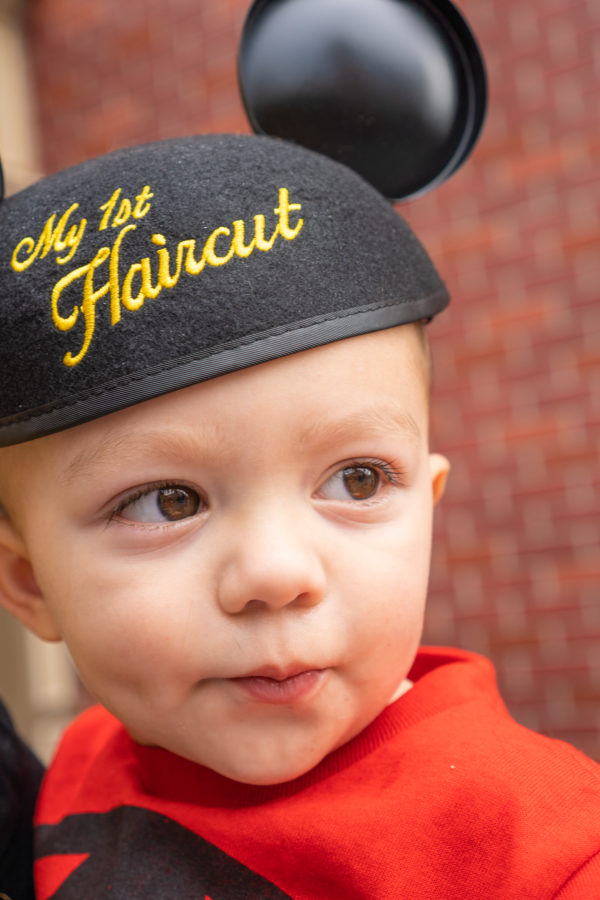 For parents considering the first haircut package at Disney, I highly recommend bringing your child at a younger age, if possible. I believe had my son been around age 1, he would have cooperated better. Distractions are much easier for a younger child.
Are you planning your child's First Haircut at Disney? Let me know all about your experience or questions!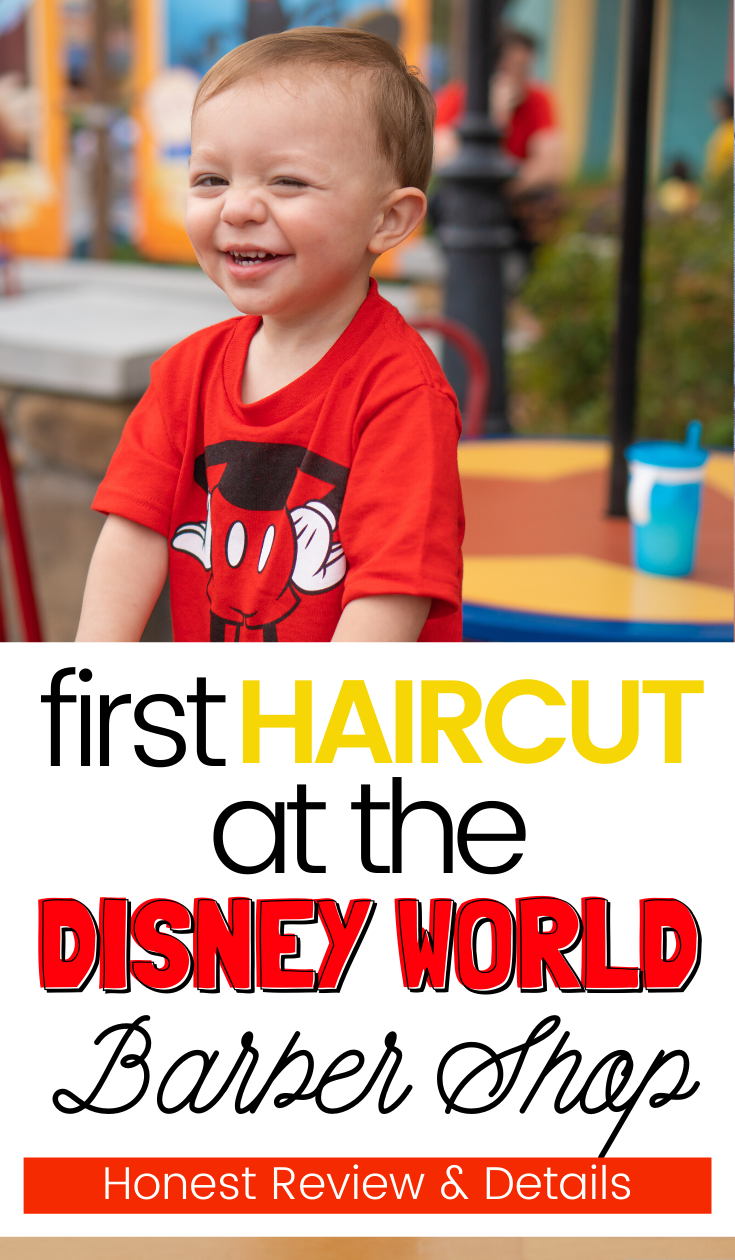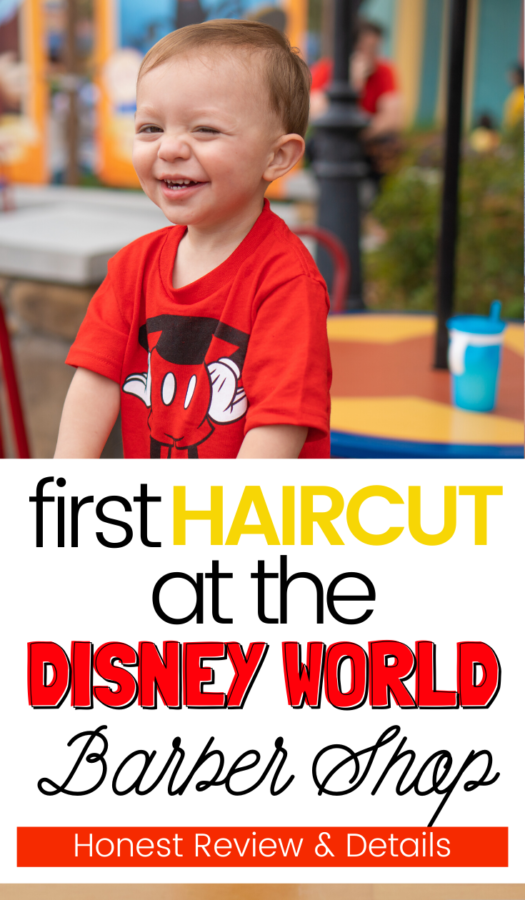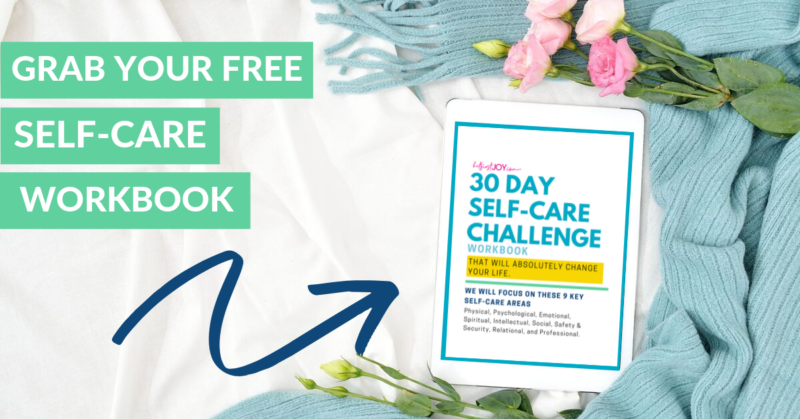 DISCLOSURE
As an Amazon Associate I earn from qualifying purchases. This post may contain affiliate links and/or promotional products, all opinions expressed are that of But First, Joy only. Read my full disclosure.