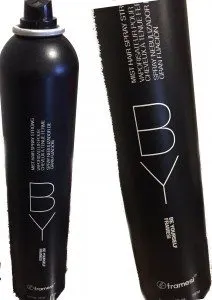 I don't always do style my hair in a unique way, but when I DO I use Framesi By Mist Spray Strong. Haha. Did you get the pun? hehe no? I will move along then. Seriously though, this spray in incredible! It is long lasting (which is very important in humid Florida). You can use the spray for a cool style or for an every day look. I use hairspray on a daily basis for an every day look, so I KNOW a good hairspray when I use it. The Framesi hairspray does NOT leave the white residue that other hairspray leave. I love the "wet look" that I get after doing my hair with this spray. I have a bad case of the frizzies and Framesi is the only hair spray to fight them and keep them away the entire day! Something else that I love about Framesi and that I typically look for in a good hairspray is a good smell. I cannot stand a strong fuming smell! Framesi has a very light scent that doesn't leave people wondering how much hairspray you've used. It is also fast drying and an extra firm hold. An awesome benefit of this spray is that it has UV ray protection, so your hair is protected from the sun! That is really cool! I have never used a spray that protects you from the sun. This spray is very healthy for your hair, containing anti aging Vitamin E.
If you are interested in purchasing this product, head on over to Beauty Care Choices by clicking: Framesi BY Mist Spray Strong. Also, make sure you connect with Beauty Care Choices on Facebook for specials and promotions!

I received one or more of the products mentioned above for free using Tomoson.com. Regardless, I only recommend products or services I use personally and believe will be good for my readers.