Fruttata Crisps are freeze dried fruit chips. They are all natural with no sugar added. These gluten free snacks are a perfect snack to add to your diet. They are perfect for snacking on fruit at work or on-the-go. If you can't find fresh fruit or you don't have the time to maintain it, these are perfect for you. They are freeze dried by removing all of the water. Each bag has a zip closure, so you can open them now and save some for later. This is PERFECT for traveling!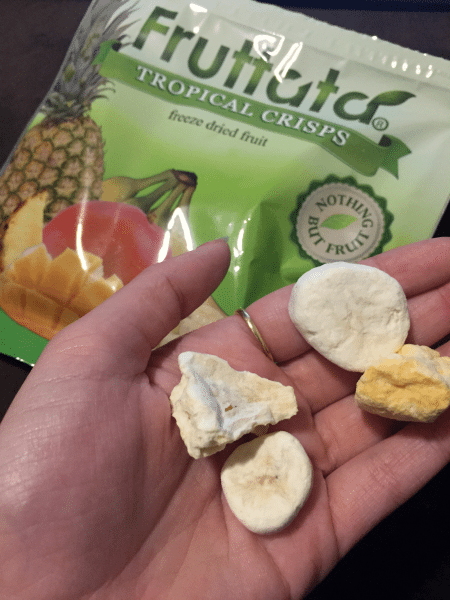 I have to be honest, I do not like dried fruit. I always think dried fruit is too chewy, too hard, and too sour. Now, don't get me wrong, I am HUGE fruit lover. Some even call me fruity. haha. Seriously thought, I would be happy on an all-fruit diet. So, it isn't a lack of love for fruit, it is just a lack of unnatural tasting dried fruit. Okay, you get the point. I have never, until now, tried freeze dried fruit (not that I know of at least).
I was immediately amused when I opened the package and seen that the fruit looked like ACTUAL fruit and not shriveled up, dried pieces of who knows what. I was actually able to decipher what each piece of fruit was before trying it. I smelled it, of course, and it actually smells like the fruit! I was so excited. These are really tasty. They are not sour at all. They taste just how they should. My only complaint is that they get stuck in my teeth easily. Other than that, I can't complain about anything. The Tropical Crisps mix includes bananas, mangos, and pineapples.
I would recommend Fruttata Tropical Crisps to anyone looking for something different for the Easter baskets this year!
Find Out Where To Purchase Here
Connect on Social Media: Facebook / Twitter