#WordsForWomen / #NakedThursdays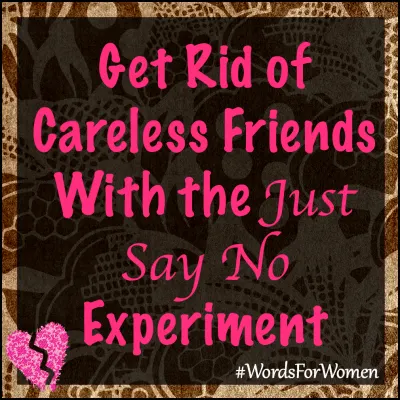 It's time that we get real. Let's talk about something that a lot of us do often. Let's discuss a subject that some may think is touchy. Let's get down to the naked truth. I am going to give you a glimpse into my mind, heart, and life. Maybe you will relate or maybe it will help you to understand the thoughts of another. Either way, I hope that me expressing myself can help you in some way, shape, or form.
This week's topic is "Just Say No". Immediately when I hear that I think of peer pressure. That is not going to be my direct focus, but in a way it relates to what I do want to discuss. Let me start by asking you a simple question: How often do you give 90% in a relationship, while the other person is only giving 10%? Do you feel like you are contributing more effort to a relationship or friendship, while the other person doesn't seem to give you the time of day? If your answer is YES, then you know exactly how I feel. I am not saying that giving and working on a relationship is bad. It is completely necessary. I am just saying that you cannot be the only one. Maybe it is time for you to just say NO.
Sometimes saying no to yourself is the best thing you can do. If you have ever felt like you don't matter to someone or ever wondered if they are thinking about you, then maybe it's time that you tell yourself to STOP putting in all of the effort. There was a very low point in my life when I was completely exhausted with reaching out to my friends to see if they wanted to spend time with me. I was feeling alone and really reconsidering a lot of my friendships. I realized that the past 5 or more times that I spent time with these friends, I was the one who called them. I was the one who cleared MY schedule and worked around theirs. I decided to do a little experiment.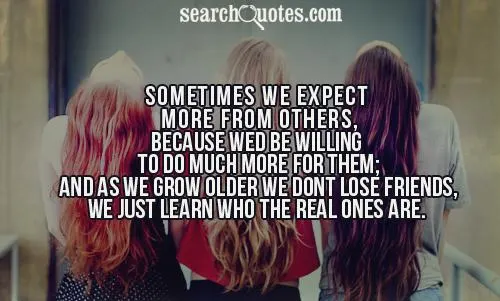 I completely stopped reaching out to them. Every time I felt like I needed someone and wanted to call or text them, I told myself NO. The truth is, I would rather be alone than be with unreliable, careless friends. I didn't want to give in because I really wanted to see how long it would take for my friends to reach out to me. I figured after a week or two they would realize that something is up and contact me. I thought that they would at least miss me or be worried about me. I mean, I was living by myself at the time and did not have family to spend time with. Being my friends, they knew that I was basically alone in this world, which is why I valued my friendships so much. I would love to say that this story ends in a good way, but it does not. The honest truth is that my "best friend" at the time never reached out to me again. She lived 5 minutes away and never tried to call or write me. She never asked how I was. She never tried to make plans like I expected. In fact, I did not hear from her at all until I moved 3 hours away, a year later. Which, at that point, it was far too late. She asked to hang out and I just said NO. My other friend did show up at my house after a few months. To my surprise he apologized for everything. It was so nice to feel like someone cared. After that, we grew apart, but I still consider him a friend.
My "Just Say No" experiment went from being an experiment to being a regular thing for me. I don't need to experiment anymore because I know who cares and who doesn't. The moment I realize that I am making all of the effort, I just say no. I tell myself that I am NOT doing this anymore. I am not going to give and give and not get anything in return.
So, I dare you to try the Just Say No experiment. I will warn you. It is NOT going to be easy! It is going to be hard to NOT contact the people you are experimenting on. The most difficult part will be realizing who actually cares and who does not. You may lose people. It took me a really long time to come to terms with losing friends that I loved. It was a shot to my self esteem and to my heart. It's hard to let go of people that you dedicated so much time and energy on. The positive side of this experiment is you learn who your real friends are and you can build relationships with solid people.
Should You Do The Just Say No Experiment? Why or Why Not?
I wrote Get Rid of Careless Friends With the Just Say No Experiment as a part of The Naked Truth blog hop.