Disclaimer: I received these products complimentary from Influenster for testing purposes.
Full Name of Product: Gillette Venus With Snap Embrace
Type of Product: An On-The-Go Razor
Price of Product: $10.00 or less
Where to Purchase: You can purchase the product at your local retail stores or you can purchase online HERE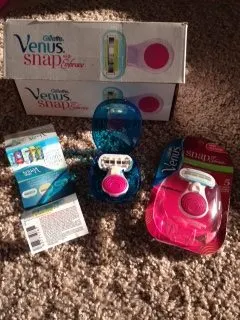 First Impression: As soon as I opened my door to the very decorative Gillette Venus box I was excited! I ripped the box open and found a tiny blue container. "Hmm…" I thought, "Is this just a razor blade or is it the entire razor?" This razor is so small! It took me a few minutes to realize that the handle was meant for me to use and not just to hold the razor blade (haha).
Before: I thought for sure that a razor this small would be too difficult to shave my legs with. I pictured myself dropping the razor a few times or fumbling with it and cutting myself. I felt bad thinking that I was going to have to write a bad review about a product. I gave it a shot anyways though.
After: Boy, was I wrong! This razor is fantastic. It is really easy to handle. There is something about the flat, rounded shape of the handle that makes it so easy to hold. I found this razor to actually be easier to handle then most other razors.
I usually find the best shaving results with men's razors, but the Gillette Venus With Snap Embrace is my new favorite razor. The five blades give you a close, clean shave without razor burn or cuts. Other then the perfect compact size, what really sets this razor apart from others is water activated gel ribbon all the way around the razor blades. You don't need to use shaving cream because the gel around the blades moisturizes your skin as you shave. I absolutely love the blue carrying case it comes in too. It is great to protect your razor from germs and from moisture melting the gel ribbon. I love this razor and I will be purchasing these from now on! I highly recommend this product!
Price Vs. Quality: Definitely worth the price!
How I rate the product on a scale of 1 to 5: 5- BIG thumbs up!
Would I purchase this product for a friend? Yes, I definitely purchase this for myself or for my friends.
Disclaimer: I was NOT paid to write this review, but I DID receive the item from Influenster.Com for free strictly for me to review with my HONEST opinion of the product.