My goal in life is to be happy and make others happy. Check out how I express my true feelings with the silly & fun iMessage sticker app by Moosejaw. I promise you'll giggle. Thanks Moosejaw for partnering with me for this quirky post.
When you get to know me personally, you'll find out that I'm one of the silliest people you've ever met. I don't take life too seriously and I love to bring others to my happy place. I think anyone who knows me will tell you that I get a little sticker happy. In other words, I will text you silly & fun iMessage stickers excessively. Sometimes I start and I just can't stop. It makes me giggle, so why not, right?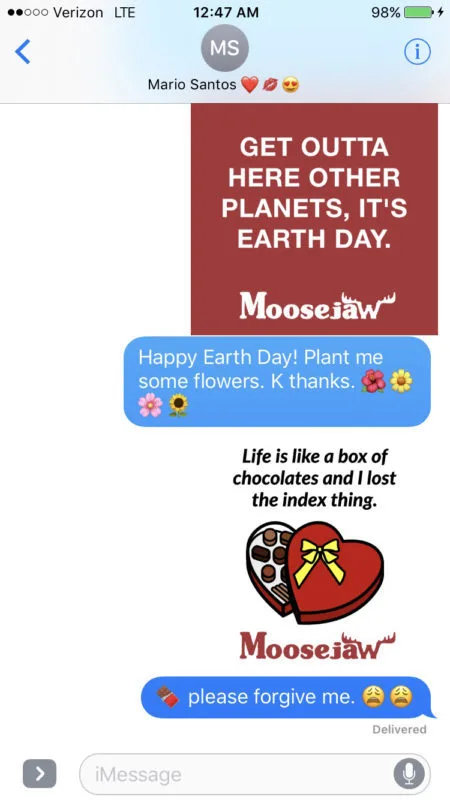 My favorite iMessage Stickers
I have way too many iMessage Sticker apps on my iPhone. Well, it would be way too many to others, but I love it. It's fun to have the perfect sticker for every occasion and every conversation. I've gotta keep my friends and family guessing, so I'm always open to new stickers. Especially a sticker pack like the one from Moosejaw.
A little message from Moosejaw:
Moosejaw offers mid to high-end mountain apparel and outdoor equipment. We carry over 8,000 products from The North Face, Arc'teryx, Patagonia, Marmot, Mountain Hardwear and many more. Your customers get Moosejaw Rewards Points (10% toward Moosejawrewards.com on regular price items, 2.5% on sale items) on every purchase.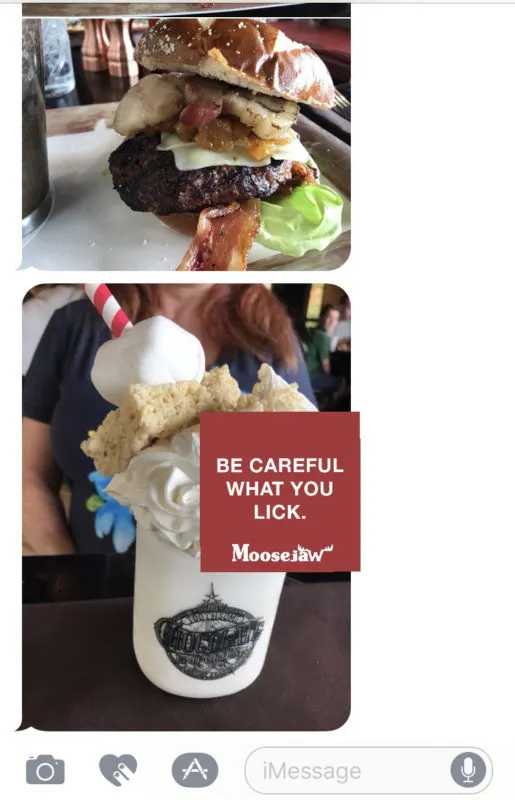 The Moosejaw iMessage Sticker app includes stickers for every occasion, even for the next holiday, Mother's Day! Their stickers are clever, witty, cute, and fun. If you want to keep people guessing or just surprise your friends & family with something a different, then you'll love this sticker pack. I love that these are literally electronic stickers that can be stuck right on your text messages or simply sent individually. Can't always think of a response? Send a quirky Moosejaw sticker.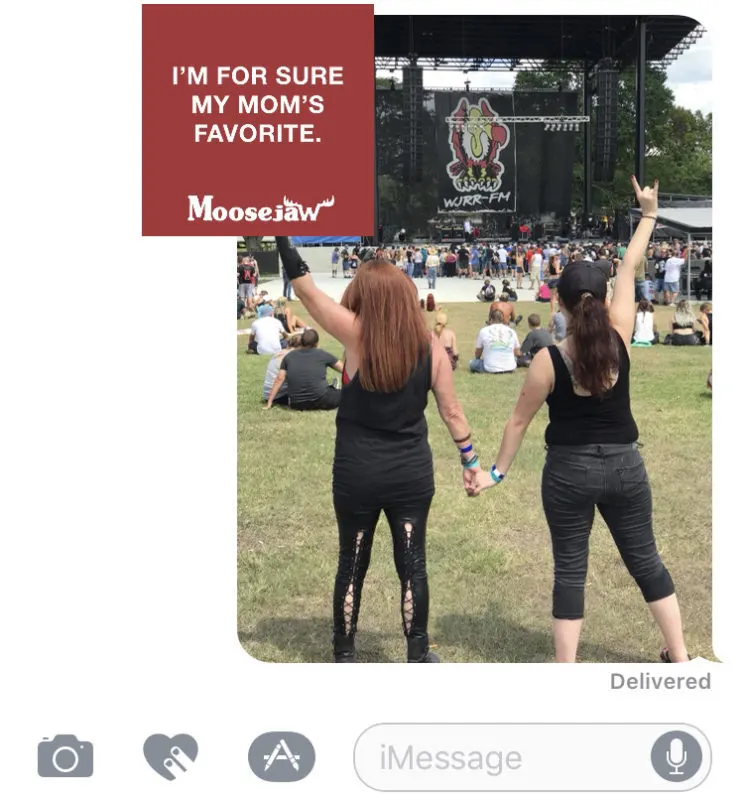 Check out the new Mother's Day iMessage Stickers!
With Mother's Day right around the corner, I can't wait to send my mom a new Mother's Day sticker every day of the week. It's just silly and funny. I can't help myself. It makes her laugh, so that's a real win! All of their stickers are centered around the next holiday, so you can send little gifts in the form of a silly text.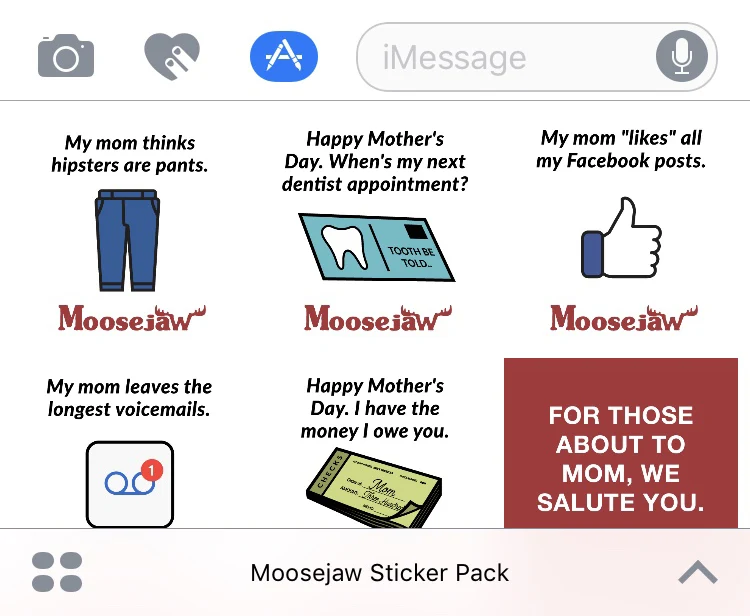 How to get the Moosejaw iMessage Sticker App
The Moosejaw iMessage Sticker app is for iPhone users only, but Moosejaw will kindly send Android users physical stickers because they want everyone to be included! How cool is that? Just please, if you get the physical stickers, please give me one because I want them all.

Be sure to shop with the Michigan-based company, Moosejaw, for high-quality outdoor equipment. We're talking rugged and stylish! Plus, the offer a Lifetime Return Policy! Like, seriously? Is this real life? I love a brand who is that confident about the quality of their products. Plus, they take care of their frequent shoppers by offering the Moosejaw Rewards Program which gives you $10 in Moosejaw Rewards Cash for every $100 spent!