Full Name of Product: InstaNatural Youth Express Eye Gel
Type of Product: Under Eye Treatment for dark Circles, Puffiness, Wrinkles & Bags
Price of Product: $24.77
Where to purchase: You can purchase the product on their website HERE
Websites and Social Media: InstaNatural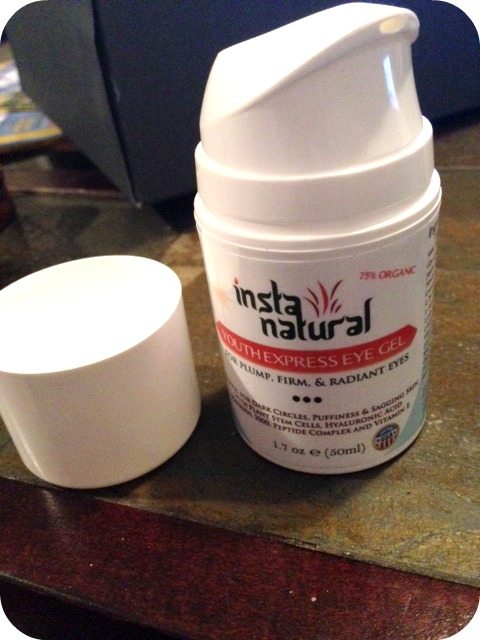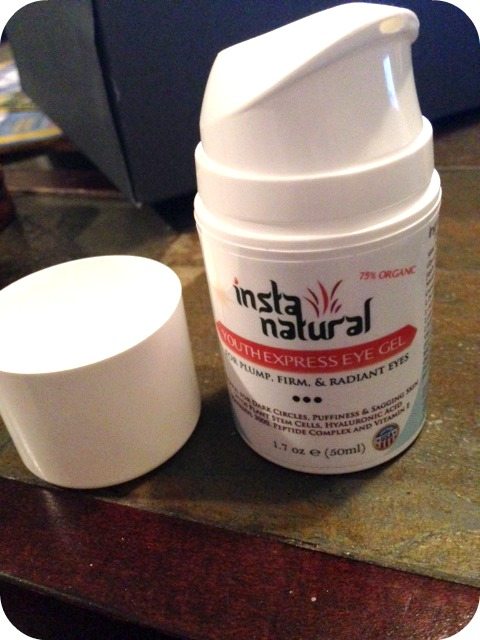 First impression: I did what I always do and I opened the product to smell it. I was excited to see the cool pump that it has. It took me a few pumps for any product to come out and when it did it was a very generous amount. The smell is amazing! It smells just like cucumbers! (I think it was the aloe combined with everything else that gave me the cucmber scent) I personally love the smell of cucumbers because it is a very fresh and light scent. This is the first time I have ever had a product with this scent, so I was excited. This comes out in a gel form, not too thick, not too watery. The bottle directs you to dab it around the eyes, forehead, and cheek area twice a day.
Before: I have some fine lines (at 25 years old. Waahh!) and I have dark circles under my eyes and some puffiness.
After: Immediately after you apply the InstaNatural gel you can feel it firming your skin. It takes a little while to dry, which is expected with a gel, so don't put it on as you are heading too bed. I used this once a day for about two weeks and I can definitely say that it helped with the puffiness under my eyes. I haven't noticed any puffiness even after a restless night. It also moisturized my skin. I was disappointed though in the fact that it didn't help the darkness underneath my eyes. I really need a product to either lighten the darkness or tone it down some and this was not the product for me. As for fine lines, it tones down the ones on my forehead some, but not the ones under my eyes.
Final Thoughts: This gel was alright. I was happy with the smell and happy that it got rid of my puffiness. It is a great moisturizer I was disappointed that it didn't help my dark circles or fine lines.
Price Vs. Quality: The product didn't do everything it claimed to do, so I wouldn't pay the price listed.
How I rate the product on a scale of 1 to 5: I give this product a 2.
Would I purchase this product for a friend? I would not purchase this product.
Hashtag: #InstaNatural
Again, I was not paid to write this review, but I did receive the item(s) free for testing purposes. Regardless of my opinion on this company/item , I would never give anything but my honest opinion and would only recommend products or services that I would use myself.
I received one or more of the products mentioned above for free using Tomoson.com. Regardless, I only recommend products or services I use personally and believe will be good for my readers.