It's a new year and we all have resolutions that we want to accomplish. Maybe your resolutions involve self-love or maybe you're dying to land a high paying gig. I have plenty of personal and professional goals for 2017 and one is to be more confident in the skin I'm in. It isn't always easy, but I know when I reach the point of complete self-love, I will be happier than ever before. So, I'm starting fresh – with the It Cosmetic's New Year, New Confidence In Your Skin Collection.
This 4-piece skincare collection has everything you need to give your skin the love and attention it deserves. What's really special is that you can grab the collection for a limited price, exclusively on QVC for one day only! The availability is limited, so grab it quick. You will not find a deal like this anywhere else!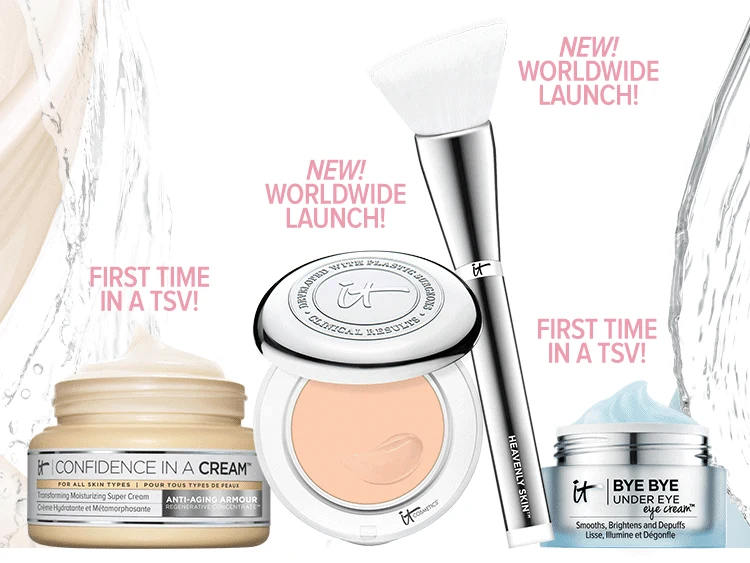 New Year, New Confidence In Your Skin Collection
The collection includes some of the fan favorites, like Bye Bye Under Eye Cream, which smoothes and helps brighten skin. There's also the silky smooth Confidence in a Cream, which a personal favorite.
The newly released items in this collection are the Confidence in a Compact with SPF 50. This is a skin-transforming full coverage solid super serum! It claims to help you achieve complexion perfection. Begin the oohing and aahing in 3, 2, 1.
The second new It Cosmetics product in the collection is the buttery soft Heavenly Skin, Skin-Smoothing Complexion Brush. This brush makes it easy to accomplish the natural look you need, without putting in the work. Let the brush work the magic for you. I carry my brush with me everywhere. It's way too soft to leave behind.
New Year Must-Haves
These game-changing products will be sold out ridiculously fast, along with the It Cosmetics New Year must-haves: Supersize Bye Bye Under Eye concealer, Supersize Bye Bye Pores HD Illuminator, and the Superhero Mascara. You can pick all of these up on QVC, while supplies last.