It is FINALLY the holiday season! That means new clothes, new shoes, and new makeup! Oh, and food, family, hay rides, blah-blah-blah! I am just excited about new fashion and new beauty. You don't have to be into fashion to know that the outfits and clothing colors change for the holiday season. That's a given. Did you know that there are a ton of holiday beauty do's and dont's ? I mean everything from the colors that you wear to the way you do your makeup; it all changed when Autumn and Winter arrive. That is where It Cosmetics comes in.
About It Cosmetics
It Cosmetics keeps up with the times. They have limited edition holiday makeup that is basically first come, first serve. These are the releases that I LIVE for! There is something so exciting about a limited edition makeup collection! Just knowing that I have something that not everyone can get is so exhilarating. This being a holiday collection is even more exciting because I look forward to the holidays all year long. It Cosmetics is a makeup company that creates makeup that are clinically tested and approved by dermatologists and plastic surgeons. All of their products were created to help with skin concerns, skin diseases, aging, or acne. You can purchase It Cosmetics products at Ulta Stores nationwide and on QVC. There products are also CRUELTY FREE.
About The "Your Most Radiant You Holiday Collection"
On October 14, 2014, It Cosmetics released a 1 Day ONLY Limited Edition makeup collection on QVC, "Your Most Radiant You." This holiday collection included 5 items meant to illuminate your skin, leaving it looking more natural and more beautiful than ever before! 2 of the 5 items were BRAND NEW items, launched worldwide along with this collection.
1. Celebration Foundation Illumination Full Coverage Anti-Aging Foundation: This is a Full Coverage foundation that is infused with peptides, hydrolyzed collagen, antioxidants, and other ingredients that will nourish your skin and make it appear younger looking. Purchase Yours Here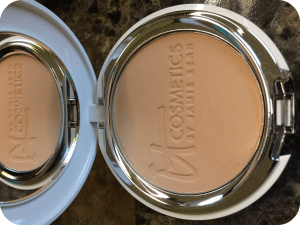 2. *NEW* CC+ Radiance Ombré Blush: This is a blush and highlighter all in one compact. There are 3 colors in one company- 1 highlighter and 2 blush colors. This blush bends with all skin colors and helps with anti-aging.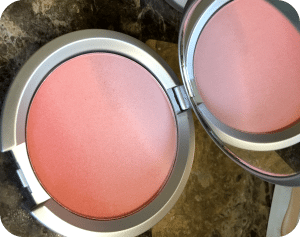 3. *NEW* Hello Lashes Extensions 24HR Mascara: This is a mascara meant to make your lashes look like falsies. It is a 24HR wear "blackest-black" mascara. Your lashes will be longer, thicker, and bolder after just one application. Why didn't they think of this sooner?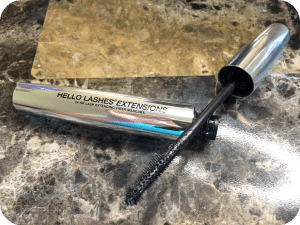 4. No-Tug Waterproof Gel Eyeliner: This is a waterproof, 12-hour wear eyeliner. It is anti-aging and highly pigmented. PURCHASE YOURS HERE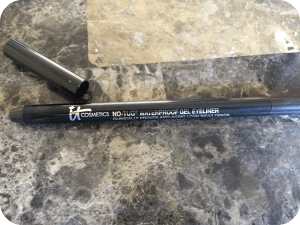 5. Heavenly Luxe Double Airbrush Foundation Brush: This is a dual fiber flat brush that can be used for foundation, blush, and more! It is basically an "all around" brush. PURCHASE YOURS HERE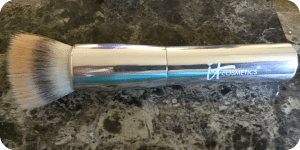 My Full Experience with the Holiday Collection
After using this collection, I can confidently say that It Cosmetics is my new favorite makeup brand. Every single item of this 5-piece collection gave me incredible results! I was a bit worried at first because the Celebration Foundation looked a bit too dark for my skin tone. I figured that I would give it a try anyways because the cooler weather, tends to make my skin look very pale. I followed the instructions that came with this collection. I used the Heavenly Luxe Double Airbrush Foundation Brush to smooth the foundation onto my face. I am not one to wear powder on my face because it always make me look, well, powdery and unnatural.  I smoothed it all over my skin and I was shocked to see how well it blended! My face looked and felt incredible refreshed and illuminated! I have been using this every day since I received it and I am absolutely in love. I don't need liquid foundation any more because the Celebration Foundation does the job just right! My only critique is that it does not appear to be as FULL COVERAGE as I'd prefer.
I continued to follow the "Get the Look" instructions. I used the Heavenly Luxe Double Airbrush Foundation Brush to apply the CC+ Radiance Ombré Blush. I lightly dusted the blush over the apples of my cheeks and I applied the highlighter to the top of my cheek bones using the side of the foundation brush. When applying the blush, I swirled the brush through all of the colors in the compact, to give my cheeks a more dimensional look. This blush is JUST pigmented enough to give you a natural look! The highlighter isn't too shiny or shimmery, so your it makes your cheek bones look raised and beautiful. The CC+ Radiance Ombré Blush gives you a light and feminine look that is perfect for the holiday season! The Heavenly Luxe Double Airbrush Foundation Brush has the softest bristles that I have ever come across. I almost lost my breath when I realized how incredible this brush is! You can seriously use it for anything and it will NOT disappoint!
I moved along to the No-Tug Waterproof Gel Eyeliner. I decided to create a winged look with this beautiful eyeliner. It went on very smoothly. It is just the right texture. It isn't too dry to apply smoothly or so smooth that it smears easily. It is just right. I like that you don't need to sharpen this eyeliner, so you can get into the waterlines and the corners of your eyes without it irritating you. My favorite thing about this eyeliner is that is literally lasts for 12 hours. It does NOT rub off easily. I received this in black. I would love to try a brown color in this gel liner, because brown is more fitting for the holidays and brings out my blue eyes.
I finished with the Hello Lashes Extensions 24HR Mascara. The first thing stood out was the mascara brush. It is a normal brush with a ball at the end meant to help you pay close attention to your smaller lashes and/or hard to reach lashes. I love how beautiful this mascara makes my lashes look. It isn't my favorite mascara, but it is definitely in my Top 5 list. I love that it is infused with nourishing and conditioning ingredients, so it is protecting and conditioning your lashes while you wear it. Something that really impressed me was that it lasted all day, without flaking, and it didn't clump up my lashes. Some mascaras are almost painful to remove from my lashes, but this one cleaned right off leaving my lashes healthier than before I applied the mascara.
Overall
Overall, I am so happy with this collection. I think it is perfect for the holidays! All of the items in the collection were perfectly thought out. Everything makes your skin look flawless. I felt like a new woman with this look. If they happen to release this again, I would definitely suggest you purchasing it! It's a GREAT collection. Also, it comes in beautiful box. It definitely would be a great gift. I hope that all of you beauty queens picked this up when it released!
Purchase and Connect
Well, unfortunately you cannot purchase this set, but you can purchase some of the pieces individually by clicking the links above.
You can purchase other It Comsetics products by visiting: Ulta.Com / ItCosmetics.com / QVC.com
Connect With ItComsetics on Social Media: Facebook / Twitter / Instagram / YouTube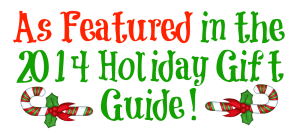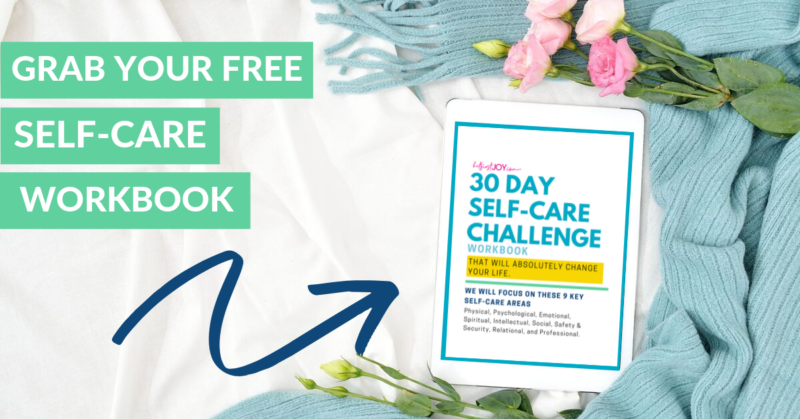 DISCLOSURE
As an Amazon Associate I earn from qualifying purchases. This post may contain affiliate links and/or promotional products, all opinions expressed are that of But First, Joy only. Read my full disclosure.