What have you had your eye on that you absolutely need for June? These are the top 10 pretty little June Must-Haves. I need them all in my life. Maybe you'll add these to your wish list too.
I wish I could blame my virtual window shopping addiction on the rainy days of spring. However, that's not the cast in Florida this season. We're missing the rain and I'm missing an excuse for why I keep buying all the pretties. As many of you may know, I started my blog so I could talk about all the pretty little things I find online. I've finally caught up on work, so I thought it would be fun to start sharing my my must-haves each month.
So, below are my favorite pretties that I had my eye on in May, which are now my June Must-Haves. Some of them were so darn pretty that I took the plunge and bought them. Others, are on my watch-list because I'll most likely just stare at them until they appear at my front door.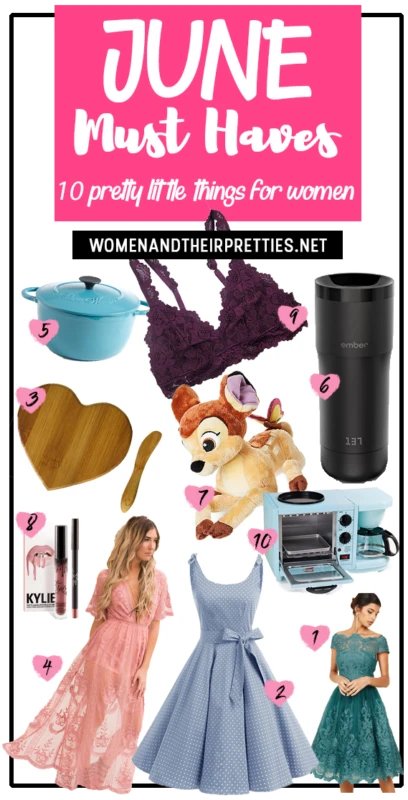 My June Must-Haves: All the Pretties for women
You may notice a few dresses on here. I am totally upgrading my dress collection. A girl can never have too many!
Exquisite Elegance Lace Dress
I adore this gorgeous dress. If I could afford it, I'd own it in every color. I don't know where I'd wear it, but I sure as heck would be wearing it anywhere or everywhere I could. I'd totally be overdressed, but I'd feel damn good!
Rockabilly Swing Dress
I can't help but to obsessed with vintage/retro style dresses. They are gorgeous and so flattering to a curvy girl like me. I actually ordered this dress, so keep an eye on my Instagram because you're sure to see me struttin' my stuff in this beauty.
Heart Shaped Cheese Board
One of my 2017 goals is is to step up my photos and to create more recipes. Part of that means, owning all the cute little things. This cheese board practically begged me to buy it. At only $5, I really couldn't resist.
Sweetest Bohemian Gypsy Lace Dress
Nana Macs is my favorite boutique on the internet. I'm always stalking their site to find something new. I saw this dress and just had to have it. The color, the style. It's everything.
Pioneer Woman Dutch Oven
I want all the Pioneer Woman things because they are so pretty and fun! The butterfly handle really won me over. My collection wasn't full, so my sweet grandmother picked this beauty up for me. I might be spoiled.
Ember Temperature Control Mug
This is the coolest thing ever! I saw a commercial for this mug and felt like I needed it in my life, until I saw the price. I can't quite afford this, but if I could – it would be mine! What's so neat is that you can adjust the dial on the bottom of your mug to keep your drinks at your desired temperature. It's every coffee drinker's dream!
Bambi Plush
Is this not the cutest plush ever made? I really need it in my life, like ASAP. Also, I've decided that when I have a child, their room is going to be Bambi themed.
Kylie Cosmetics Matte Lip Kits
Judge me if you want to, but I've been dying to try the Kylie Cosmetics lippies. I have quite the obsession with matte lip liquid lipsticks and you can't deny that the Kardashian's lips are on point. I bought 4 lippies and I am absolutely in love. Seriously, the colors are incredible, the formula is smooth, and the scent is lovely!
Coobie Bralette
Bralettes are the in thing right now. You can find them in every boutique across the country. I didn't know how much I needed this bralette until I got it as a part of my Concert Must-Haves guide! It's stylish, comfortable, and gives me the support I need. *Sigh* I think I'm in love.
Multifunction Breakfast Center
I don't need this. It wouldn't fit anywhere in my kitchen, but man it's the cutest thing I've ever seen. If I were living in an apartment, this would be my first buy. It's absolutely adorable! I can't help it. I'm a retro girl in a modern world.
What are your June Must-Haves?