Seriously guys, Moana is going to be absolutely hilarious. I kinda figured it would be since The Rock aka Dwayne Johnson is the voice of a main character, Maui. With his big, tough exterior, it's going to be fun to watch him interact with the beautiful and sweet Moana. This teaser trailer alone is enough to have me sitting around the dinner table, expressing how thankful I am for Disney and all of their incredible stories. I lose myself in Disney movies every time I watch one and I gain so much in the end. I can't wait to see what Moana will teach all of us this Thanksgiving!
In Theaters This Thanksgiving
Three thousand years ago, the greatest sailors in the world voyaged across the vast Pacific, discovering the many islands of Oceania. But then, for a millennium, their voyages stopped – and no one knows why.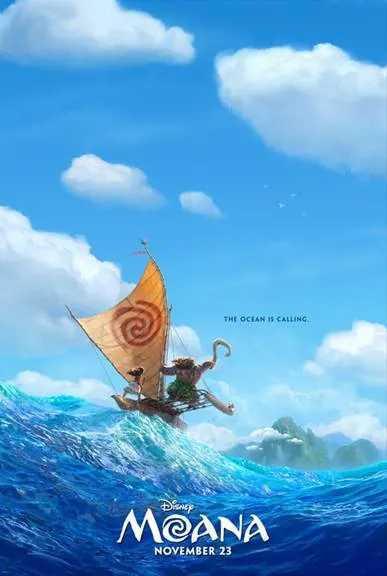 From Walt Disney Animation Studios comes "Moana," a sweeping, CG-animated feature film about an adventurous teenager who sails out on a daring mission to save her people. During her journey, Moana (voice of Auli'i Cravalho) meets the once-mighty demigod Maui (voice of Dwayne Johnson), who guides her in her quest to become a master wayfinder. Together, they sail across the open ocean on an action-packed voyage, encountering enormous monsters and impossible odds, and along the way, Moana fulfills the ancient quest of her ancestors and discovers the one thing she's always sought: her own identity. Directed by the renowned filmmaking team of Ron Clements and John Musker ("The Little Mermaid," "Aladdin," "The Princess & the Frog") and produced by Osnat Shurer ("Lifted," "One Man Band"), "Moana" sails into U.S. theaters on Nov. 23, 2016.
Connect