So what is The Music Box Subscription? It is a box curated with items from local, indie, and new musicians striving to be heard! You tell them the music genres that you are interested in and they organize a box just for you! Guess what that means? It means that every box will be different. In the boxes you can expect to find music goodies like CD albums, band stickers, posters, Free MP3 downloads, and a few extra goodies that will make you smile!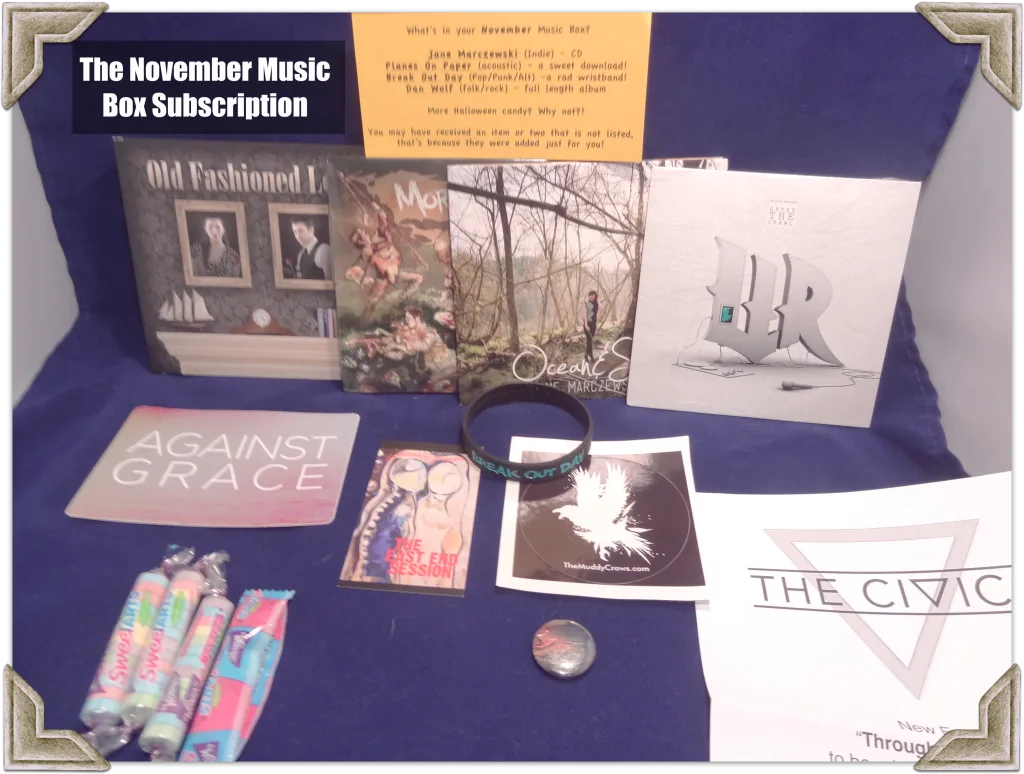 How much is The Music Box Subscription? You pay only $10 a month for one box a month! & just for reading this review use the code 10OFF for 10% off of your first box! Keep in mind that each box will be shipped out the first Monday of each month, so if you order now you will get October's box (which according to them, is their BEST BOX EVER)

Want your music featured in the box? This is probably my favorite part of the box. If you are an artist wanting to be heard you can sign up to be included in The Music Subscription box by clicking HERE! They offer free promotion! From my understanding, all you need to do is send them the promotional items and they will include them in future items! It's a great way to gain exposure!!
Below you can watch a video of my first impression of the November box!
** Be sure to watch for a special code for extra entries in the giveaway **
Please enter below to win 2 SPECIAL music boxes! 1 for you and 1 for you to give to a friend! These aren't your ordinary music boxes! They will have very special contents, that are NOT shown in the pictures here! Good luck!

2 Special Music Boxes – 1 For You + 1 For a friend