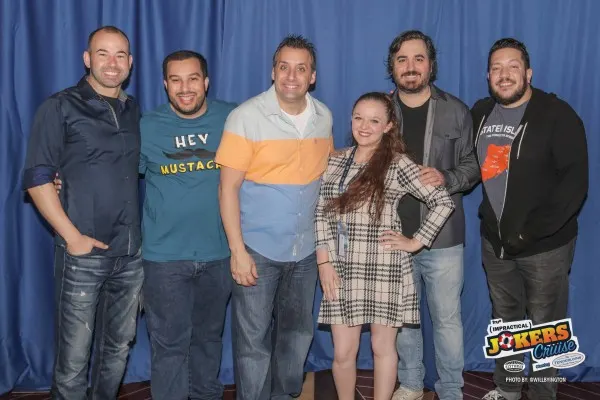 Warning – Lots of photos!
I had the pleasure of going on the very first Impractical Jokers Cruise this year. If you're living under a rock and don't know who they are, they are 4 friends/comedians, called The Tenderloins, who play hilarious pranks on each other. Their crazy antics and hard work led them to their own show on TruTV called, The Impractical Jokers. My boyfriend and I fell in love with their show and have watched every episode multiple times. I've even introduced my friends and family to their show. We are huge fans, so when we heard that Sixthman and the Impractical Jokers were teaming up for a cruise we knew that we had to be there!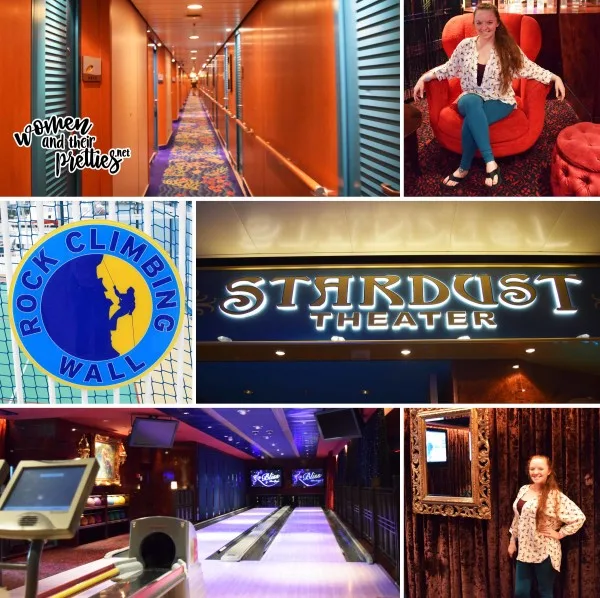 I've cruised before, so I knew what to expect about the ship – good food and great service. This was my first time on the Norwegian Cruise Line. I've traveled with Carnival a few times, so they will always have my heart, haha. Our ship for this trip was the Norwegian Pearl. The ship was a lot smaller than I expected, but beautiful nonetheless. The ship had bonus features like a bowling alley, rock climbing, basketball court, and kids splash zone. We were strictly there for the food and the entertainment. Everything else was just a bonus.
On a normal cruise, the entertainment consists of singers and dancers putting on unique shows. These are very talented individuals, but not recognizable ones. On a Sixthman cruise, the entertainment is incredible! They books cruises with the best of the best, like The Walking Dead, KISS, and Train. They call their cruises "festivals at sea" and they ring true to that title.
I am trying to break down this cruise in the best way that I can because it was a ton of fun packed into 4 nights. I got off the ship wondering how we packed so many activities, laughs, and photos into one short trip. I walked off of that ship Friday morning with a new found respect for the Impractical Jokers, a new love for Sixthman, and with new memories that will last forever. I've had a ton of people asking about my cruise, so I decided to try to pack it all into this post because there's too much to describe on Facebook.
Let me begin by saying that Sixthman rocked it! They kept the entire cruise running smoothly. The weather wasn't the best, but they totally rocked at rescheduling, organizing, and keeping the fun alive at all times. I would say that we attended every show that we could squeeze into our schedule on this cruise. Entertainment wise, I didn't know what to expect. I had never cruised with "celebrities" before. Originally, all I cared about was seeing the Jokers perform live. What I didn't know is that so many incredible comedians would be joining us on our cruise – Lisa Lampanelli, Gilbert Godfried, Mark Normand, Michael Ian Black, Theo Von, Big Jay Oakerson, and the list goes on. I will be honest, I didn't know a lot of the other comedians that were on the ship. I am so glad that I went to every show that I could because these are some of the most talented comedians in the industry.
What really made all of the comedians and musicians stand out was the way they interacted with their fans. They walked around with us, talked with us, and partied with us. They didn't act like they were inferior or entitled. Yes, they were working but they were on a cruise, too! They enjoyed mingling with the fans in a way that they probably cannot do on a normal day. Everyone walked through the crowds and was happy to take photos with the fans. I cannot describe to you the way that these guys were with all of us. They would stand around and chat with you like it was nothing. It's hard to find celebrities that will do that these days. I'm sure it's because they are overwhelmed with the crowds and the crazies. And yes, some are entitled. Luckily, I didn't experience any negative experiences with these guys on the cruise. Then again, I tried my best not to interrupt them when I felt like they were busy – like when Mark Normand was running around on the last night with two drinks in his hands, haha!
Some of the events on the Impractical Jokers Cruise included a special taping of Impractical Jokers, a Space Monkeys Podcast, Lip-Sync Battle, Bingo & Bloody Marys with Chris Gethard and "Vacation Jason", as well as stand-up shows from all of the comedians. There was a lot more than that, but I can't name them all. The highlights from the cruise were definitely all of the podcasts. So many comedians showed up for the podcasts, they played weird Christan games, read Impractical Jokers fan fiction, and cracked jokes. I don't think I've ever laughed so hard in my life as I did when Theo Von was playing the role of a blind sumo wrestler ("Name's Lilac, Sir") and Joe Gatto was playing the role of a pregnant teen.
I couldn't have asked for a more exciting and memorable experience. I hope that they do this every year. I would go every single time!
Connect with Impractical Jokers: Facebook / Twitter / Instagram / YouTube #ImpracticalJokers
Connect with Sixthman: Facebook / Twitter / Instagram / Pinterest