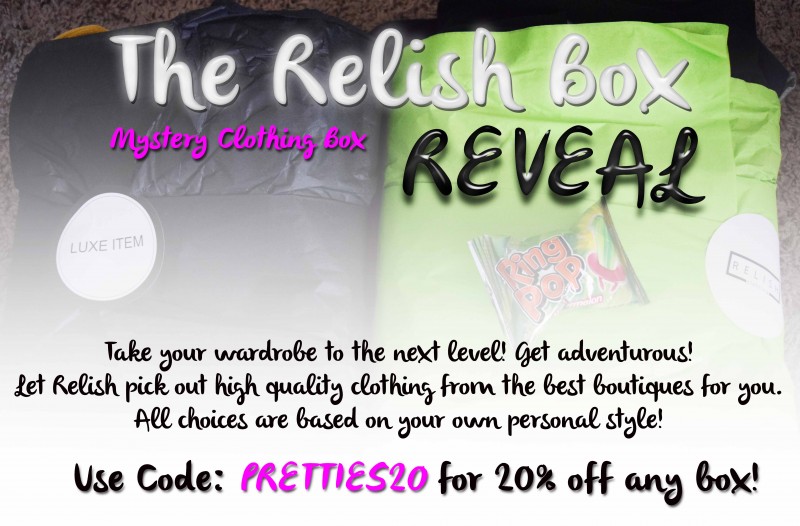 Have you ever felt like you are at a loss when shopping for clothes? Sometimes it's difficult to style yourself. There are days when I feel like I'm a fashionista and then there are days when I feel like I couldn't match a pair of shoes. Another issue that I have with shopping is that I can't find a good store anywhere. I hate wearing the same thing as everyone else. I hate buying expensive clothing that's made with cheap materials. I know, I know… woman problems. The thing is, that a lot of women experience these issues. Sometimes we just need a little push to step out of our comfort zone.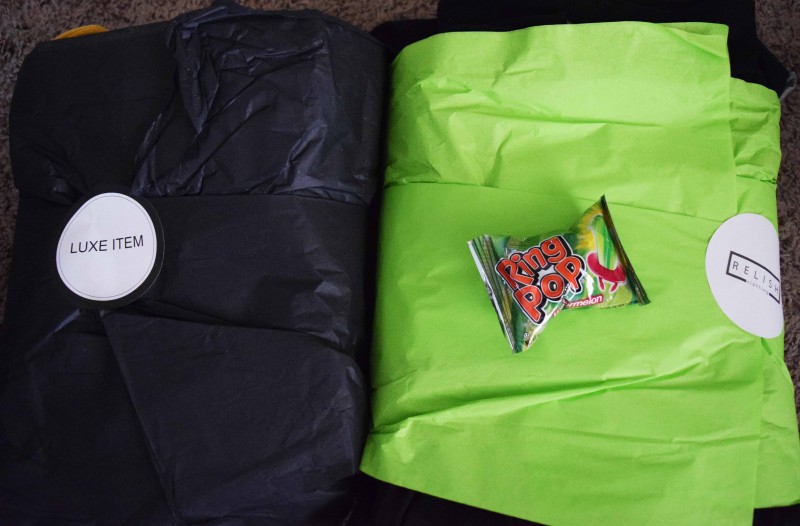 About a month ago I was introduced to The Relish Box. It's basically the holy grail of mystery clothing boxes. I say this because it's one-of-a-kind. The concept is simple and easy, yet so thrilling and exciting. Basically, you will start by making a board on Pinterest where you pin clothing that you love. It can be anything on the web or something from The Relish Box Pinterest board. This board is important because Relish will use your pins to get a good idea of your personal style. Since each box is curated specifically for you, it's important to give a good idea of what you love. After you have a few pins that show your style, you will pick out the Relish Mystery Box of your choice. They have a few options for the clothing boxes.
Small box $99 – this is a taste test really. The box you get when you aren't really sure what to make of this whole mystery box thing. For the beginner #relishgirl. Expect to receive 4-5 pieces with value = awesome!
Medium box $149 – This box is where it starts getting good. Expect to receive 6-7 pieces and maybe even a luxe item!! For the #relishgirl that knows what she wants. The value of this box is = exceptional!
Large box $199 – This is where all the magic happens. Expect to receive 8-9 pieces and perhaps even a few luxe items!! For the super adventurous #relishgirl. The value is = mindblowing!
What really sets this apart from other mystery boxes is that the curators walk through the beautiful Atlanta Boutiques picking items specifically for your box. This means that the clothing is unique, fashionable, and incredible quality. You're getting the best quality at a fraction of the price.
Truthfully, I was worried about my first box. I was afraid I wouldn't like the clothing or that it wouldn't fit me properly. However, I had a Pinterest board full of pins and I made sure to tell Relish (which you can do in the comments box when placing your order) more about my style. Really, I am adventurous with what I wear. I don't have a specific style, but you'll find me drooling over an edgy or bohemian look, so I made sure to let them know. Also, I gave my measurements. My body isn't exactly porportional so I wanted to make sure that the clothing would be a good fit for my specific body.
In addition, I stalked the Relish Facebook Group for awhile. The group is an incredible place to get an insiders look on what all of the other members are getting in their boxes, their reactions to the fit, and a great place to buy, sell, or trade the Relish clothing.
The Big Reveal
Okay, so I know you're waiting to see what the heck was in my box! Well, here it is folks. This is the Large Mystery Box in Size Medium. I wear a size 7 jeans. My bust is 36inches. I am 5'0. Waist: 34inch. Hips: 37inch. Okay, so let's jump right in!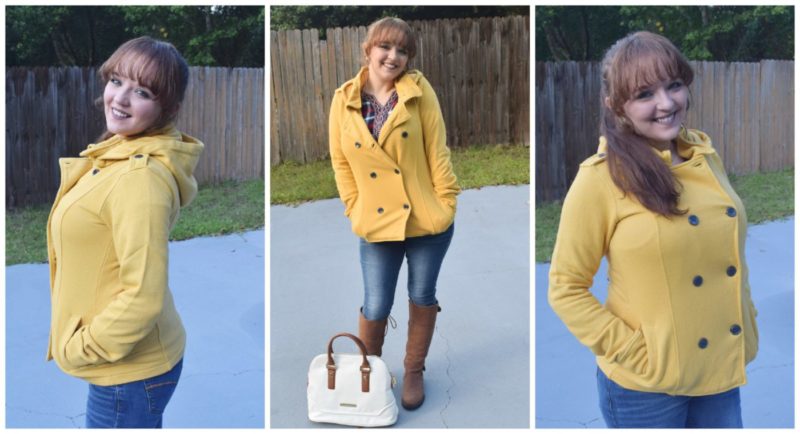 LE3NO Women's Classic Double Breasted Peacoat Jacket w/ Detachable Hoodie. Retails for $69.99
I absolutely LOVE this jacket! This is the "luxe" item of the box. The color is beautiful. I don't have any clothing this color, so I was excited for something new. It fit really well and will definitely keep you warm. I was happy to see this in my box since I had it pinned to my style board! I can pair this with just about anything!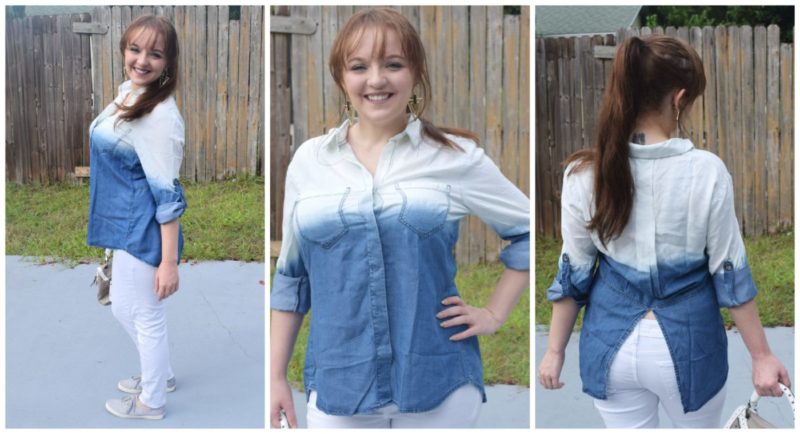 Thread Supply Ombre' Shirt – Couldn't find this online, but the other styles like this retail for $57
When I opened the box and laid eyes on this shirt I thought, "Ew. NO way! I hate it." Then I touched it. This is seriously the softest shirt that I have ever felt. Not only that, it fits me beautifully! It's opening a bit at the bust, but with the right bra it will look perfect! I paired it with white jeans and I just love how it falls on my body. The colors are beautiful. This is definitely not like anything in my wardrobe. I would have never picked this out for myself. Way to go Relish!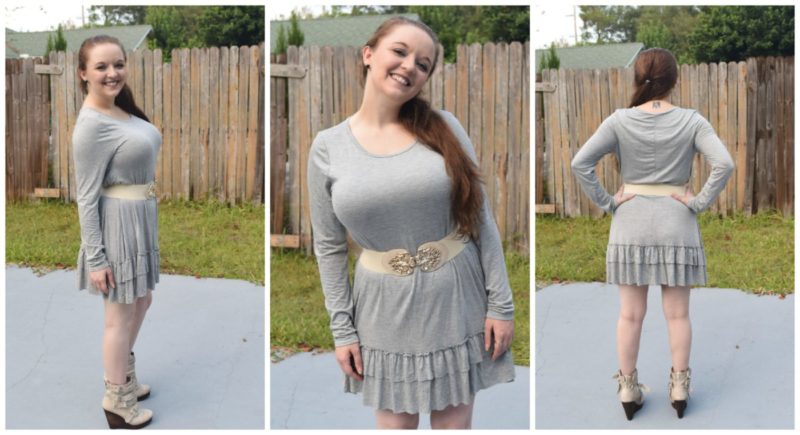 Easel Ruffle Tunic/Dress – Retails for around $30 (I wear mine as a dress because I am only 5'0 and it's almost to my knees haha)
This is super cute! I love that I have the option to be creative with this dress. I find it very girly and feminine, which I don't have enough of in my wardrobe. The color is neutral so I can throw a shorter dress or long top over it. I can wear it with a jacket or with a waist belt. I love the options! I am really impressed by this dress and the length is perfect for me. I also had this pinned!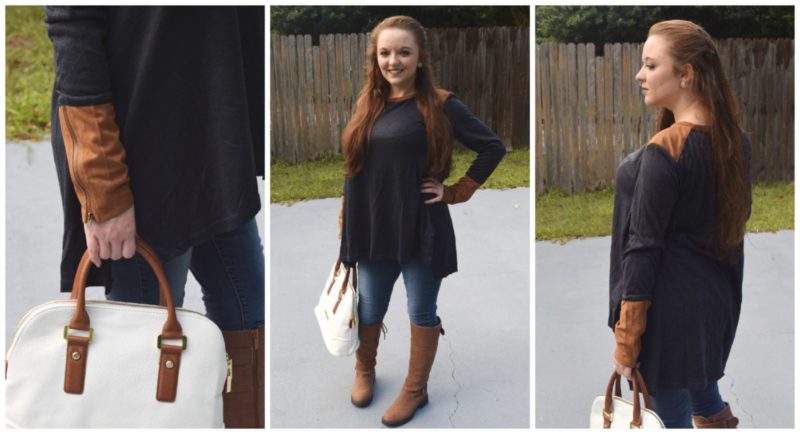 Staccato Top with Faux Suede Sleeves – Couldn't find anywhere online (that's a good thing!)
This makes me melt everytime I look at it! The faux suede on the elbow and neckline, is gorgeous! I love the way it hangs. I would wear this with jeans or with leggings. It's really soft and great for all of my Fall looks! It isn't too thin or too thick. Basically, I can wear it in Florida without dying from the heat, haha. This was something else that I pinned on my Pinterest style board.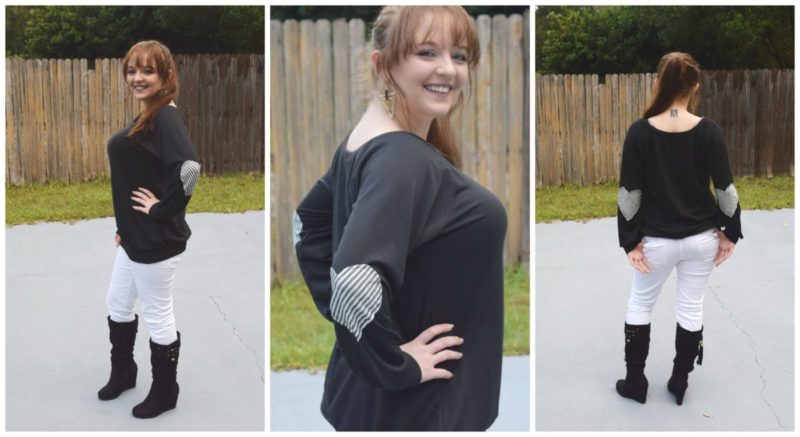 Easel French Terry Sweatshirt – Retails for $29
This was one thing that I have had my eye on for quite awhile! I absolutely love the heart elbow patches. It's so adorable and comfy and girly. I love casual, yet cute clothing. This is right up my alley and was also pinned on my style board!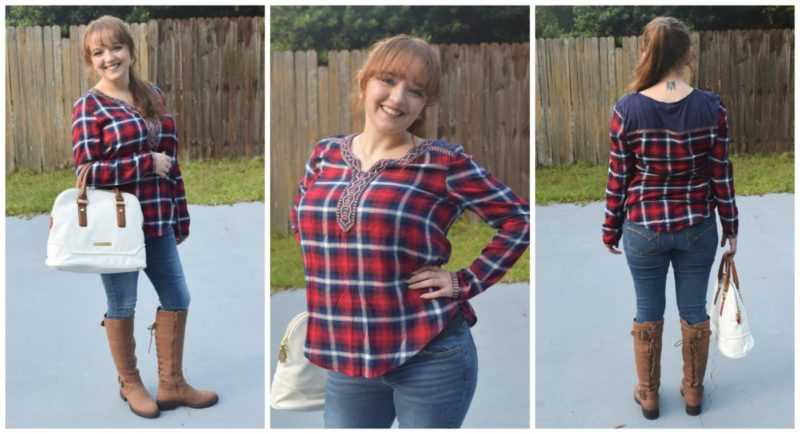 Thyme Clothing Plaid Tunic – Retails for $49.95
This was another that I wasn't completely sure about when I received it. But again, it was incredibly soft. I tried it on and immediately loved it. It fits me perfectly. The length is just right. I love the colors. I've never been a fan of plaid, but this is definitely worth making an exception for!
My Final Thoughts
I love it all! I was so impressed with quality of the clothing. Everything is so soft and beautiful. I was excited that I liked every single piece and that everything fit me just right. These are outfits that I will actually wear, rather than hang it my closet forever. The value is exceptional! It's well over a $200 value and completely worth it i my opinion. I think that I have a new addiction.
Use my code PRETTIES20 for 20% off ANY box!
Connect with Relish Clothing: Instagram /Pinterest Relish Box Board/ Join the Facebook Group
Win a Medium Mystery Box!
Because Relish is so awesome and because my readers are the best ever, we are giving away a Relish Box to one lucky reader! This will be a medium box in your size – either small, medium, or large. The box will be curated specifically according to your style, so start pinning!

Relish Mystery Box Giveaway

Welcome to the ThankFULL for Giveaways Hop brought to you by The Hopping Bloggers! Hosted By: Mama Smith's | Women and Their Pretties Co-Hosted By: Comeback Momma | Better on a Budget | Our Mini Family | SassyGalBeauty Many bloggers have come together to bring you a chance to win some amazing prizes! Go ahead and enter them all because there is no limit to how many you can win! Good luck!