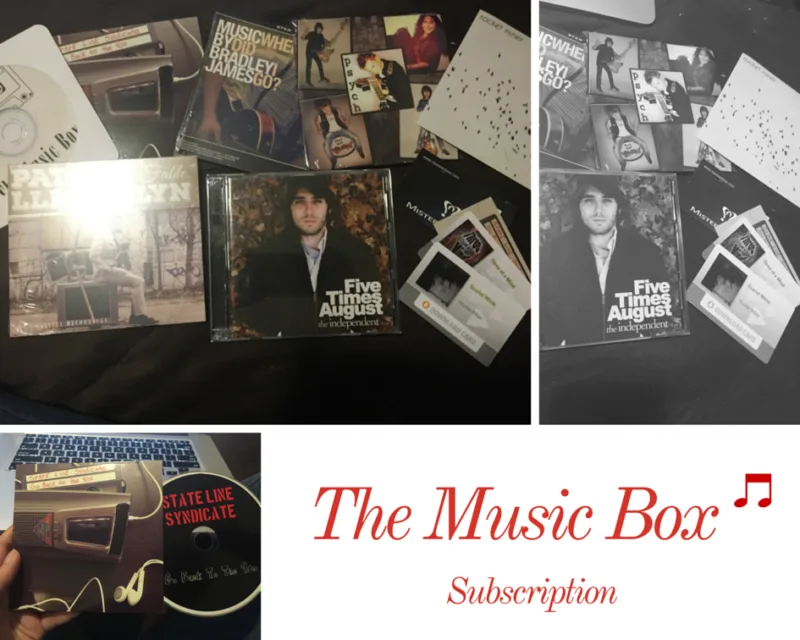 #MusicMondays
The Music Box Subscription sends me new bundle full of new music every month. Every month I learn about new artists from a variety of genres. As a music major, this is exciting and so much fun for me! If there's one thing you should know about me, it is that when I discover something new, I have to share it with everyone! So, here I am! I am here to introduce you to a few artists that you need to hear because, seriously, you are missing out on life right now and you don't even know it.
The Music Box Subscription is a company that send you a box full of music related items each month. The subscription prices range from $5-$13, so it is very reasonably priced. Their boxes contain items from up-and-coming and new artists, such as CDs, Stickers, Free MP3 downloads, and more promotional materials.
State Line Syndicate is Pop Punk Rock band that seems to know their vision and they go for it. They have some how managed to intrigue us with a blast from the past with their album, "Go Back To The 90's". This is an album that makes me nostalgic. It reminds me of my skateboarding, punk-rock stage! The lead singer has a very unique and distinct voice that just makes you want to hear more. This album doesn't veer away from the theme, which is an issue with some new artists. I seriously recommend this awesome band for anyone that just can't get enough from the Pop Punk scene!
Connect with State Line Syndicate Social Media: Facebook / Twitter / ReverbNation / SoundCloud
Five Times August is an independent artist that I cannot get enough of. His voice, his eyes, his lyrics… all have my fangirling over here! This is one of those singers that you KNOW is going to make it. There's something so perfect and real about his music. His music evokes emotions inside of me that I long for when discovering new artists. His music is taking off and I want all of you to be right there with it! Check him out on social media and listen to some of his songs. You'll surely be addicted!
Connect on Social Media: Facebook / Twitter

Want to discover discover new artists too?
Connect with TMB on Social Media: Facebook/ Instagram/ Twitter