New York City Hotel Pennsylvania Review:
I'm an easy woman to please. It doesn't take a lot to put a smile on my face when I travel. All that I ask for is a clean room, good A/C, and safe & quiet environment. I don't need room service or a fancy TV. I just want to be comfortable. If you're looking for a good hotel in New York City – Hotel Pennsylvania is not the place for you! It's by far, the worst experience I've ever had on vacation. I've stayed in motels that were better than this. the nightmare began as soon as we arrived.

Check-in Process – Strike #1
My fiancé and I flew into New York City from Orlando around 8am on a Wednesday. We didn't full expect a room to be ready for us, but we thought we'd give it a try. Since we travel often and since I worked at a hotel for 7+ years in my life, we know the ins and the outs of the hotel business. Usually when we visit NYC, we arrive early drop our bags off and check in a few hours later (which is typically a couple hours earlier than check-in if a room is ready). Well, that's not how Hotel Pennsylvania does things… at all.
After standing in a very long line to check-in and listening to an employee rudely lecture a guest that was confused about his reservation, we finally made it to the front desk. The gentlemen at the desk walked away and left us waiting for a few minutes (without saying a word) before finally acknowledging our existence. We ended up with a two full-sized bed room and king size beds weren't available at all for our 4-night stay. We were disappointed, but understood considering it was New York Comic Con week. We asked if we could check in early and we were told that check in wasn't until 4pm, but we could check in early for a fee! Which I believe to be ridiculous, but whatever. We passed on that "generous" offer.
Next, we asked if we could drop our luggage off so we could explore New York City for the day. We absolutely could! We only had to pay $10 PER BAG to check our luggage! I've stayed at some of the highest end hotels (like the Four Seasons) and some of the cheapest hotels (like the Best Western) and never have I ever been charged to check my bags! These people will do anything to make a buck!
Our room
After a very long and exhausting 22-hour day, we were ready for a good night's sleep. We walked into our incredibly tiny room and immediately gasped! It was absolutely horrid. First of all, we didn't have two full-size beds or double beds like most hotels. No, we had TWIN beds. There was absolutely no way we could manage to sleep in the bed together, so that was the first red flag.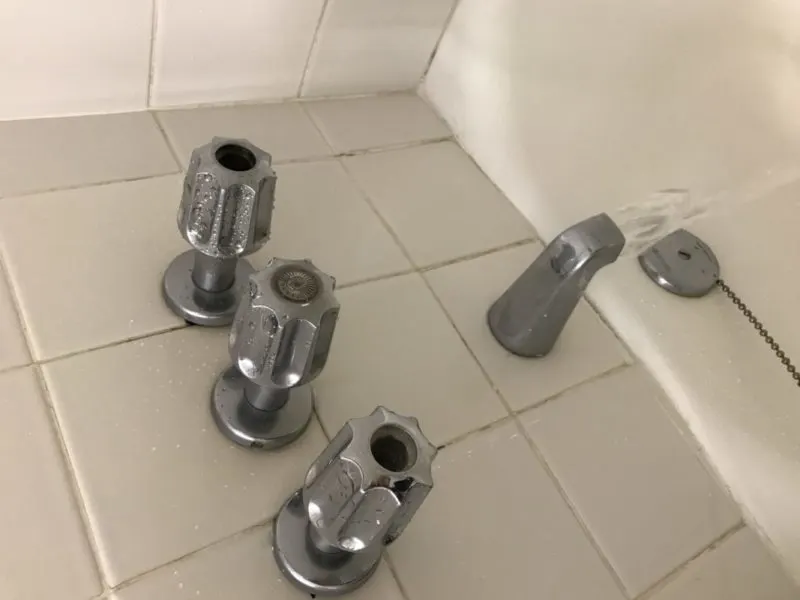 The first thing I did, was went to the restroom to change and noticed a giant stain in the bathtub. It looked as if it had never been cleaned and water had been left to sit for a really long time. It was chipping away at the surface, making showering very uncomfortable. There was even hardware missing from the tub! In fact, based on the cleanliness and smell in the room, we felt like nobody had stepped foot in that room for months, if not longer! It felt as if they threw us in the basement to fend for ourselves. The nightmare didn't stop there.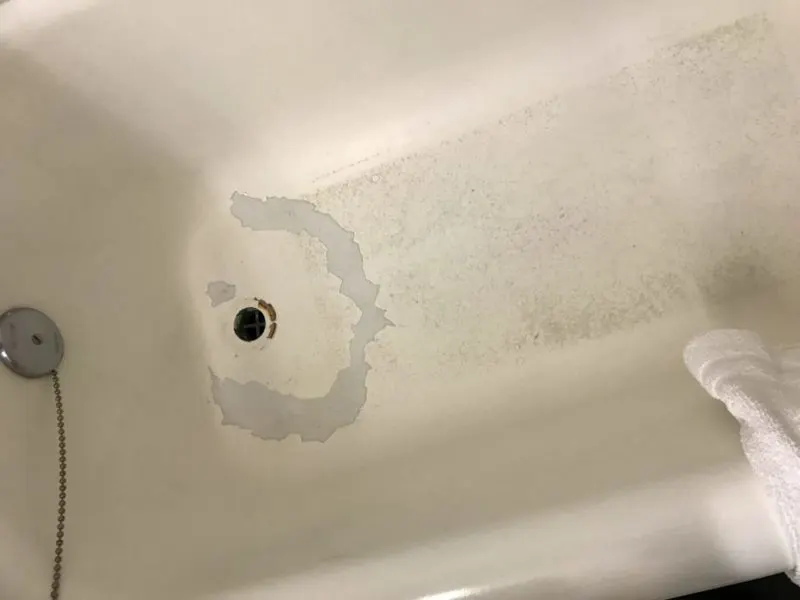 I decided to blast the A/C to prepare for our night's sleep. I lifted the lid on the very old A/C unit and found the most disgusting thing I've ever seen in a place that I sleep – the A/C was caked in dirt and dust. The knobs were disgusting. The vent had dust layered on so thick that it could have caused a fire.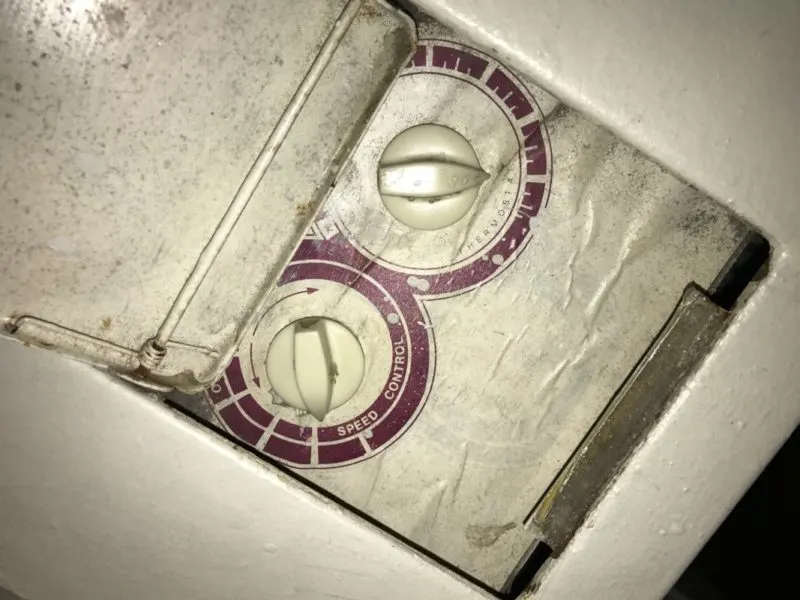 We called the front desk and we were told that we had no rooms available. Being that we'd just had the longest day of travel and exploring, we decided to just call the front desk instead of leaving the hotel. Of course we were told that no rooms were available. So, we had no choice but to sleep there – two nights in a row.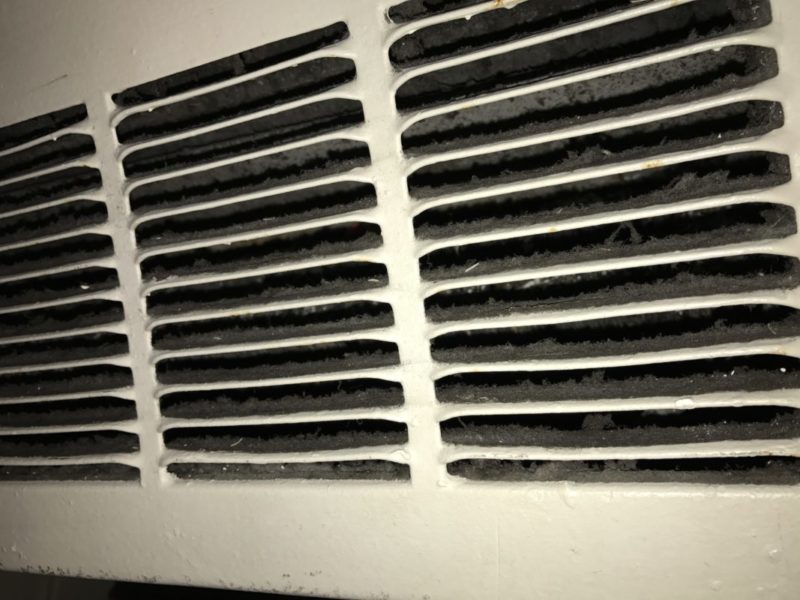 We finally decided to just crash. I pull down the blanket and find discolored, stained, old dirty sheets on the bed. Go figure. I pulled the blanket to the floor, because I couldn't imagine what kind of disgust has been on those!
And finally, to top it ALL off, I lay down, look up at the ceiling and find a giant spot of mold on the ceiling. Yep – MOLD! It doesn't get much worse than that people. I don't even need to mention the streaks of dirt on the walls and the dust caked all over the furniture and carpet.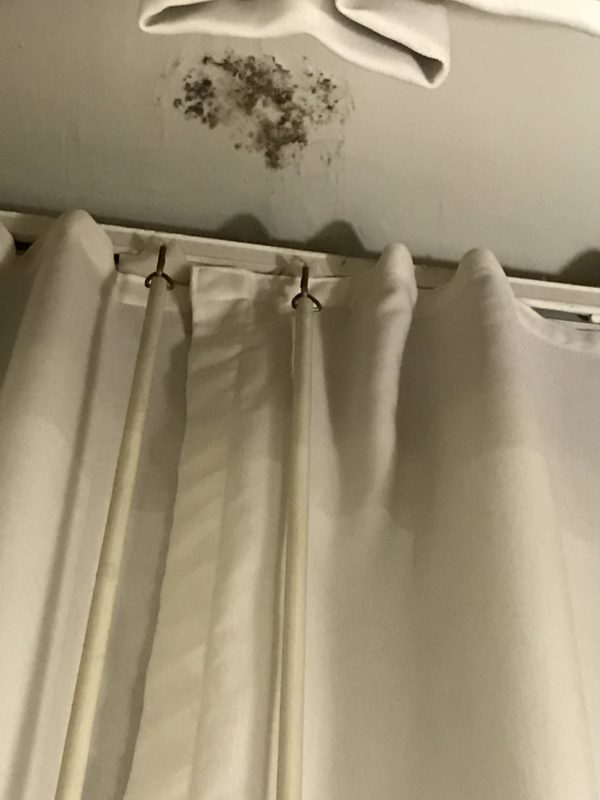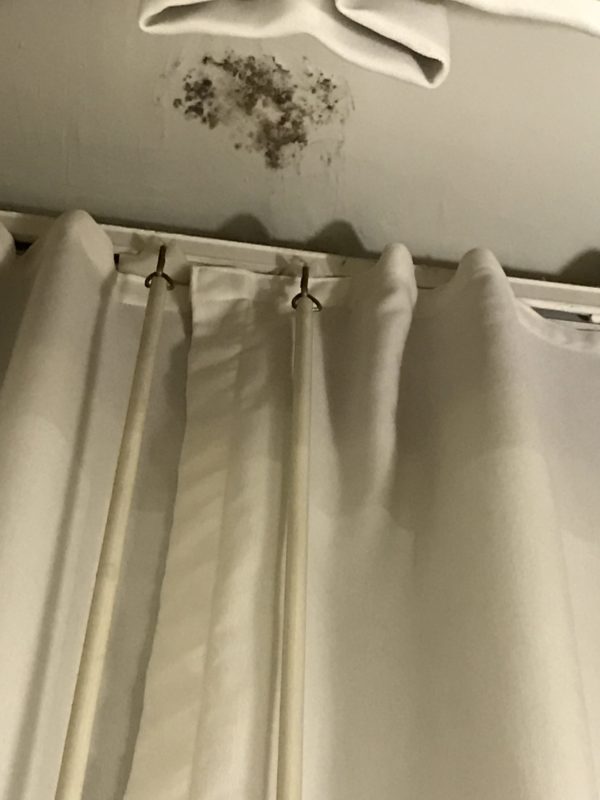 I had a friend check in the next night and check right out and leave. She also had mold in her room.
Oh, and the top beds were against the wall behind the elevator so all night long (and I am not exaggerating) we heard loud screeching and banging on the wall. We thought it was guests until we realized it was happening every few minutes. Basically, I got no sleep the first night.
The Resolution
My fiancé woke up at 5am on the third day to talk to the front desk before we had to leave that day. After speaking to 2-3 people, he finally got a resolution. They magically had king beds available that night (even though the other front desk representative told us none would be available). We didn't have time to move that morning, but were told we could move when we got home that night. No discounts were given, no refunds. The manager even thanked us for biting the bullet and staying in the room (as if we were given a freaking option!) He literally told us that that he knew how bad it was – which makes it ten times worse.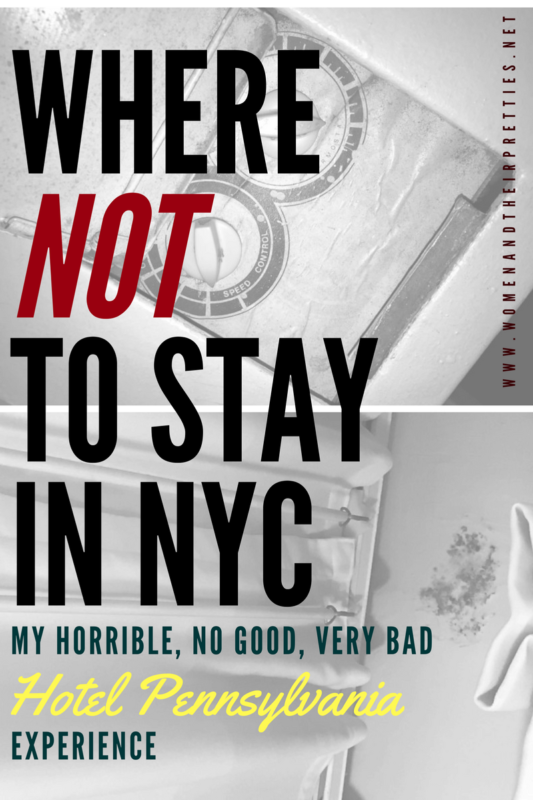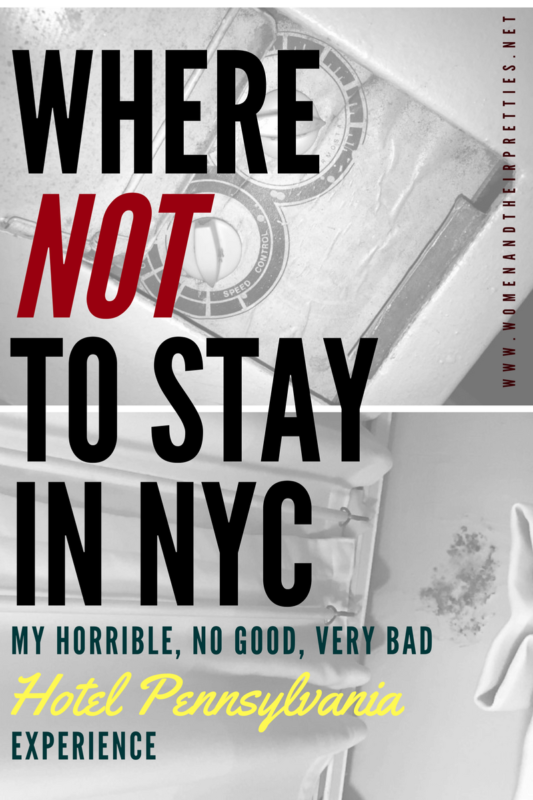 We checked into our new room later (after waiting in the super long line again) and it was like a brand new hotel! Literally, even the hallway was completely different. It's as if some levels of Hotel Pennsylvania had been renovated and others hadn't. The carpeting, lighting, and even the bedding were different! This room was much better, but it was still a terrible, no good, very bad experience that I wouldn't recommend for anyone. Oh, and they wouldn't give us any sort of late checkout without us paying for it. Go figure.
After this New York Hotel Pennsylvania Review, I hope that you won't even consider staying there! It's the most disgusting hotel I've ever stayed at. The hospitality was the worst. It wasn't clean and I didn't feel very safe after that first night. If you're going to stay somewhere in New York City then I recommend The Row. It's a beautiful hotel and you can trust them to take good care of you.
What's the worst hotel experience you've ever had?