This
movie
looks and sounds really fun and cute! It will be available to take home very soon. I recommend grabbing the Blu-ray because of the incredible bonus features. I think Norm of the North will be a big hit with the kids.
Available on Digital HD March 29 and Blu-ray Combo Pack April 19!
Synopsis
Life can be a real bear—just ask Norm, a polar bear with unusual talents and a heart as big as the great outdoors. When he hears that human homes are going to be built in his Arctic backyard, Norm comes to the rescue. With a team of ragtag lemmings at his side, Norm heads to the concrete jungle of New York City on a freewheeling, fun-filled mission to stop the madness and save the Arctic.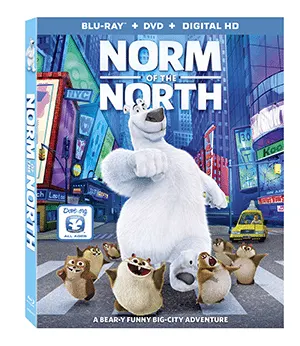 Bonus Features
Experience even more exhilarating adventure with special features including deleted scenes, outtakes, "The Arctic Shake" sing-along and a trivia challenge for the whole family to enjoy! The Norm of the North Blu-ray Combo Pack and DVD will be available for the suggested retail price of $34.99 and $29.95, respectively.
BLU-RAY COMBO PACK/DVD/DIGITAL HD SPECIAL FEATURES*
· Deleted Scenes
· "Do the Arctic Shake!" Sing-Along
· That's Funny! The Movie's Best Jokes & One-liners
· Arctic Challenge Trivia Game
*Subject to Change
Connect
Website: www.NormoftheNorth.com
Facebook: www.Facebook.com/NormoftheNorthMovie