I have tried plenty of boxes that are dedicated towards "that time of the month" for women. That time of the month is hard. We are uncomfortable, frustrated, in pain, and just want to eat chocolate and
sleep
the entire week away. It is something that we will never be completely comfortable with, but with the right subscription box, we can feel a little bit special at this time. So what do we, as women, want to ease our minds during our cycles? Well, we want our very favorite feminine products, chocolate, more chocolate, something to ease the cramps, and we want to feel beautiful. Out of all of the subscription boxes that I have tried, I have found one quite as thoughtful as the
Swaag Box
.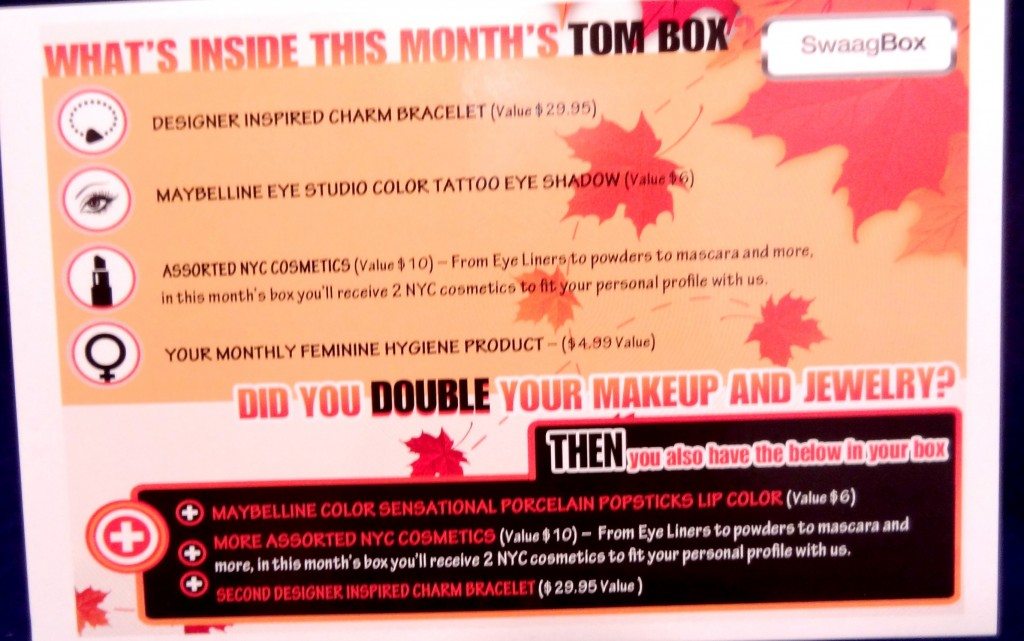 The Swaag Box is a monthly subscription service that will deliver you all of the supplies you need for that time of the month. They promise to send you the tampons or pads of your choice, a sweet treat, beautiful jewelry, and brand name makeup. They may throw a few surprises in the mix every now and then, as well.
Price: $16 Per Month with no obligations, $14 Per Month with 6 Month Purchase, $24 for only one month – one time purchase. / Add $6 per month for double the makeup and jewelry like I received below.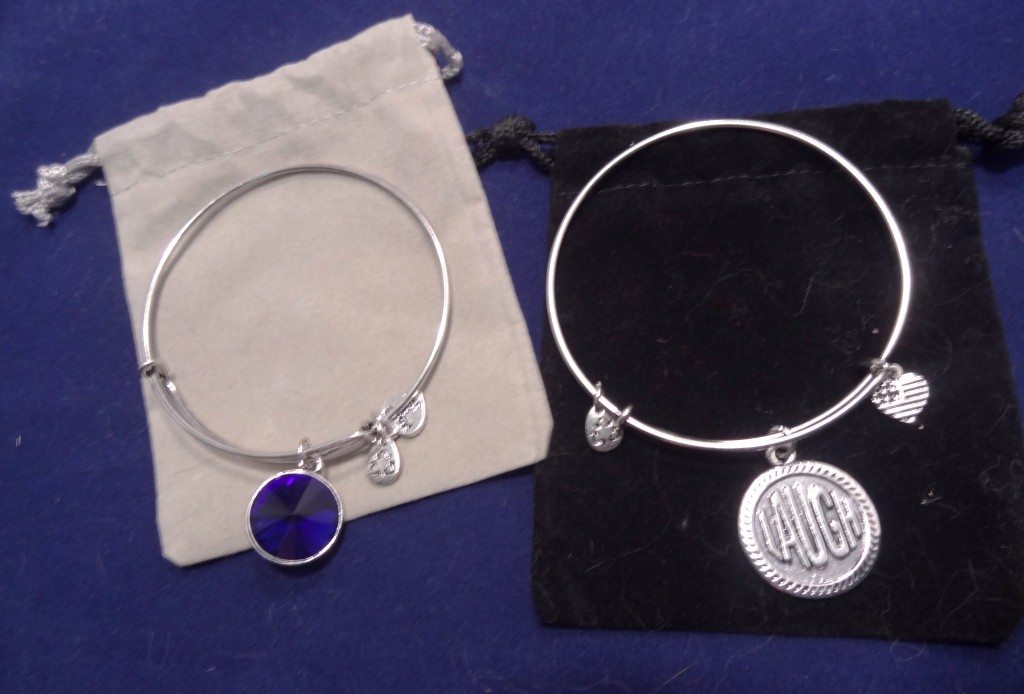 Designer Inspired Charm Bracelets- $29.95 each: I was absolutely IN love with the jewelry in this box. The bracelets are beautiful. I was shocked to see such a high quality bracelet. Then even more surprised to find TWO of them! As you can see in my video, I was so in love with these bracelets.
Maybelline Eye Studio Color Tattoo Eye Shadow– $6 value:  I was super excited about this. This eye shadow is actually trending int he beauty world right now. I hear people talking about it all the time. I was so excited to see it in this box. Maybelline is a great brand!
Maybelline Color Sensational Porcelain Popsticks lip color– $6 value: Once again, an INCREDIBLE product! I was so happy with the color and excited to see another big brand in the box.
Assorted NYC Cosmetics – $20 value: Holy makeup! I was thrilled to find a bag of makeup! I never get this much makeup in subscription boxes. NYC isn't the best brand, but I still like it pretty well. They sent beautiful colors and makeup that I will definitely be using.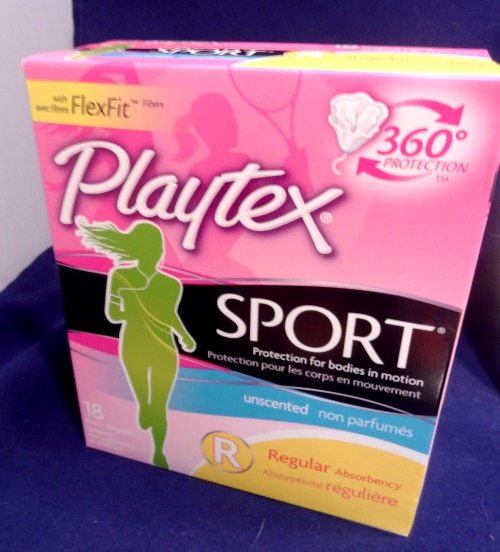 Monthly Feminie Hygeine Product– $4.99 value: They let you choose between a few brands and between tampons or pads. They sent me the Playtex Tampons that I use.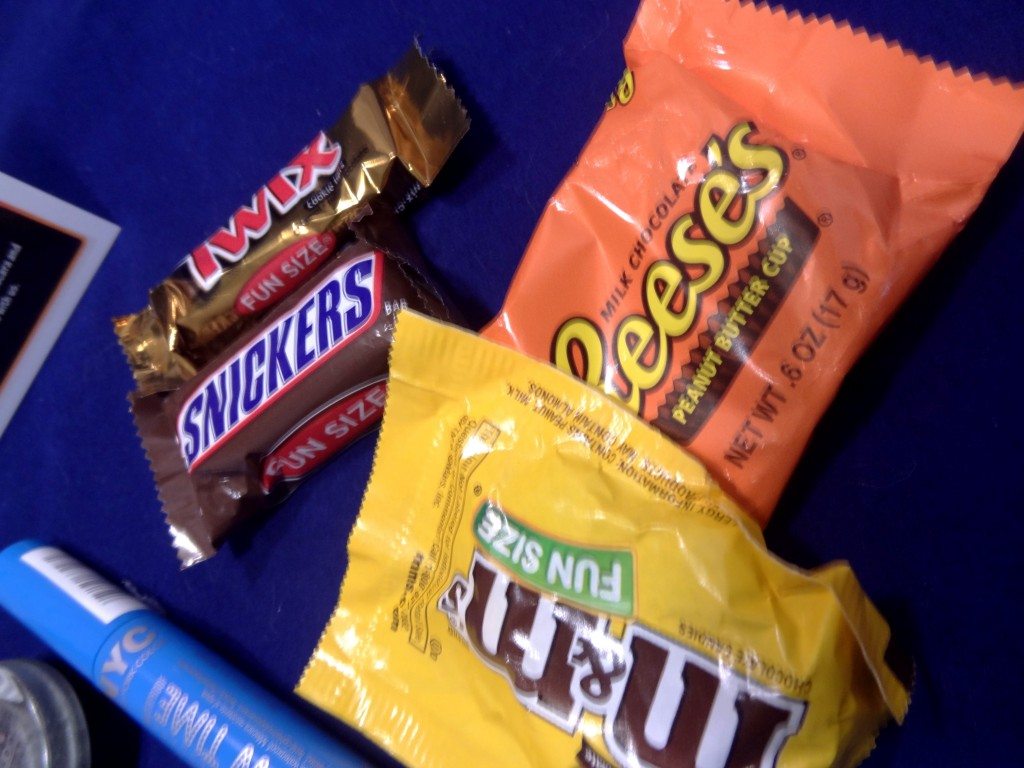 Sweet Treats – Unknown Value: I was happy that they sent CHOCOLATE! Delicious! They also sent the very best chocolate- M&Ms, Snickers, Twix, and Reeses.
---
Overall, I can say that this is an INCREDIBLE box. I mean seriously,  this was just under a $100 value box! That's an incredible deal. I would however, like to see them include a few little extra like pain relief and maybe some bath or skin care. I do love everything that they sent and if they keep the boxes full of goodies like this every month, this company will be BOOMING. I definitely stand by Swaag Box and can't wait to see them grow more and more.
What a Girl Wants and Needs. Tampons/Pads, Makeup, Jewelry & More.Try Swaag Box today for Only $5 (For double the makeup and jewelry, like I received add $6 per box)
To Purchase head to www.SwaagBox.com or click HERE

Also, connect on Social Media: Facebook / Twitter / Google Plus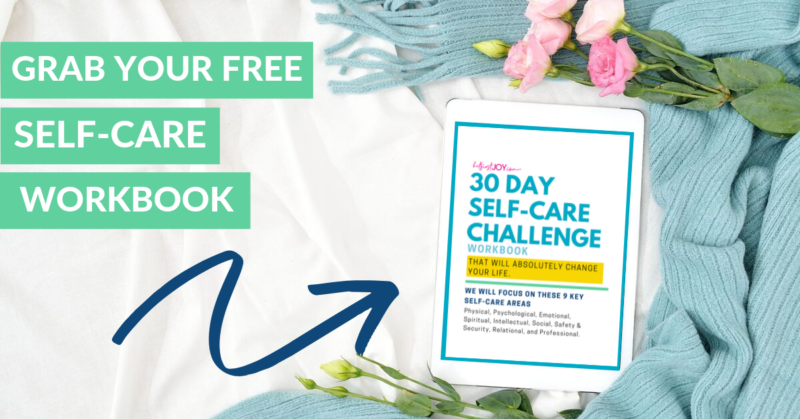 DISCLOSURE
This post may contain affiliate links and/or promotional products, all opinions expressed are that of But First, Joy only. Read my full disclosure.