I partnered with Olay to take the 28-day Study to bring these tips to treat problem skin!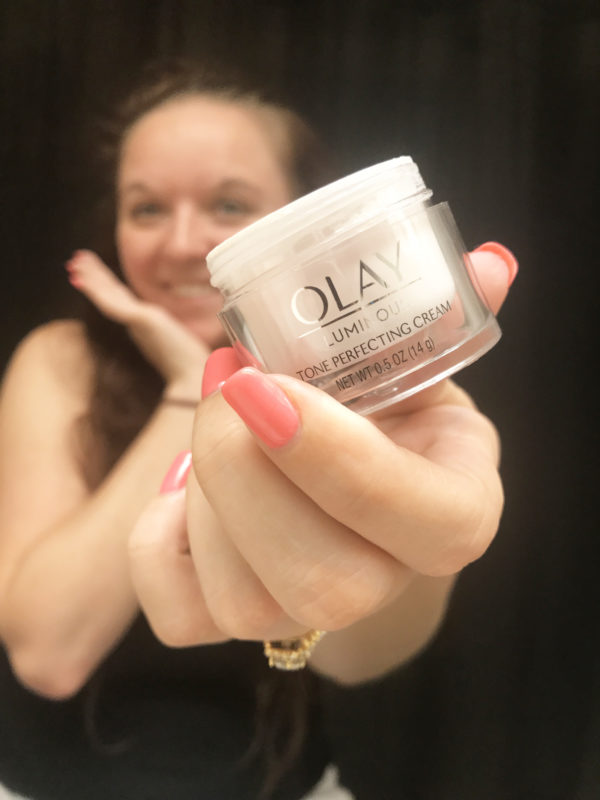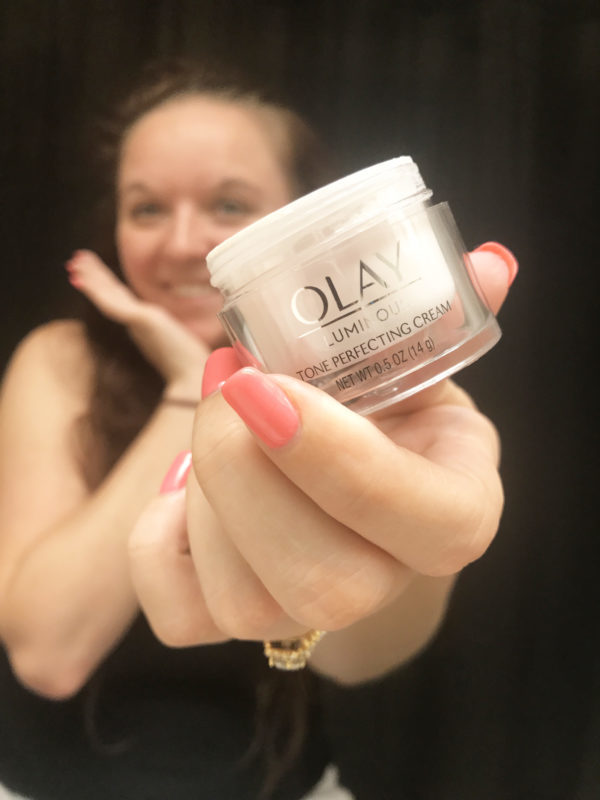 It's time that I face the fact that I'm almost 30. People have always told me that after you hit 30, everything starts falling apart. I kinda believe them now. I didn't have a good skin routine in my younger years. In fact, I didn't even use a facial cleanser until I was 18 years old and living on my own. It's all catching up to me now. I have dark spots, an uneven skin tone, and dark circles under my eyes. Those are just a few of the horrific issues that I face with my problem skin. So, when Olay asked me to take a Olay 28-day Study, I knew I couldn't turn it down. So, for the past few weeks, I've been using Olay's skin care products to help treat my problem skin and I want to tell you all about my experience.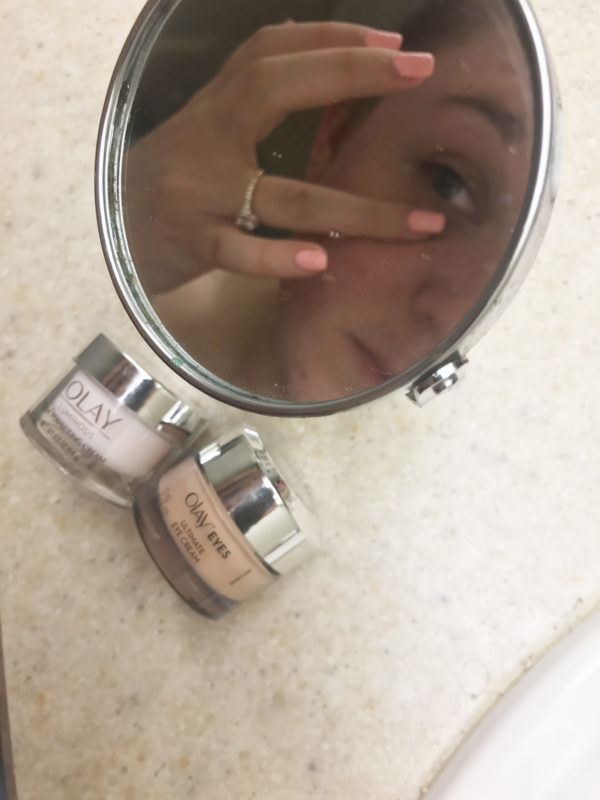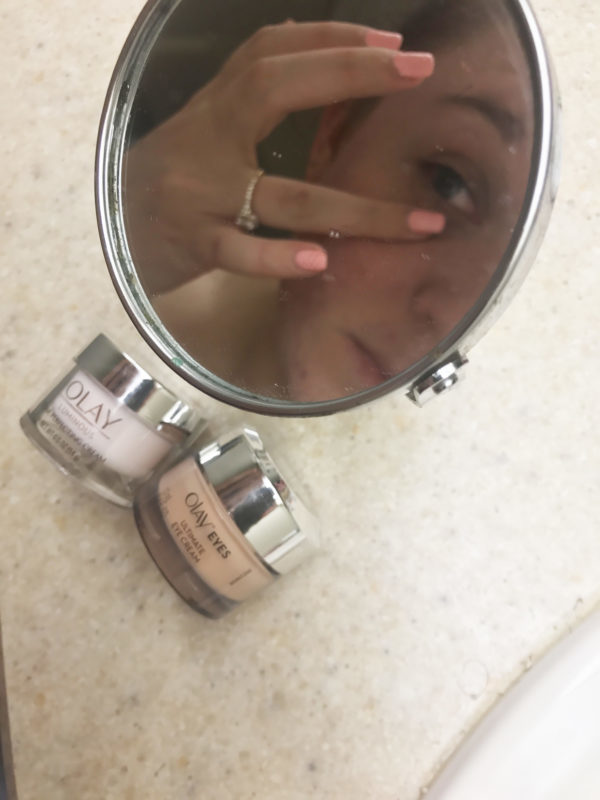 How I took the Olay 28-day Study and how you can too!
I started with a clean face – no makeup, no products on my skin.
Next, I used the Olay Skin Advisor Tool on my mobile device to find out which products were recommended to treat my problem skin.
The Skin Advisor Tool is super easy to use and doesn't require an app to use. What makes this tool really great is that you take a photo and submit it to the tool for them to identify your biggest problem areas. You'll also answer a few questions about your skin concerns just to help Olay recommend the best products for you.
After I submitted my photo and answered all the questions, Olay told me my "skin's age". I'm 28 and my skin aged at 31 before I started this process. Yikes!
I took a screenshot of my results & recommendations and ran to my local Walmart to pick up a couple Olay products. The two best products to treat my problem skin were the Olay Regenerist Luminous Tone Perfecting Cream and the Olay Ultimate Eye Cream.
Then, I began using these products every morning and every night. I'm focusing on the dark circles under my eyes and my uneven skin tone.
My Olay 28-day Study Experience & Results
Olay Regenerist Luminous Tone Perfecting Cream
I can say without a doubt that this is absolutely my favorite face cream. The scent is what really sells it for me. It smells so fresh and so clean. I love beginning my day and ending my night with this fresh scent on my face! Not only that, it really moisturizes my skin better than any other creams I've used. I've noticed a very slight change in my dark spots, but mostly I've noticed my skin as brighter, smoother, and more hydrated – which is a win in my book. I've also noticed the visibility of my pores being reduced!
Olay Ultimate Eye Cream
This really is the ultimate eye cream! It has made a very noticeable change on the dark spots and fine lines under my eyes. This product doesn't have a scent, which I don't mind. I also noticed a different application technique than I'm used to for under eye creams. Usually you dab it under your eye with your ring finger, but with this cream, you're instructed to massage under and around your eyes.
Final Olay 28-day Study Results
I'm completely satisfied with my results after using these Olay products. I've already recommended both products to friends and my mother. I will be updating your further after I finish off both jars, so be sure to keep an eye on my Instagram Stories for those updates.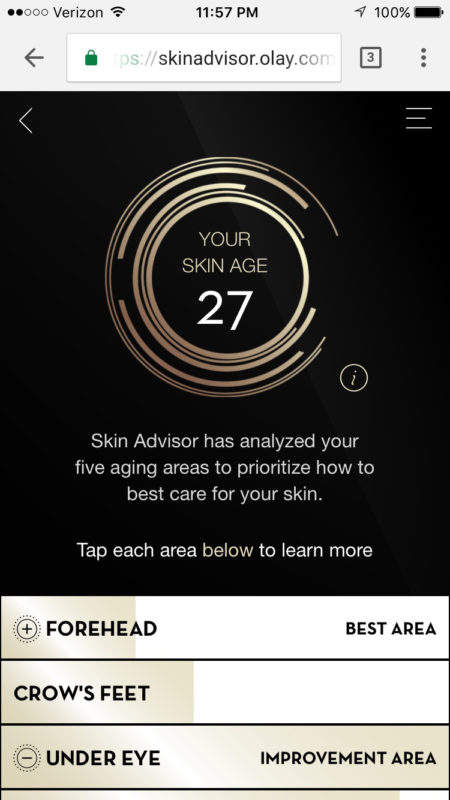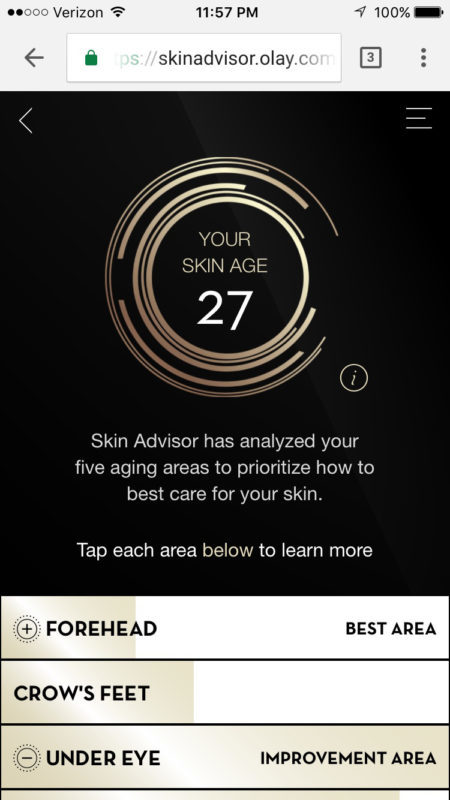 Oh, and guess what? I used the Olay Skin Advisory Tool again and my new age is… 27! It took a year off of my actual age. Winning!
Pick up all of your Olay products at Walmart.com/28DaysofOlay. Just look in the skin care aisle, right next to the cosmetics!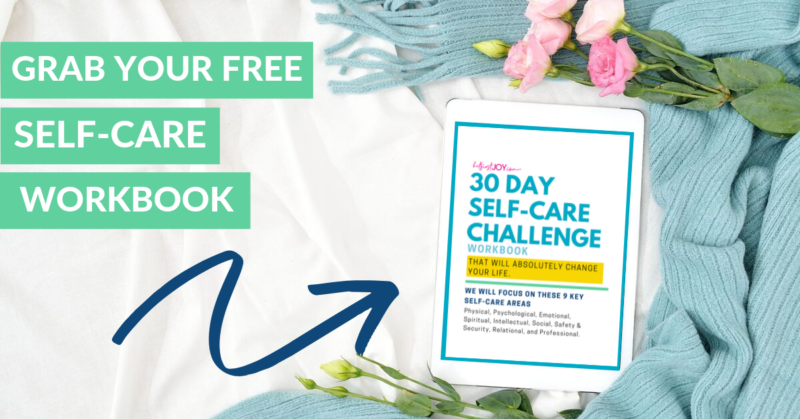 DISCLOSURE
As an Amazon Associate I earn from qualifying purchases. This post may contain affiliate links and/or promotional products, all opinions expressed are that of But First, Joy only. Read my full disclosure.