If you're looking for the best Pokémon gifts to give this year, I have the best ideas to make it a Pokémon Christmas! With a little bit of everything for ever Pokémon lover on your list, you're sure to find a gift and a good deal this holiday season! This post is in partnership with GameStop and ThinkGeek.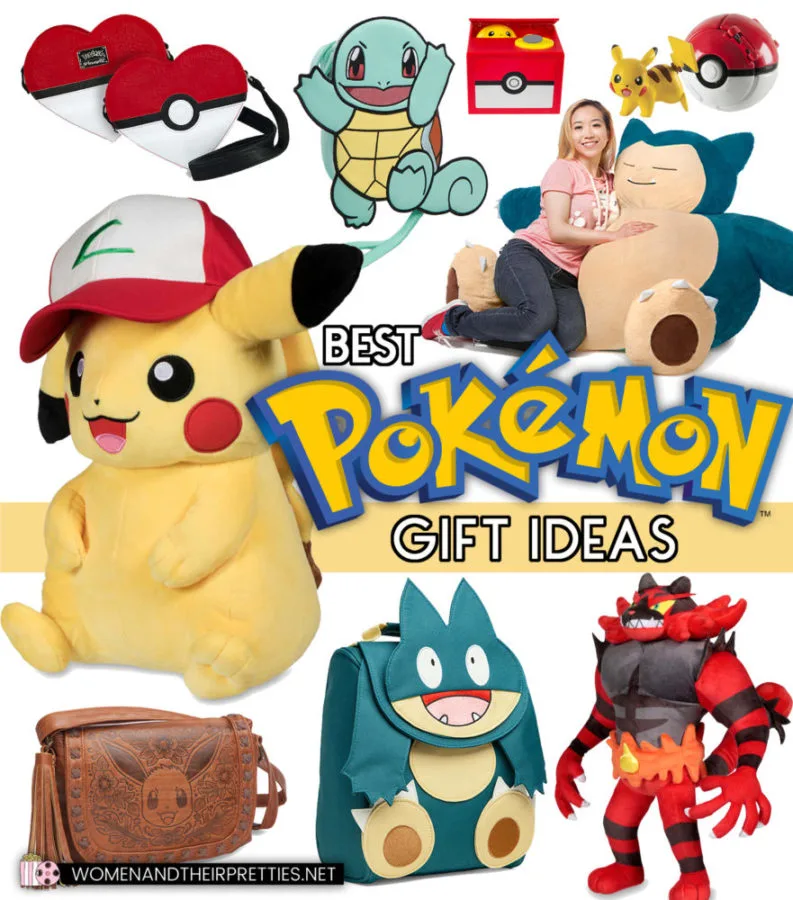 With the Pokémon Go craze still going strong in many families, it's no surprise that the hunt for Pokémon gifts is at an all-time high this holiday season. Even I find myself wishing for an Eevie Plush to make my Christmas a little more adorable. You're never too old to make a Christmas list for Santa and I bet you'll include a few of these Pokémon gift ideas from GameStop and ThinkGeek.
Don't pass on these gift ideas because Gamestop and ThinkGeek are the very first to carry these products in the country! Crafted in Japan, they are promising authentic products that are true to the Pokémon spirit.
Pokémon Christmas Gift Ideas
Whether you're shopping for yourself or for your geeky mini-me, the Pokémon Center at these stores has you covered with the best gift ideas to make your Christmas a Pokémon Christmas.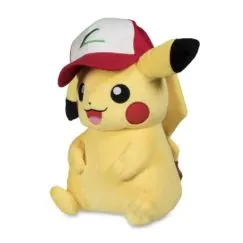 Large plush topped off with a familiar Trainer hat: this is an amazing Pikachu! Hug it, swap out hats, wrestle with it!
Hat is one size—7 inches in diameter—and fits most teens and adults!
Plush stands 13 inches tall without hat and 16 inches with hat
Measures 16 inches across the tips of its ears!
Pokémon Center Original design
Big clawed hands, super-detailed and embroidered eyes and snout—this Incineroar plush stands out, the way an evolved form should! Features a posable tail, to help Incineroar look fierce or stand tall. Lots of smooth plush, especially its satiny claws and yellow belt ornament. This is big time plush that is ready to roar!
Posable tail to help position your Pokémon plush just so!
Stands 14 inches tall!
Pokémon Center Original design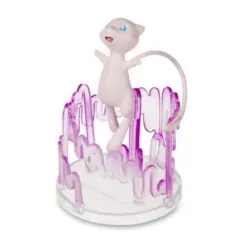 Mew used Psychic! Sculpted and painted to showcase motion and power, Pokémon Gallery Figures capture Pokémon and their moves in amazing battle poses.
You can get up close to the action and collect the whole Pokémon Gallery Figures series!
Amazing battle pose!
Pokémon Center original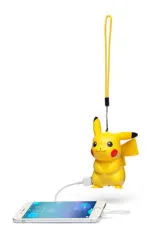 The Pokémon Pikachu Portable Charger features one of your favorite little electric type Pokémon all ready to Thunder Shock that phone of yours back to life. This charger runs on batteries so if runs out of juice you can just pop in a couple more, and you're ready to go! No need to charge the charger!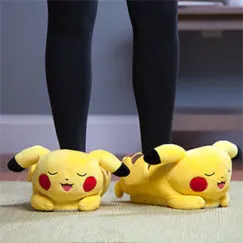 At the end of a long day of training and battles, Pokémon trainers deserve to put their feet up and relax. And who better to do it with than Pikachu with these light-up slippers? These Pikachu slippers will cradle your tired feet, and his rosy cheeks light up when you take a step. This little pika went to market… this little pika stayed home.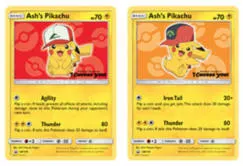 The Pokémon Trading Card Game, abbreviated to PTCG or Pokémon TCG, is a collectible card game, based on the Pokémon video game series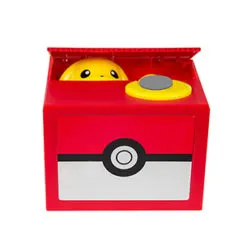 Next time your Meowth is using his signature move, get your Pokémon Pikachu Coin Bank ready so you can pick up the coins at the end of the battle! Just place a coin on the yellow space on the top of the box, press down, and Pikachu will reach out to grab your coin, talking and laughing all the while. Or he might not, little trickster.
Pikachu says up to 200 different phrases and sounds, which you can turn off with a convenient switch on the bottom if it all gets to be a bit too much. Sometimes when pets or little kids get a hold of itazura banks it can get a little crazy! And you can easily empty the bank using a little coin release door on the base. No matter what, Pikachu's happy to help keep the contents of this bank secure and safe from Team Rocket.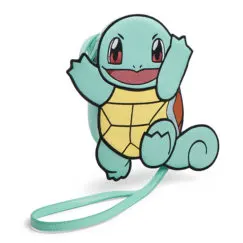 Pokémon are great because they go with you everywhere. And now, you can count on them to go wherever you do even if you don't have any Poké balls handy with these adorable little Pokémon character crossbody purses. As is always the case with Pokémon, the hard part is going to be choosing one. Urgh! Why do you gotta make us choose, Professor? They're all adorable and powerful in their own way. And no matter which we choose, your bratty grandson is just going to pick the one that beats it.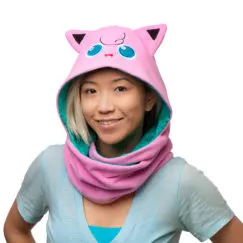 Oh, Jigglypuff. We do want to hear you sing, but we just can't seem to keep our eyes open a minute longer. Funny how this always happens. But you keep at it. We're just gonna take a little nap, k? Zzzzz….
When you don this Pokémon Jigglypuff Hooded Reversible Scarf you can sing people to sleep (and then draw on their faces). Well, technically, you can do that already. It's just that you have a good excuse if you're pretending to be everybody's favorite balloon Pokémon. This super-cute hooded reversible scarf has Jigglypuff's smiling face (and ears) embroidered on the pink side and a pattern featuring Jigglypuff on the green side. Better start practicing those lullabies!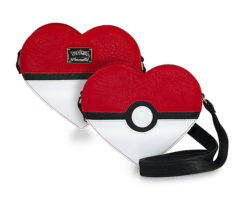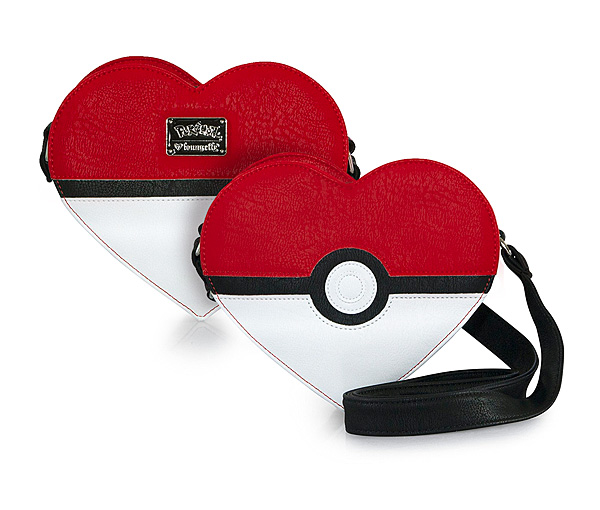 Dedenne's nuzzle is dangerous. Pikachu might need a potion after a battle. That Pokédex has to be recharged sometimes. What better place to keep your charger, your potions, and your Dedenne than in a spacious, heart-shaped Poké Ball bag?
The Poké Ball Heart Crossbody Bag is an evolution in style. It's made of durable vegan leather, has an adjustable shoulder strap, and contains several small inner pockets to hold all your Pokémon training needs.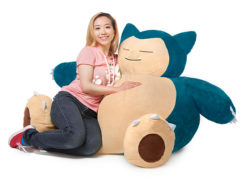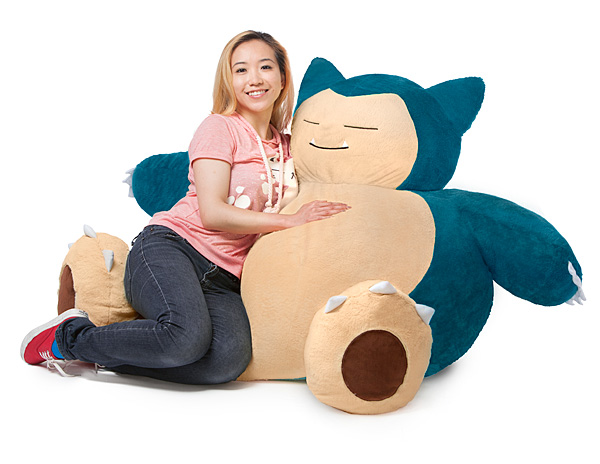 In this world of nothing but go-go-go, we often feel like Snorlax is more our speed. It spends most of its time sleeping. It's not picky about leftovers, and it seldom exercises. Yep. Snorlax understands us.
There's nowhere better to relax after a long day of work, school, or just being out and about than on your Pokémon Snorlax Bean Bag Chair. At 4 feet head to toe and over 2 feet across, this (s)lumbering Pokémon is perfect for your dorm room, your den, your bedroom, or right inside the door where you can collapse on it when you get in. Just remember not to block the road. It does not ship with a flute.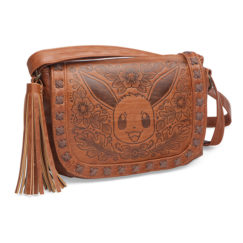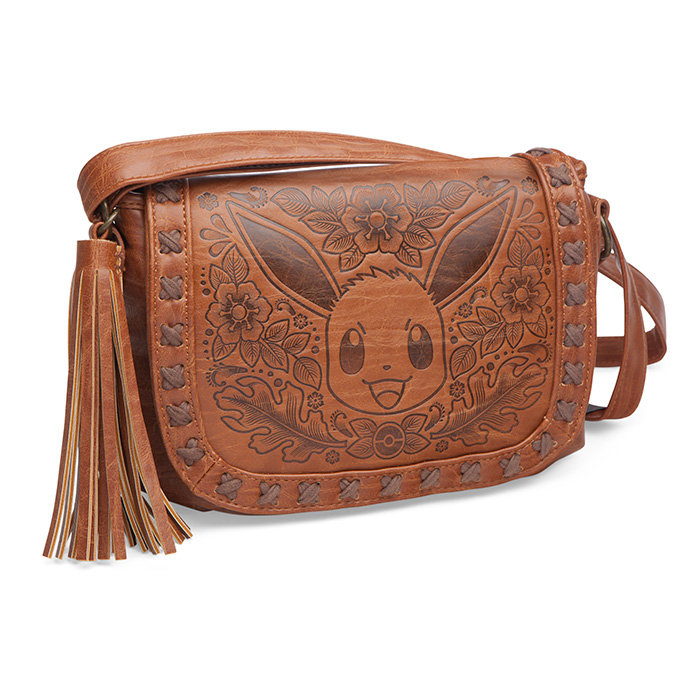 When it comes to Pokémon, Eevee is all you really need. The eight different evolutions give you more than options to build a balanced party, plus you can keep an adorable regular Eevee around for that Normal type harmony. If you have a litter of Eevees, what more could you possibly need?
Carry the essentials in this Western-style crossbody bag featuring the adorable embossed Eevee making baby-doll eyes at you on the front flap, surrounded by an embossed floral design and thick decorative stitching. It comes with a large tassel keychain, just like Eevee's bushy tail, attached to the side. A magnetic snap closure on the main compartment, and an interior zipper compartment keep your items safe – so only you'll know whether you're carrying a water stone, thunder stone, fire stone, sun shard, or moon shard in there.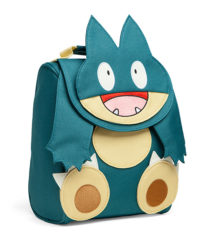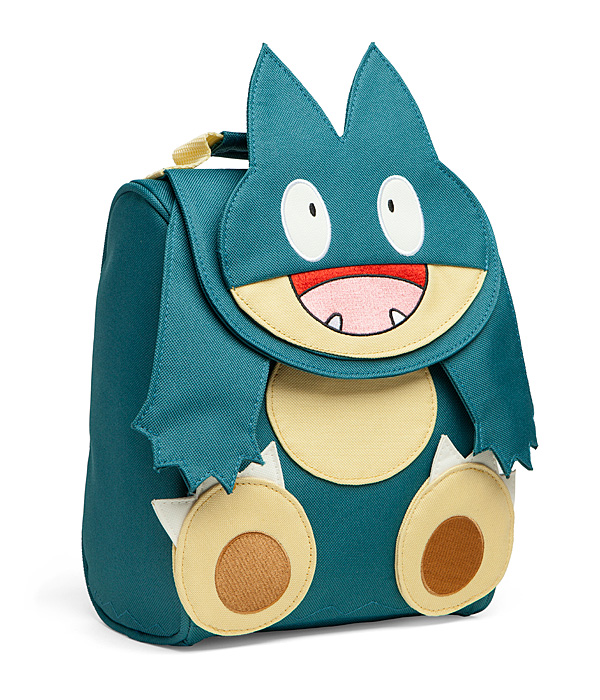 The Pokémon Munchlax Lunch Bag is a teal and cream colored canvas bag in the form of one of the cutest little foodies this side of Kalos. Munchlax will guard your food and try not to eat too much of it in the process, but it can't help itself sometimes. Can you blame it? Your meal will be safely tucked away inside the spacious main compartment, and not in its fur like a real Munchlax. Good thing, too; it sometimes forgets what it's storing in there.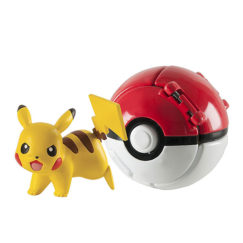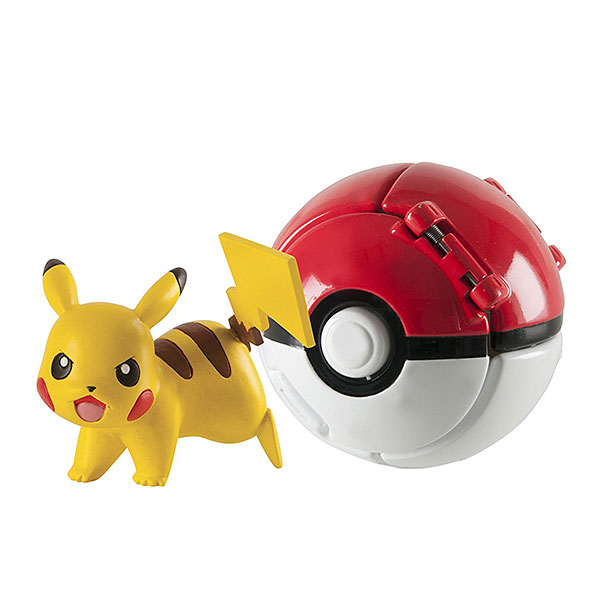 You're out there adventuring through the Kanto region and you run into another Pokémon trainer. Your eyes meet, and so naturally it's time to battle. They throw out a Rattata, and you know that you've got this. But when you throw out your Poké Ball… nothing. Hey, Pokémon! Come on out, we've got a battle to win and some poor kid's lunch money to take!
Never get caught in this embarrassing situation again, and be prepared for every Pokémon battle with a Throw 'n' Pop Pokémon. When you throw one of these Poké Balls down on a hard surface, your chosen Pokémon actually pops out! So choose Bulbasaur (with Ultra Ball), Charmander (with Great Ball), Cubone (with Repeat Ball), Ditto (with Poké Ball), Pikachu (with Poké Ball), or Squirtle (with Dive Ball), or grab all six and fill up your party. And if you should meet another trainer with a Throw 'n' Pop Pokémon, you can both throw down for a Pokémon battle – the trainer with the most number of stars facing up on their Poké Ball when the dust settles is the winner!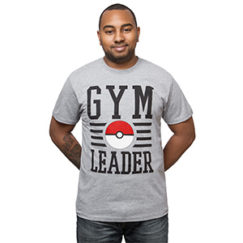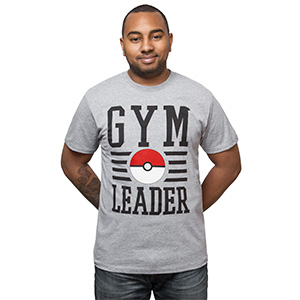 If you've got it, flaunt it. Wear it loud, wear it proud – you run this town. Or at least until some upstart comes along and ousts you… but until then, you're practically royalty! Let all passers-by know that you are not to trifled with. Young or old, newbie or veteran – you take no prisoners so they'd better come prepared with bunches of potions and revives.
Let everyone know what you're all about with the Pokémon Gym Leader Tee. You're a regional legend and aren't going to sell yourself short. Poké Ball design front and center with the words "gym" written above and "leader" written below. Comes in grey 50% cotton, 50% polyester. Machine wash cold. Tumble dry low. Imported.
Shop for Pokémon Christmas Gifts now!
Whether you're shopping for yourself or for your geeky mini-me, the Pokémon Center at these stores has you covered with the best gift ideas to make your Christmas a Pokémon Christmas.
Pick up these unique and affordable Pokémon Christmas gifts at GameStop.com / ThinkGeek.com or at a store near you. Each store will have a dedicated Pokémon Center, so you won't miss a single deal!
Win a Pokémon Giveaway!
You're entering to win Pokémon Center Trainer Pack – Approximate $75 value!
Large plush
Gallery Figure
Trading Cards