What do you do when you are dressing for a beautiful evening only to realize that your clutch does not match your outfit? It's too late to buy a new one and you don't want to carry something that doesn't match. In situations like this, I would typically just ask my boyfriend to carry my phone and I wouldn't carry a bag/clutch at all. Obviously that isn't a good option because we are women and we need things with us at all times. Wouldn't it be awesome to design your clutch to match all of your outfits when you go out? You can do just that with this very cool clutch that I discovered.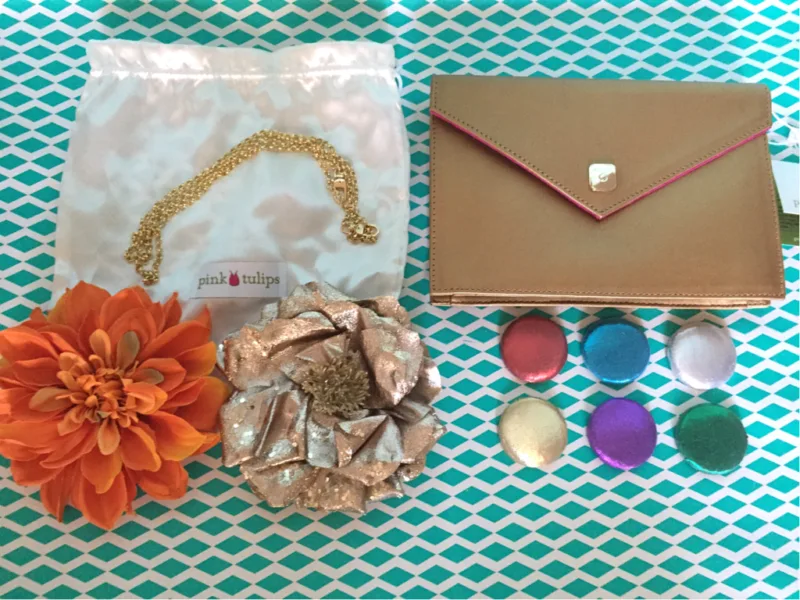 The Poppy Clutch Starter Set is perfect for a girl that likes to have options. The kit comes packaged very nicely in a gift box wrapped with ribbon. When you open the box you will see your gorgeous clutch, along with your colorful and fun POPPETS. You will also find a shiny gold chain and a satin carrying bag for your POPPETS. I expected this to be much more difficult than it is. It turned out to be something very easy, making it great for girls, moms, or grandmothers! haha. You will notice in my photos that I have a couple of cute flower POPPETS. You can buy individual POPPETS separately to style your Poppy Clutch. The company is continuously adding new POPPETS, so you will never get bored with this clutch!
I think this is one of the most creative fashion ideas that I have seen! I love the idea of "popping" on a POPPET to match my outfit accordingly. This is made very carefully, thoughtfully, and beautifully. The inside of the clutch is a very soft microsuede that will protect all of your items. I love that I can simply attach the chain, in case I'd prefer to carry this on my shoulder. This is great for long nights out on the town! The clutch is a good size too. I could fit my cell phone, makeup, and a few more items in it. The POPPETS pop right on with the magnetic clips on the backs. You don't have to worry about them falling off either. They stay secure during all of your events!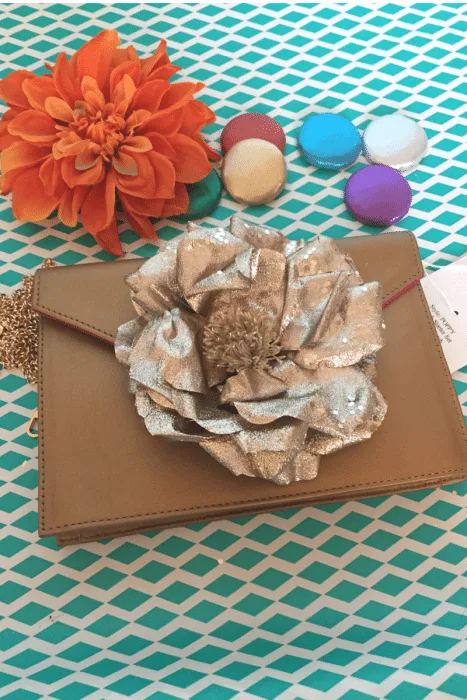 I think that Pink Tulips has the right idea here. In the constantly emerging world of fashion, we need something that is interchangeable and customized to fit our personal style and needs. I can't wait to start a nice POPPET collection. Thanks to this starter set, I have a pretty good collection already started. This is a great gift for any of the lovely ladies in your life. Whether it be your tween daughter or your sweet grandmother, every lady will appreciate a lovely piece of fashion like this one!
Product Description
A gorgeous clutch in leather or fabric comes with six POPPETS, the interchangeable color pops that attach to the front flap with a magnetic snap. The Starter Set arrives beautifully packaged with the POPPY Clutch, six POPPETS, a detachable 48″ gold tone shoulder chain (24″ drop), and a satin drawstring pouch to store the POPPETS. And guess what? There are myriad more POPPETS available for purchase a la carte. We're adding new POPPETS to the Collection frequently, so you'll never have to be at a loss for the perfectly accessorized bag!
Details
Clutch available in leather or fabric
Dazzling Pink microsuede lining
Detachable 48″ gold tone shoulder chain (24″ drop)
Six colorful POPPETS included with Starter Set
9.5″W x 6″H x 2.5″D
POPPY Leather Clutch made in Mexico
POPPY Fabric Clutch made in USA
POPPETS assembled in USA
USE PROMO CODE: WOMENANDTHEIRPRETTIES for 20% OFF ALL Pink Tulips order (+ free shipping)
Connect on Social Media: Facebook / Twitter