Have you ever heard of Elf on a Shelf? I am sure you have. If not, I will explain it briefly. It is a little toy elf that "roams" around your house during the holiday season. Basically, as parents, you place the elf in funny or odd places each night after your child goes to bed. Every day becomes a new game for your child to find out what the crazy elf was up to the night before. Roaming Reindeer is a bit similar, but it has a fun twist to it. Let me explain.
About Roaming Reindeer
Roaming Reindeer is a fun Christmas Activity. It comes in a beautiful box that contains a beautifully written and illustrated book titled Roaming Reindeer A Christmas Tale. It also contains two stuffed reindeers- Reindeer 1 and Reindeer 2. The point is to read the book to children, as well as to have a have fun with the two reindeer. The reindeer are to be welcomed into your home and to be given their own special names. We named ours Thing 1 and Thing 2, haha. You can place these little guys anywhere in your own. Be careful though, any bad behavior will send Reindeer 1 running to tell Santa. She is very sensitive to any disappointing behavior. Reindeer 2 will always stay to keep watch, so he can keep track of naughty or nice behavior. Reindeer 1 will return whenever she chooses to. It may be because of a nice deed or because of polite behavior. On Christmas Eve, both reindeer will disappear to help Santa load the sled and deliver the gifts to all of the nice girls and boys. They will return next year during Christmas season! If both reindeer stay together 5 days in a row, reward the good behavior with a hug or a special treat.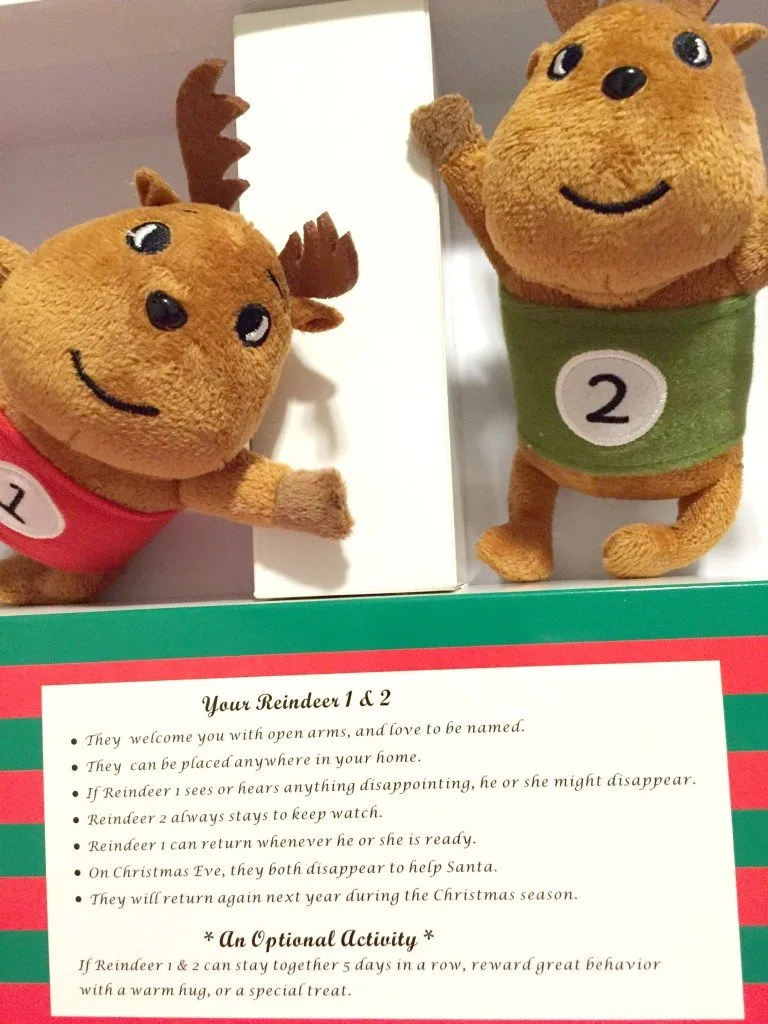 My Thoughts
I LOVE Roaming Reindeer. It's a fantastic way for you and your children to keep track of naughty and nice behavior. I think it's fun for you to use your imagination and come up with ideas on where to place these sweet reindeer. It also keeps your child's imagination running wild. I personally believe that we should keep our children well behaved, aware, and imaginative. This Christmas activity would fit great into any household with young children. The idea of this just tickles me to death!
Purchase and Connect
Purchase on www.RoamingReindeer.com
Connect on Social Media: FACEBOOK / TWITTER / PINTEREST