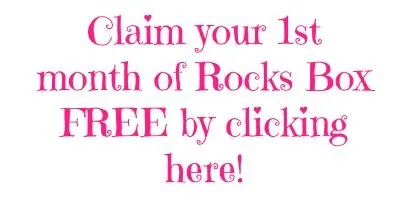 Most women love jewelry! I know I do! I have a bit of an addiction when it comes to jewelry, this stems back to my days on a fashion-trading site called Little Black Bag. The site is long gone now, but I still dream of the days when I could find beautiful stylish jewelry! Well, my beauties, that day has come…
For a low price, you can get stylish and fashionable jewelry shipped directly to your door! That's right, as simple as that. At Rocksbox.com you simply fill out your style profile and a stylist will handpick 3 beautiful pieces of jewelry that they believe match your style. When you receive your package you have three choices
You can keep the pieces that you receive by purchasing them at 20% off retail price
How do I know the price of each item? The prices are listed with a form that is sent to you, as well as on your profile on Rocksbox.com. You will find the retail value of each item and the discounted price that you will pay.
How will they know that I want to buy the items? That's simple! Just log into your Rocks Box profile and click BUY next to each item. The credit card on your account will be charged.
You can send back the pieces that you don't like using the prepaid shipping label and the envelope that your Rocks Box Came in
What if I accidentally throw away the shipping envelope? That is okay! Just stick the box and the jewelry in your own envelope, stick the prepaid shipping label on it, and send it on its way.
What if I don't like anything that they sent me? No worries, you can mark your likes, dislikes, loves, and any other suggestions or comments you may have, on your profile for your personal stylist to see! Your next box will be much more to your liking!
Can I keep some items and send some back? Of course! You keep whatever you like!
You "borrow" the items until you are ready to send them back!
Does it cost anything to borrow the items? The only cost to you is the monthly fee 🙂
I hope that you at lest try 1 month of Rocks Box! It is a fun and innovative way to shop for jewelry! If you don't like their service, that is okay! Just simply cancel your account at no charge! There is no obligation. Try yours FREE by clicking HERE
Check out my 1st month of Rocks Box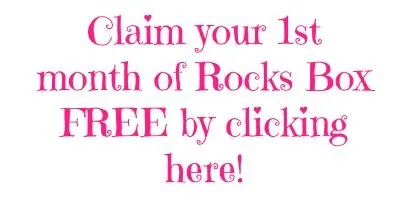 Disclosure: I was not compensated in any way to write this review. I chose to sign up for Rocks Box using a friend's free code on my own free will. With that said, these opinions are fully of my own and are not sponsored in any way by Rocks Box or any of it's affiliates!