#LuckoftheIrish
Do you love gifts? Do you love giveaways? Well, we have gathered a group of the very best bloggers to sponsor the #LuckofTheIrish Twitter Party! At this Twitter Party you will have a chance to win a number of incredible prizes! The prize list will be announced a couple of days before the party, but I promise that you will not be disappointed!
At every Hopping Bloggers Twitter Party, we give away Early Bird/RSVP prizes. These are prizes announced at the beginning of the party and are given at random to 2 individuals who are on the RSVP list! RSVP using the linky below.
Ps. All RSVPs will receive a reminder email prior to the party. This email will come from [email protected]
So make sure that you RSVP now for your chance to win!
Twitter Party Tips:
Follow your MAIN host- @JoyceDuboise Keep her Twitter Page up, as she will be asking the questions that will give you a chance to win.
Follow your other host- @MarvelGoddess24 *She will be announcing all of the winners!
Use a computer to keep the hosts' Twitter's open. If you can only attend on mobile, keep your main hosts Twitter open.
Use the hashtag #LuckoftheIrish on ALL tweets. This is the only way you will get noticed
Retweet all questions and answer as many as you can.
Be on time and RSVP, so you have a chance to win the Early Bird Prize
Luck of the Irish Prize List Coming Soon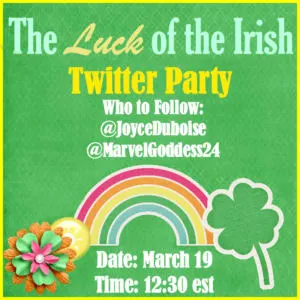 DATE: Thursday- March 19, 2015 TIME: 12:30 – 2:00 pm ET
EARLY BIRD: TBA
PRIZES: TBA NO PURCHASE NECESSARY. Legal residents of the 50 United States (+ D.C); 18 years and older. VOID WHERE PROHIBITED. Valid 12:30 pm – 3:00 pm ET on 3/19/15. Official Rules Coming Soon.
RSVP for the #LuckoftheIrish Twitter Party on 3/19 at 12:30EST http://t.co/f8pr2k9l3P

— Joyce Duboise (@JoyceDuboise) February 19, 2015
How to RSVP:
Add your URL to your Twitter Profile
Add your Twitter Handle Ex. @JoyceDuboise
Add Your Email – For Reminder Only (Will Not Be Visible)
Retweet the tweet above