If you haven't tried mineral makeup by now, it is time for you to get your life together! haha. Seriously though, you are missing out if you aren't a mineral makeup user. I know you've probably heard this a million times before- What you put ON your body is just as important as what you put IN your body. It IS true! It isn't just another saying. It is something to think about and live by. That is why I love Simple Beauty Minerals, they live by that saying!
With eco-friendly, health conscious products and personal, one on one customer service, Simple Beauty Minerals is everything a woman wants in a makeup company. If you have ANY beauty questions or you are unsure about which products are best for you, simply send them a message and someone will help you! Their products all ALL 100% guaranteed AND a portion of their profits go to an organization in their area that helps dogs find homes! Being an animal lover, that just warms my heart and makes me love this company even more! To read more about their company click HERE.
Now about my experience. I had the opportunity to try out 4 Simple Beauty Minerals shadows, 1 blush, and the green tea setting mist. Please see my video for more information on my experience with their products.
Definitely consider checking all of their products out:
Sample packs and starter kits provide a great value as you get started with mineral makeup, and if you subscribe to the newsletter (no spam guaranteed and you can unsubscribe at anytime), you'll receive a code for 25% off your first order.

Green Tea Mineral Makeup Setting Mist– Setting mist is used to set your makeup, as simple as that. You spray it directly on your face after you apply all of your makeup. The setting mist will make your makeup last all day. No one likes to reapply! This is a GREAT deal! Most setting mists are really expensive. This mist is a good price and a great quality.
Blastin Blue Mineral Shadow– Beautiful, bright blue color! Long lasting shadow that can be paired with almost any color! Shimmery, soft, and pigmented!
Tangerine Mineral Shadow– Bright orange color! Very beautiful. It is definitely great to make your eyes POP. It is also long lasting, shimmery, matte, soft, and pigmented!
Green Apple Mineral Shadow– A gorgeous green. It is a bit of a pastel green color. Wet your brush and that pastel color will turn into an INTENSE green! Shimmery, smooth, and pigmented.
Peachy Keen Blush– A beautiful peach colored blush. It goes great with most skin tones. I have very light skin and it blended perfectly with my complexion. Not too pigmented, long lasting, and a little goes a LONG way!
Take a look at the makeup on me 🙂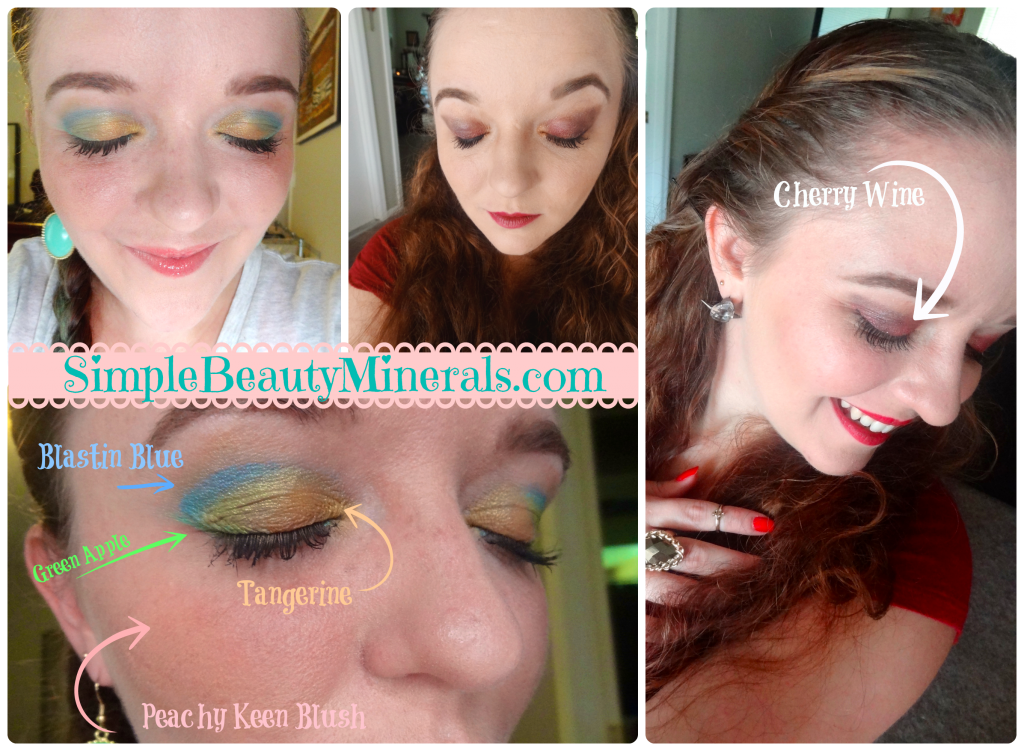 Connect with this Simple Beauty Minerals for more information, giveaways, and new products: