SinfulColors is at it again! They have just released their new Back to School "A Class Act" nail polish collection and it is on fire! This collection contains over 27 shades! They are fun, bright, colorful, and trendy! I decided to try a couple of fun designs with these shades! I hope you guys enjoy them.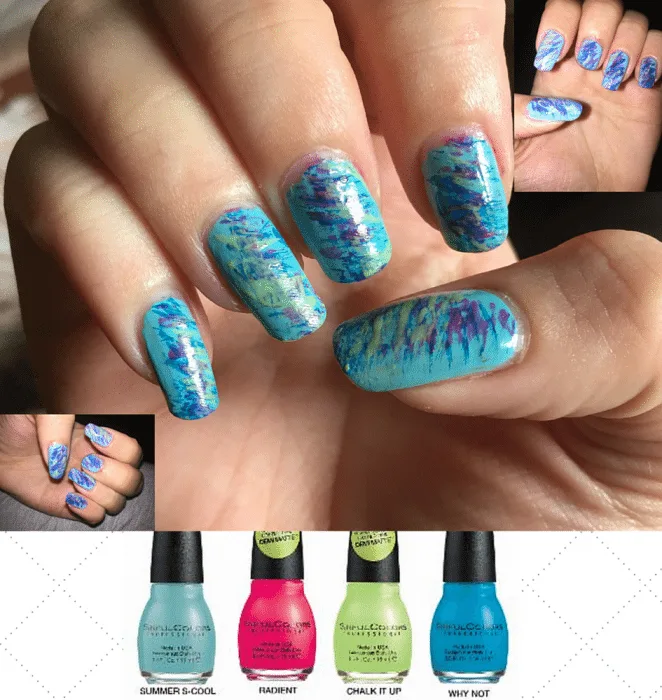 Click here for an Easy Paint Splatter Nail Tutorial, using SinfulColors Class Act polishes
If you aren't familiar with SinfulColors they are one of the most affordable nail polish brands on the market today. For only $2.99 per bottle, you can add a ton of unique colors to your nail polish collection. All of their colors follow the latest trends in beauty today.
Get ready to hit the books and go back to school in style with the latest collection for Back To School from SinfulColors, A Class Act. The extensive array of fresh shades are perfectly on-trend with the latest fall fashions and will ensure that your mani is top of the class. Dusty pastels and pops of color come in a demi-matte finish that feels soft yet looks striking and is deserving of nothing but straight A's. Denim blues and ready-to-burst brights capture an effortlessly cool and rebellious vibe, while shimmering silvers, purples and teals with eye catching 3D glitters look just as chic during a night out on the town as they do in class the next day.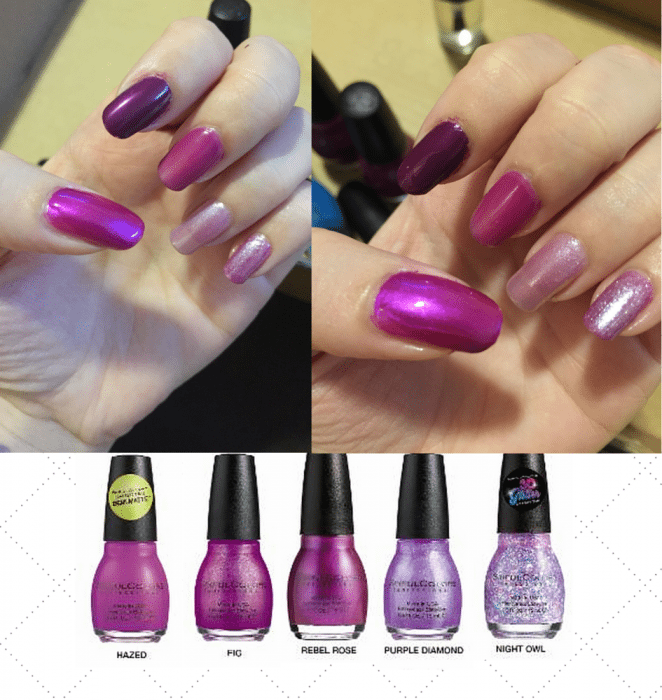 We think you'll agree that all of these 27 SinfulColors shades deserve straight A's:
24/7: Our hottest pink
A-Crush: Soft baby blue in a unique demi-matte finish
Blackboard: Demi-matte chalkboard black
Blue Sensation: Lustrous silvery sky blue
Burst Of Fresh Flair: Pearlescent lemon yellow
Casablanca: Creamy metallic silver
Chalk It Up: Saturated, demi-matte pistachio green
Daredevil: A pop of neon pink
Energetic Red: Classic fire engine red
Feel The Vibe: A bright splash of juicy orange
Fig: Glistening plum
Glass Pink: Sheer and shiny pink shimmer
Hazed: Subdued violet with a demi-matte finish
Ice Blue: Soft indigo exploding with silver sparkle
Ice Dream: Cerulean glitter with a translucent silver base
Late Night Haute: Turquoise and gold-flecked 3D glitter
Night Owl: Multi-colored gilded 3D glitter
Pink Break: Demi-matte peachy-pink
Purple Diamond: Twinkling violet
RADient: Vibrant raspberry with a demi-matte finish
Rebel Rose: Metallic magenta
Sinful Sunrise: Warm pink with silver 3D confetti
Summer S-cool: Robin's egg blue
Truth or Lavendare: A demi-matte creamy lavender
Whiteboard: Chalk white
Why Not: A clear sky blue
V.I.Peach: Soft touch pastel yellow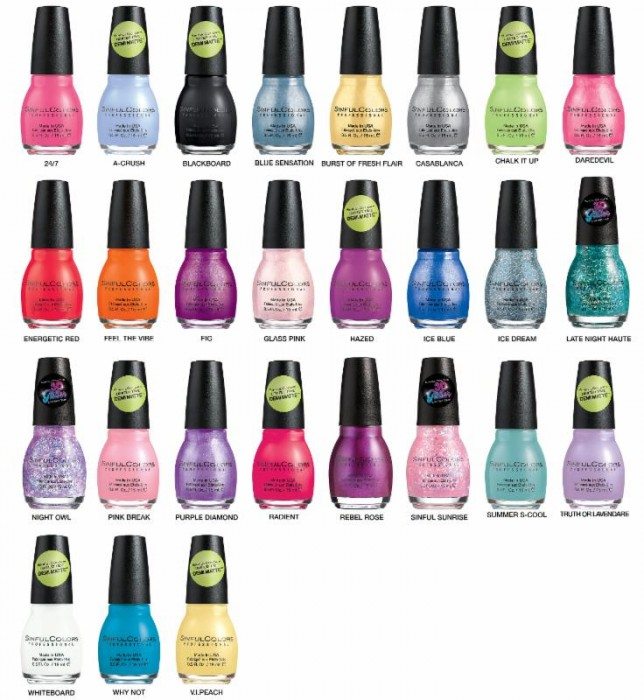 What's your favorite SinfulColors polish?
Check out my other SinfulColors Reviews Here