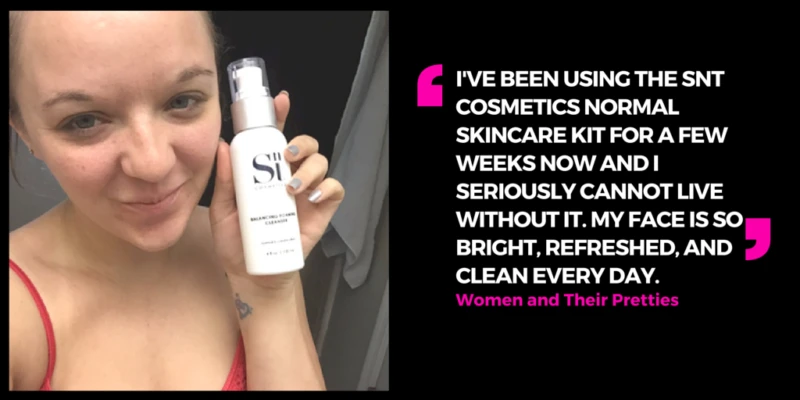 Simply Nontoxic Cosmetics (SNT Cosmetics) has luxurious skincare and cosmetics formulated with nontoxic, natural, and organic ingredients. Something specific they have is skincare kits for different skin types: normal, acneic, dry aging, hyperpigmented/damaged, and sensitive. These are three-piece skin care kits that are created to rejuvenate, nourish, and balance your skin. Whatever skin type you have, SNT Cosmetics has something for you. If you don't want to commit to a full kit, you can purchase the products individually.
I've been using the Normal Skincare Kit for a few weeks now and I seriously cannot live without it. I haven't had one breakout or pimple since I've used the kit. My face is so bright, refreshed, and clean every day. I love knowing that I am not putting harsh chemicals on my skin. I can take on the world… without makeup. It feels amazing! Each of the 3 products in the kit work wonderfully.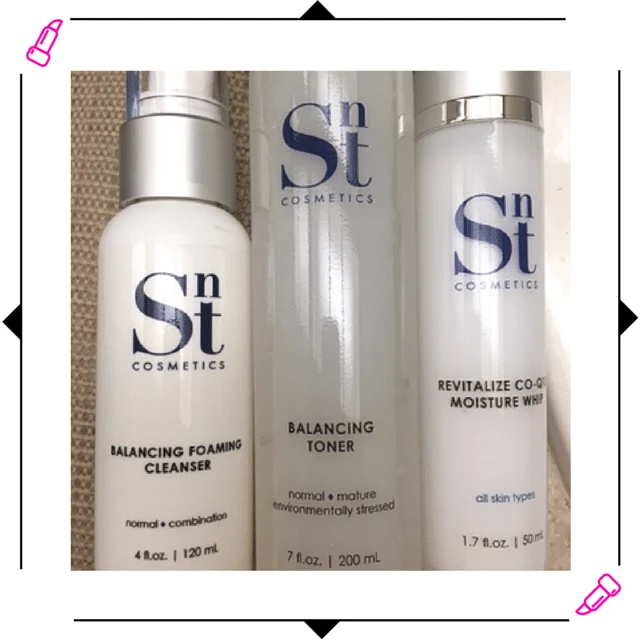 This is the key to this kit because it's what gets rid of the day's yucky impurities. This cleanser is very unique because it comes out looking a lot like a milky serum and as you massage it into your face with water, it foams. It doesn't foam up as much as a body wash, but it gives you a good clean and that's all that maters. I usually use 4 pumps to clean my face. It does a great job at removing all of my makeup and leaving it feeling incredible.
This is to be used after the cleanser. It removes any remaining impurities that the cleanser didn't pick up, which really isn't much. In addition, it adds balance to your skin. The scent is quite nice. It's not strong like many toners. Just apply this to a cotton pad, rub it all over your skin and let it dry.
This is the final step. You will immediately be surprised after pumping this moisturizer into your hand. It's green! The scent isn't my favorite, but it's not unbearable. I usually use 1-2 pumps to cover my entire face. This can be used in the evening and the morning. I use it every night and sometimes in the mornings (if I remember). I LOVE the way my skin looks and feels after applying this. My skin is ready for the day, whether I go with or without makeup. It moisturizes without leaving your skin greasy or oily.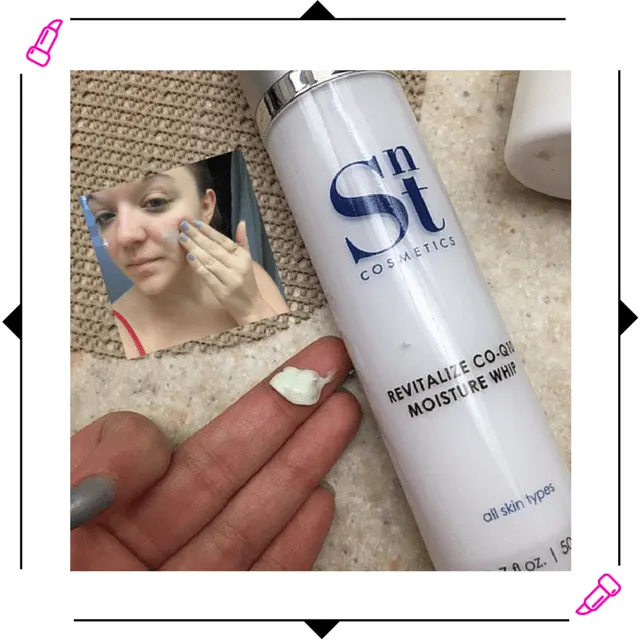 If your skin needs to be transformed, you need to try the SNT Cosmetics Skincare kits! I have combination skin and I haven't experience any dryness or oily skin since I made this kit my new beauty routine.