Have you ever used a product that is so perfect and so wonderful for you, that you just don't want to use it? haha. It sounds silly right? What about a perfume that you really love? You don't wear it ALL the time because it will be gone too soon. You wear it on special occasions because it is that special and wonderful to you. Understand where I am going with this? Sit back, relax, and envision your favorite products, whether it's food, makeup, skin care, or perfume. Are you imagining it? If you weren't the now you are 🙂 Now you can understand how I much I adore this product that I am going to share with you!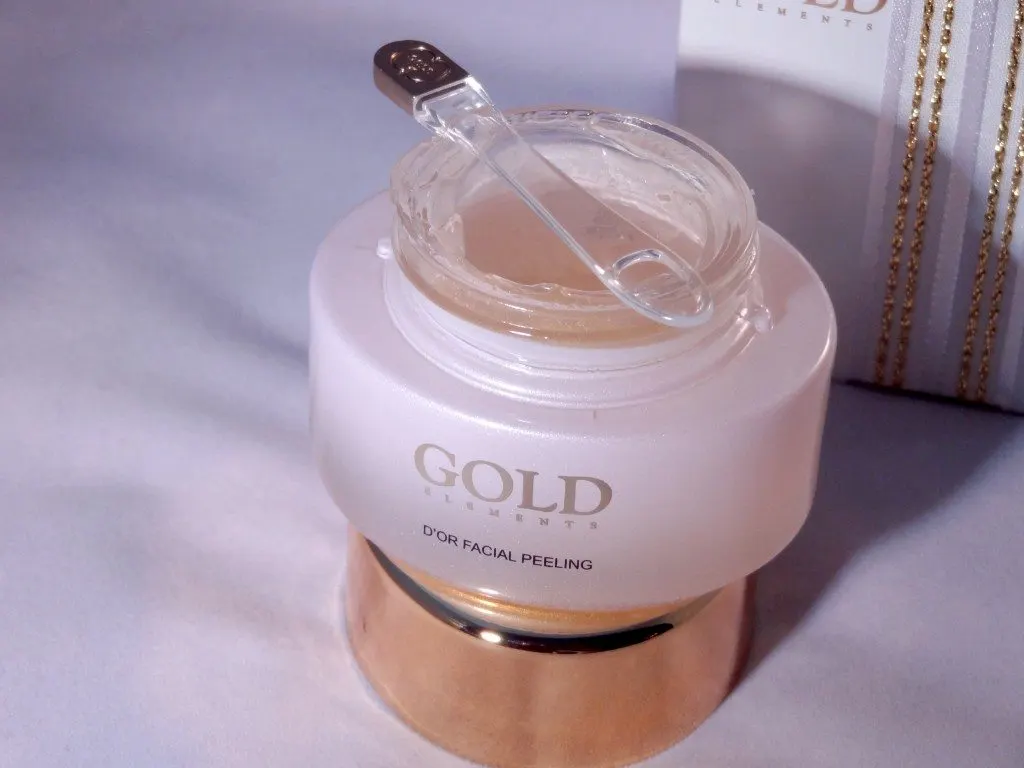 Gold Elements D'or Facial Peeling is THAT product for me! If I had an unlimited supply of this I would use it daily. Why do I adore this product so much? Well, where to begin. I will begin with "outer appearance" and then we can get to the "heart" of the product. It comes in a BEAUTIFUL glass tub with a fancy reflective GOLD (my favorite) lid. This tub of D'or Facial Peeling is inside of a uniquely designed white box which has real ribbon connected to the box. It is really a glorious design and would make for a great gift! Included with the facial peel was a cute little application spoon for applying the peel to your face. I really liked this addition because it helped me to apply the product without rubbing it in before I was ready.
THIS is why I am in love… Now as for the heart of the Facial Peel. I applied the product all over my [Dry] face using the spoon. After applying I rubbed in circular motion, as the directions suggest. I am NOT kidding you when I say that my dead skin immediately began to peel off of my face. With each circular motion, I could feel the skin on my finger tips. I was so excited to be using a product THIS amazing. I scrubbed my entire face with my finger tips and washed off all of the dead skin, then I did it again. I figured that since it was the first time, that I needed to make sure ALL of my dead skin was gone! I rinsed my face with warm water and my skin felt more beautiful than ever before! If you've never used this product, then this is a feeling that you cannot understand. My boyfriend felt my face and said, "WOW! It feels so nice!" I of course made him use it the very next day. He was just as surprised as me! I want to use this daily, but I use it about twice a week.
Overall, I am highly impressed! Do you understand why I love this so much? What products do you love so much that you don't want to use them? Did you enjoy my Gold Elements Review?
If you are interested in purchasing the product, head on over to Gold Elements & Make sure to use my code WTP for 25% Off!
If you have any questions about this company or their products- Join them on Facebook, Twitter, Google Plus, and Pinterest.