These fun Sonic the Hedgehog movie quotes have kids giggling and parents rethinking the Sega video game character they grew up with!
As a child who grew up in the 90s, Sonic the Hedgehog has a very special place in my heart. I distinctly remember playing this game on my Sega with one hand after I broke my arm. In fact, I believe my first all-nighters were spent battling my brother at Sonic.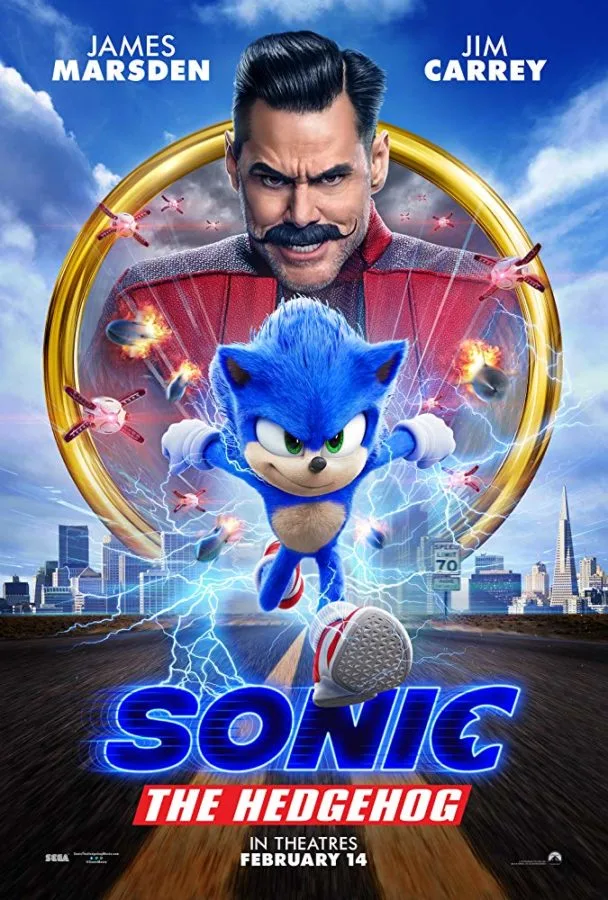 To see this action-adventure family movie play on the big screen brings all sorts of nostalgia! After seeing the trailers for the 2020 movie, I could definitely see a group of child superfans talking about this film from years to come.
As for the parents, well, we're skeptical. We don't want a good thing ruined. However, it's fun to imagine a world where Sonic speeds around the Earth. Isn't it?
Also, with Jim Carrey, another childhood favorite, playing one of my favorite villains, Dr. Robotnik, I can't help but to be intrigued.
Visit Week99er's Sonic Movie Review to see what she REALLY thought of this childhood classic character coming to the big screen!
I'm pretty sure you'll also want to bookmark my FULL MOVIE QUOTES Index for the latest and GREATEST quotes!
Best Sonic The Hedgehog Movie Quotes
Just as memorable as my late nights playing the video game, are the Sonic the Hedgehog movie quotes. These quotes are the ones that have the audiences reacting and have the kids repeating over and over again. I hope you enjoy them as much as I did.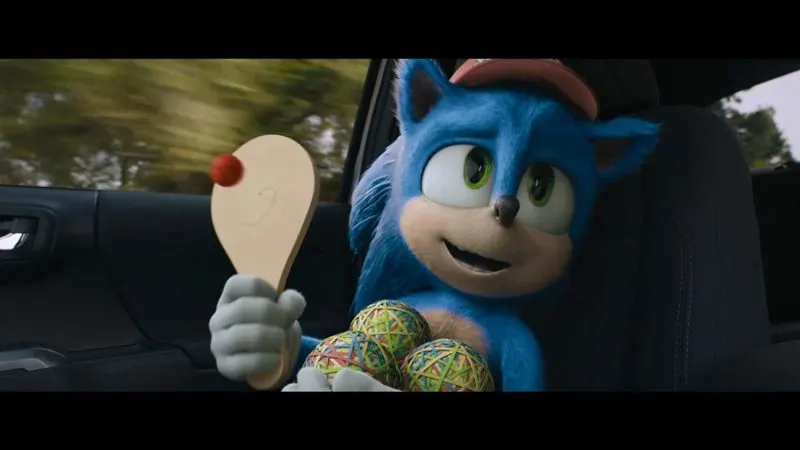 1. "Oh my God! Stop the car right now! The World's Largest Rubber Band Ball! We've got to see it!" – Sonic
Honestly, Sonic is basically every tourist and every child. Also, he is me.
2. "Of course I want a latte! I LOVE THE WAY YOU MAKE THEM!" – Dr. Robotnik screaming!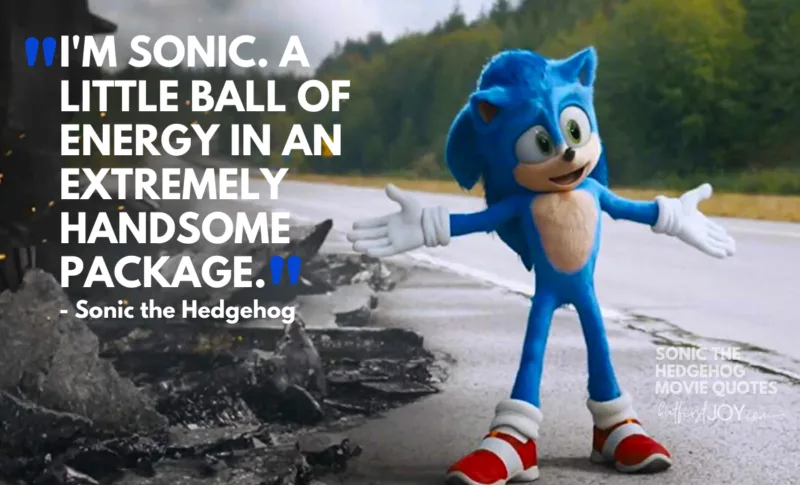 3. "I'm Sonic. A little ball of super energy in an extremely handsome package." – Sonic
Oh, Sonic. You have an ego. This gives me mixed emotions.
4. "I am living my best life here on Earth." – Sonic
Okay, so Sonic the Hedgehog is up with the new slang. I can dig it.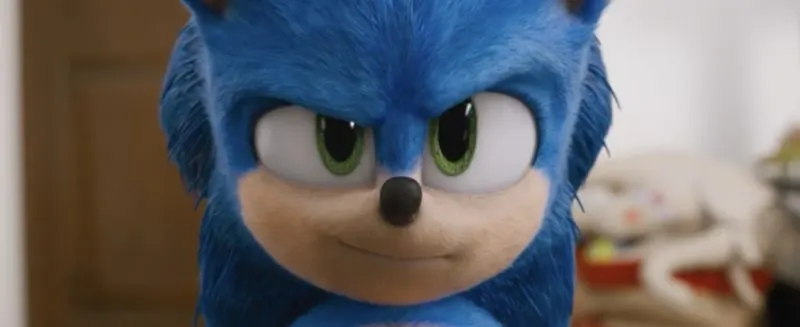 5. "Why would you throw your life away for this silly little alien?" – Robotnik (Jim Carrey)
"He's my friend." – Tom
Aww this quote hits you right in the feels!
6. "This is my power and I'm using it to protect my friends!" – Sonic
Aww, this little hedgehog is a great role model.
7. "Turns out, with great power comes power hungry bad guys – and I lead them right to us." – Sonic
8. "These rings will protect you. If you're ever in trouble use one." – Long Claw
9. "Despite all these so called friends of yours – you're sure rather lonely. And fear you'll be alone forever." – Sonic
10. "My favorite person is Donut Lord… Protector of this town!" – Sonic
11. "It says I'm the top banana in a world of monkeys." – Dr. Robotnik
12. "This black out what not a terrorist attack – and that's no baby Bigfoot." – Dr. Robotnik
13. "Everything is fine – you got a little upset and lightning shot out of your butt." – Sonic
14. "Why are you calling me Donut Lord." – Tom
"Because you talk to donuts and eat them if they get out of line." – Sonic
15. "Is that your ship? I'm not in the mood to get probed!" – Tom
"You think you're worried? I'm not even wearing pants!" – Sonic
16. "You know what's hard about being the smartest person in the world? Everyone else is stupid." – Dr. Robotnik
17. "I'm wet, I'm cold and there's a fish on my head – I can't do this on my own!" – Sonic
18. "I wouldn't call it spying. We were all hanging out and no one knew I was there." – Sonic
19. "You just sit there and be you-ssless…" – Dr. Robotnik
20. "The face I was born with, the confidence I picked up along the way!" – Sonic
21. "Wait a second is this bull missing a head or does it have 2 butts?" – Sonic
22. "Hey Everyone! Welcome back to my livestream! Today we're destroying robots!" – Sonic
23. "Blue alien hedgehogs still count as people." – Maddie
24. "What were you keeping in this bag? A jar of pickled farts?" – Sonic
25. "That little alien knew more about being human than you do." – Tom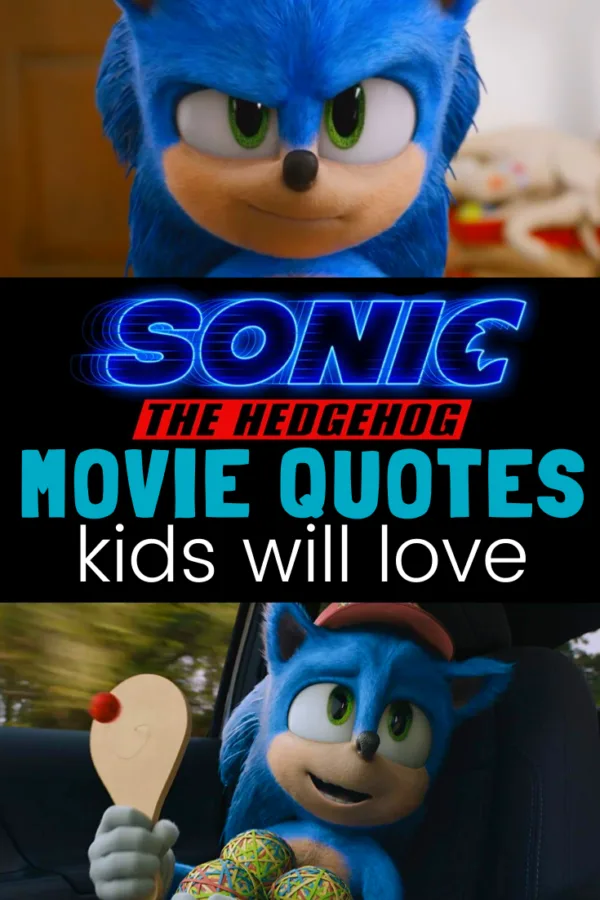 Which Sonic the Hedgehog quotes are your favorite?
See it in Theaters February 14th
Based on the global blockbuster video game franchise from Sega, SONIC THE HEDGEHOG tells the story of the world's speediest hedgehog as he embraces his new home on Earth.