I'm watching The Golden Globes tonight and all of a sudden a new TV spot from the new Beauty and the Beast movie pops up. The whole room goes silent as we listen to Emma Watson's beautiful voice. There's some controversy about her playing Belle, but boy do I love her! Beauty and The Beast is my most anticipated movie of the year… and that's saying a lot with Guardians of the Galaxy Vol. 2 right around the corner.
In theaters March 17, 2017
The story and characters audiences know and love come to spectacular life in the live-action adaptation of Disney's animated classic "Beauty and the Beast," a stunning, cinematic event celebrating one of the most beloved tales ever told. "Beauty and the Beast" is the fantastic journey of Belle, a bright, beautiful and independent young woman who is taken prisoner by a Beast in his castle. Despite her fears, she befriends the castle's enchanted staff and learns to look beyond the Beast's hideous exterior and realize the kind heart of the true Prince within. The film stars: Emma Watson as Belle; Dan Stevens as the Beast; Luke Evans as Gaston, the handsome, but shallow villager who woos Belle; Kevin Kline as Maurice, Belle's father; Josh Gad as LeFou, Gaston's long-suffering aide-de-camp; Ewan McGregor as Lumière, the candelabra; Stanley Tucci as Maestro Cadenza, the harpsichord; Audra McDonald as Madame de Garderobe, the wardrobe; Gugu Mbatha-Raw as Plumette, the feather duster; Hattie Morahan as the enchantress; and Nathan Mack as Chip, the teacup; with Ian McKellen as Cogsworth, the mantel clock; and Emma Thompson as the teapot, Mrs. Potts.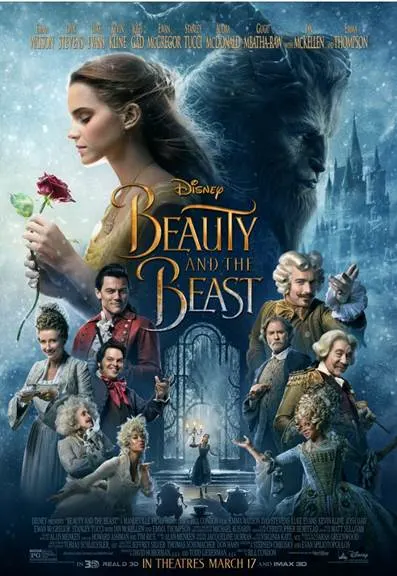 Directed by Bill Condon based on the 1991 animated film, "Beauty and the Beast," the screenplay is written by Stephen Chbosky and Evan Spiliotopoulos and produced by Mandeville Films' David Hoberman, p.g.a. and Todd Lieberman, p.g.a. with Jeffrey Silver, Thomas Schumacher and Don Hahn serving as executive producers. Alan Menken, who won two Academy Awards® (Best Original Score and Best Song) for the animated film, provides the score, which includes new recordings of the original songs written by Menken and Howard Ashman, as well as three new songs written by Menken and Tim Rice. "Beauty and the Beast" will be released in U.S. theaters on March 17, 2017.