Ladies, we have all been there before. Let me set the scene. You are out for a fun night on the town. You are having a blast with your friends, family, or significant other. You are so caught up in the fun of the night that you aren't focused at all on your beauty or fashion because in that moment your mind is free. Then it happens… your fashion or beauty BLUNDER! I am sure we have all experienced one of these embarrassing moments:
Low cut shirt slips to the side and you have a little UH-OH! You showed a little more than you planned.

You realize an hour into the night that your dark shirt has a lovely deodorant stain on it

You're on a date enjoying a lovely Italian dinner & then it your dinner falls on your lovely white jeans

Your black eyeliner has smeared all over your face
I could really go on forever with these horrifying moments, but I don't want the fellas to know the trouble that we go through just to stay beautiful! (haha) So what do you do when you have a fashion or beauty emergency? You can't really run away and hide. You typically have to suck it up and deal with it or get creative with ways to fix your mistakes. You all know the "water will clean this stain" horrifying experience that leaves you with a HUGE wet spot 5 times larger than the stain you were trying to clean! If you are laughing right now, you've been there one too many times.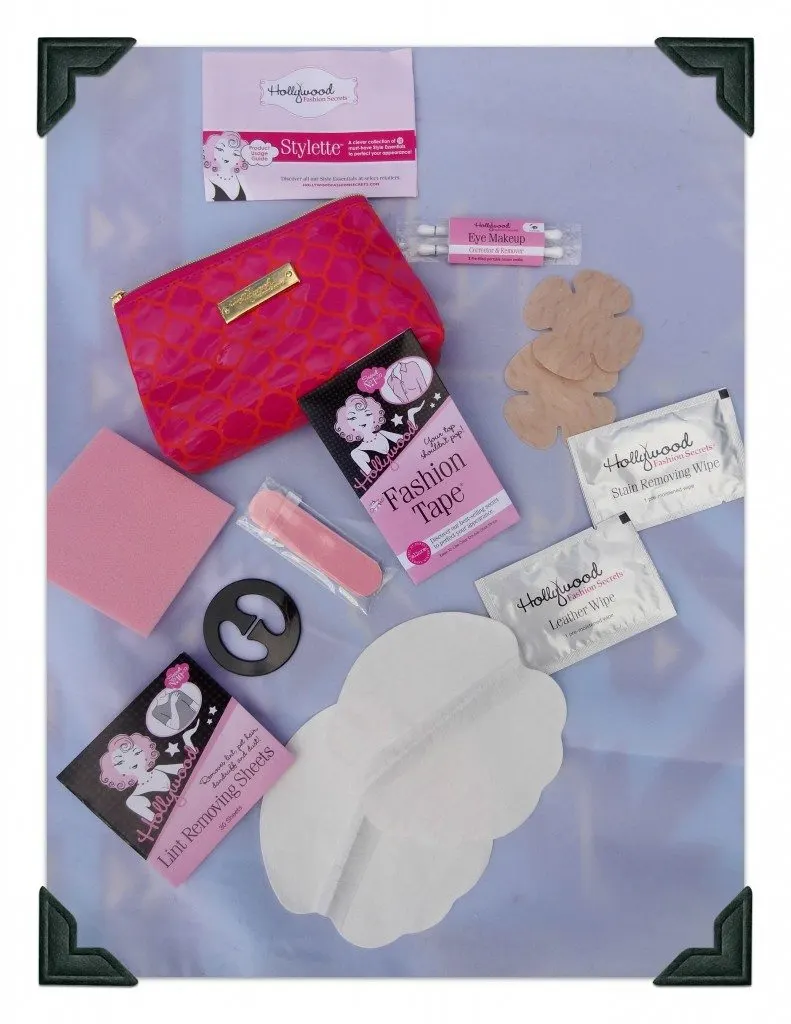 That's why you need the Stylette City Chic Purse-Perfect Kit! This kit contains everything you will need for a fashion or beauty blunder! Take these "could-be disasters" by the throat and throw them out of your fun night! The Stylette City Chic Purse-Perfect Kit come in 3 stylish bags that you could carry with you anywhere. You can carry these alone or in your purse. All of the items will get rid of the emergencies that may pop up when you are feeling your best! This kit would be perfect for any woman. You can slip one of these right into her stocking this holiday season or just surprise her by slipping it into her purse! PURCHASE YOURS HERE
Each Purse-Perfect Kit Contains: Hollywood Fashion Tape – 6 strips, Bra Converting Clip, Deodorant Removing Sponge, No-Show Nipple Concealers – 1 pair, Garment Shields – 1 pair, Eye Make-up Corrector and Remover – 2 swabs, Lint Removing Sheets – 30 sheets, Leather Wipe, Stain Wipe and Nail File.