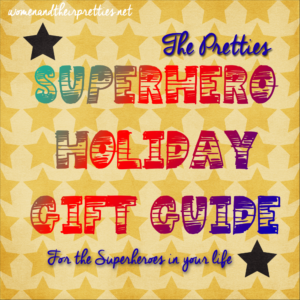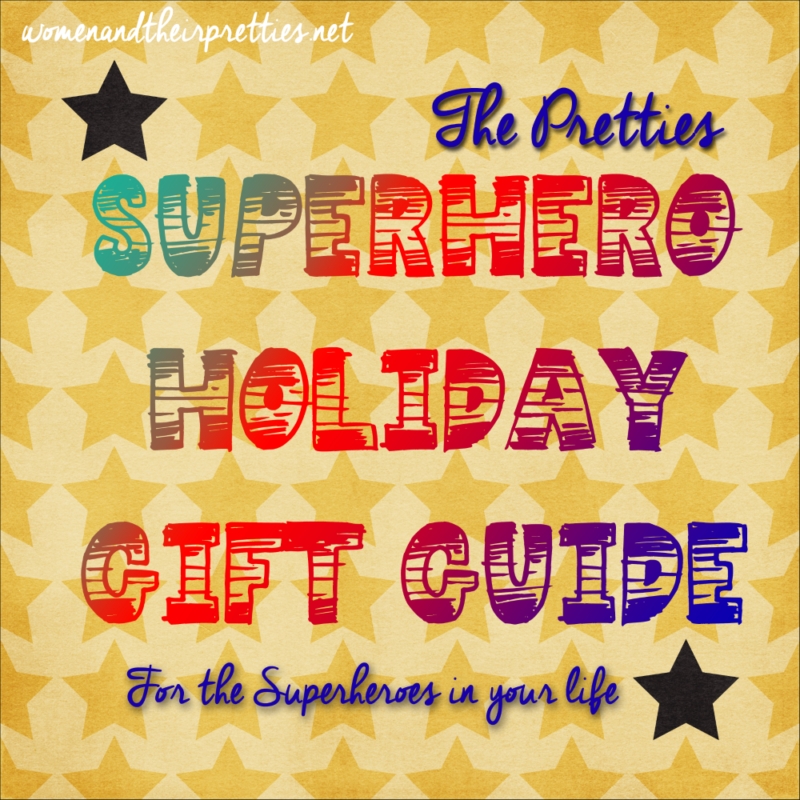 We all have a favorite superhero. Some of us are diehard fans and some of us just love the newest theatrical releases. Almost everyone I know has a superhero that they adore. While shopping for the Holiday Gift Guide, I realized that a lot of my gifts are superhero themed, so I thought, why not create a Superhero themed Holiday Gift Guide. I hope that you find something you're looking for on this list of awesome superhero items! They are separated into different price categories. These are gifts for adults and children! Enjoy!
Shop these awesome guides: Disney Gift Guide / 2015 Holiday Gift Guide

TeeBlox – Subscription Box
Purchase here – $9.99 (Use code PRETTIES for 15% off your first box)
TeeBlox is a monthly subscription service that sends you a t-shirt and other goodies for only $9.99 a month. TeeBlox has a variety of box themes to choose from: Games, Movies & TV Shows, Beers & Liquors, or Hot Meex. I chose Hot Meex because it seems to be a variety of everything. After choosing your theme, you will choose your shirt size, and place your order. 100% authenticity is guaranteed and you can cancel at any time.
---
Spa Wars Celebriduck
Purchase Here – $11.99
In the bath you are. Need to be clean you do. MAY THE BATH BE WITH YOU! The Costume Quackers are all dressed up with SOMEwhere to go: Your bathtub!Guaranteed to float upright! Sealed to keep water out.
---
Crazy Foam
Walgreens.com / drugstore.com / beauty.com– $5.99 ARV
Yes, the Original Crazy Foam™ is back! Now even better with new collectible caps. Collect them all! Crazy characters for fun in the bath tub, shower, or even at the sink. You think you had a good time getting dirty? Just wait until you see how much fun getting clean can be gently, safely and, of course, foamy. Crazy foamy! Never again will bath time be struggle. Now, Crazy Foam arises from the foamy depths of the drain to make bath time fun once again. Our new formula is a fun foam body wash, shampoo, and conditioner. Larger than the original and features an easy-to-access spray button. Still the fun foam we all know and love!
---
Wiley: House of Cards and Philosophy
Purchase Here – $17.95
House of Cards depicts our worst fears about politics today. Love him or loathe him, Frank Underwood has charted an inimitable course through Washington politics. He and his cohorts depict the darkest dealings within the gleaming halls of our most revered political institutions. These 24 original essays examine key philosophical issues behind the critically-acclaimed series—questions of truth, justice, equality, opportunity, and privilege. The amoral machinations of Underwood, the ultimate anti-hero, serve as an ideal backdrop for a discussion of the political theories of philosophers as diverse as Plato, Aristotle, Nietzsche, Machiavelli, Hobbes, and Marx. From political and corporate ethics, race relations, and ruthless paragmatism to mass media collusion and sexual politics, these essays tackle a range of issues important not only to the series but to our understanding of society today.
---
Agent Notes Journal
Purchase Here – $9.99
When investigating a case, a good SHIELD agent takes notes… and now you can too! This Agents of SHIELD journal design features a metal SHIELD logo with dark gray background. See more designs from: Agents of SHIELD

TMNT Pillow Pet
Purchase here – $29.99
A super-soft chenille plush folding stuffed animal. So cuddly you'll never want to put it down! Starts out as your pal, then un-velcro its belly, and it quickly becomes your pillow. This is a perfect Superhero gift for adults or children.
---
Geek Fuel – Subscription Box
Purchase here – $23.90
Each box is packed with geeky goodness – including a full computer game – guaranteed value over $50! Every month includes an exclusive one-of-a-kind T-shirt. All sizes in men's & women's. Every superhero deserves a box of goodies!
---
Couples Batman Pillow Cases
Purchase here – $28.00
Personalized custom pillowcases making the perfect gift for any couple. These Batman pillowcases are great for the superhero men or couples that you know!
---
Wiley: 24 and Philosophy
Purchase Here – $26.95
24 and Philosophy is a book you just can't do without. It's all here, folks: the reason Presidents trust him; how Jack cuts through the lies and ambiguities; why he puts his life on the line for others; and how he knows which knee cap to blow out to get that all-important next lead. With the help of twenty "24 crazed" philosophers, you'll figure out what makes this guy tick, and much much more.
---
Urban Collage Leggings
Purchase Here – $48.00
What would it be like if being comfortable also meant looking amazing? Cherie introduces the concept of the freely dancing masterpiece that has been waiting for it's time to shine. With our leggings—that are simply to be put "out of this world"—you can put your inner crazy and beauty, out to this world. Made from spandex in USA, cut and sewn in house and we test you on your expressive freedom to the limit. We focus more on movement, more on friends, and more on the ease of fun. All of your artistic wishes have been just been answered, and we present the chance to become a part of pop art, and your biggest step has been taken to bring you closer with your muse. So, enjoy life with style because we focus more on art, more on freedom, more on YOU.
---
Groot Rocket Comic Scarf
Purchase Here – $29.99
Before Guardians of the Galaxy was a hit movie, it was a Marvel comic! This full-bleed design features Groot and Rocket in front of a collage of Guardians of the Galaxy comic illustrations! See more designs from: guardians of the galaxy
---
Guardians 8-Bit Shirt
Purchase Here – $23.99
Women's T-Shirt 100% cotton, Charcoal Grey is a 50% cotton/50% Poly Blend 5.6 oz Standard Women's Fit Crewneck Collar Machine Wash ColdSee more designs from: guardians of the galaxy

Coming soon…

Playmation Starter Pack
Purchase here – $119.99 ARV (currently on sale for $99.99)
Playmation is the next step in the evolution of play, where digital gets physical and imagination gets real. Inter-connected products with embedded content let players step into the world of Marvel's Avengers! Control the adventures with wearable gear that lets users feel the battle and puts them at the center of the action. With the Playmation Marvel Avengers Starter Pack, players have the core products they need to carry out their first missions and fight alongside the Avengers in the battle to defend Earth from Ultron! The Starter Pack comes with 4 locations and 25 missions out of the box so that players can jump right into the action! This Iron Man-inspired Repulsor Gear with motion-sensing technology puts players in the Avengers action. Players can strap on the gear and use the motion-based controls to battle their way through missions with three different blast modes, blocking, dodging, sneaking, running, jumping and more. Power Activators bring missions to life with over 20 different enemies, and can load Smart Figures to interact with each character. Players can feel like part of the battle as the Repulsor Gear vibrates with every blast and activates awesome light and sound effects. Playmation TM & Disney. 2015 MARVEL Hasbro and all related terms are trademarks of Hasbro.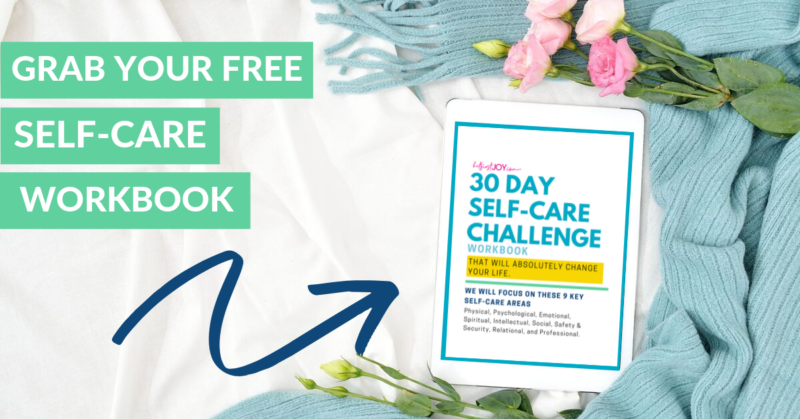 DISCLOSURE
This post may contain affiliate links and/or promotional products, all opinions expressed are that of But First, Joy only. Read my full disclosure.