I have around 10,000 songs on my computer that I have collected over the years. I am in the music industry, so it is definitely understandable. One of my biggest issues with having so much music is definitely organizing it. So many of the songs are named incorrectly, missing the artist, or the album. I have searched for easy solutions to this issue for years. It is WAY too time consuming to manually rename all of my files. I am sure that any music lovers out there know the struggle! Good thing for you, I am here to help you. I have found the best way to organize your music.
About NeatMP3
I have found a software that makes it very easy for you to rename all of your files. While I would love for a program to do it all for me, that is just unrealistic thinking. NeatMP3 is a music organizer for Windows and Mac computers. It is structured in a way that makes it easy for you to change (or add) the song name, artist, genre, album, year, and track. There is no right clicking or pushing "rename" to change the names. It is REALLY simple and easy to use. You simply push "add" to add songs individually or to add an entire folder. Next, you push Start. That's it. Let the RENAME GAME begin! The first song will pop up and you can make the necessary changes. You push Ok, Skip, Or Abort to move forward. Pushing ok will save your changes to the song and bring you to the next one. Pushing Skip, will skip the song and bring you to the next one. Pushing abort will bring you back to the NeatMP3 dashboard. One of my favorite features of this program is that you can push "Play in iTunes" to listen to the song that you are changing. This is PERFECT for me. Every time I begin organizing my songs, I find a ton that I want to listen to right away. It is also a great feature because you can listen to the song to be sure of the name, artist, or any other category.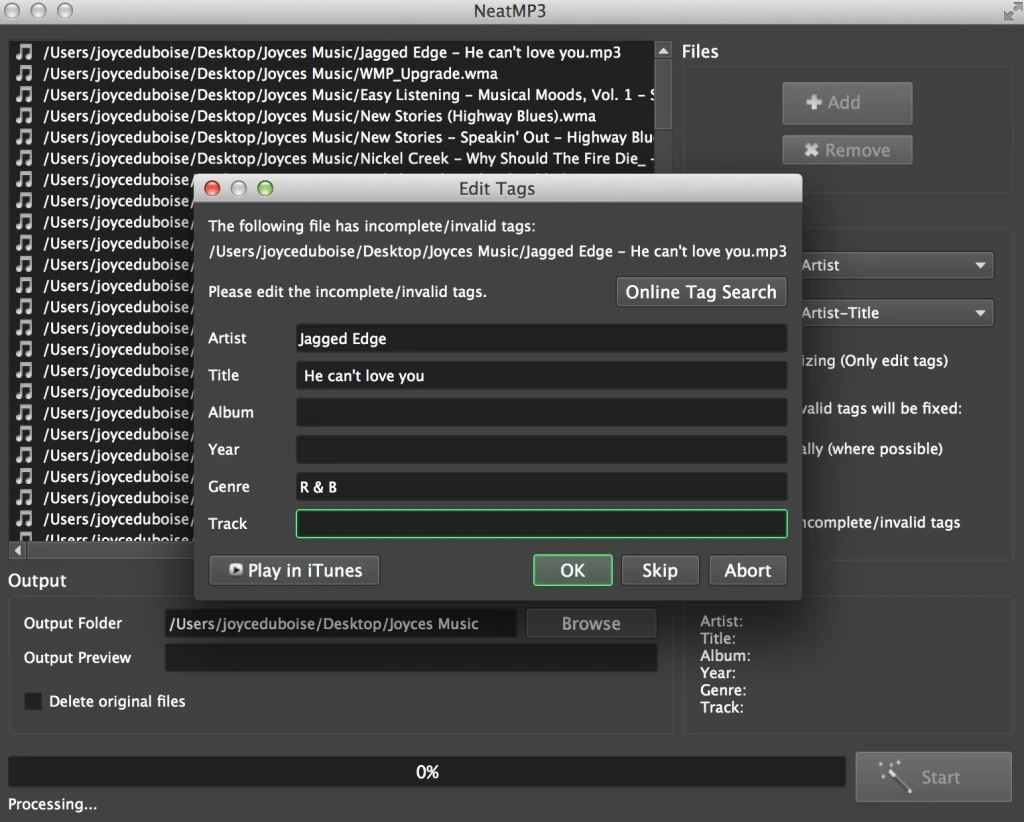 Final Thoughts
Overall, I am happy with NeatMP3. I think it is a great program for organizing your music. It works a lot better than I expected it to. It is fast and easy. Anyone could figure out how to use this program. One thing I would like to see added to this program, is a DELETE button. Sometimes you find a duplicate song or a song that somehow made it on your computer that you dislike. It would be much easier to push DELETE and get rid of it right away. I'd say that with that being my only critique, this is a program that I would recommend to anyone looking for a more organized music library.
Purchase and Connect
To purchase or to learn more, go to NeatMP3.com
Connect on Social Media: Facebook / Google Plus / YouTube