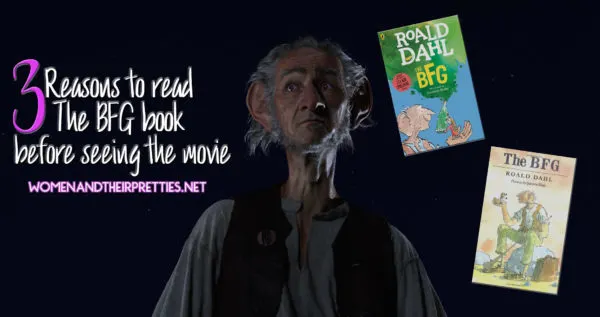 This post contains affiliate links.
I don't have a network of friends that recommend books to me. I'm the reader in my group. I usually stick with my favorite authors, Jodi Picoult and Nicholas Sparks. The only time I branch out is if something is recommended to me or oddly enough if I see a new movie coming out this is based on a book. It's a quirky way of finding new books to read, but it works for me. In fact, when I first saw a teaser trailer for Divergent, I was sure that they were copying The Hunger Games so I had to buy the books to read them just in case, haha. My point is this. It doesn't matter if you read the book or watch the movie first, as long as you keep an open mind with both. Books aren't always better than the movie. The only way you can go wrong is if you don't watch and read. Give both a chance and most of the time, your mind will be blown.
https://www.instagram.com/p/BF-hyomoK43/
There are some books that are so incredibly written and imaginative that you secretly beg for a movie – The BFG is one of those books. It's so weird, funky, and fun! With his own crazy language and massive size, you can't help but wonder what he'd look like on the big screen. Would he actually fit into the big screen? bahaha! This is one book that I think should be read before you see the movie, for a number of reasons.
Building a connection to the characters
One thing that I love about books is the connection I feel to the characters. I get a sense of familiarity and realism when I read the books. The author of The BFG, Roald Dahl, wrote an incredible story that makes you fall in love with The BFG right away. He wrote The BFG to be not only to be a big friendly giant, but to be someone that you feel compassion for. He's sensitive, funny, sarcastic, and quite caring. I ended the book feeling like a kid again and wanting to be friends with The BFG. Walking into the movie with this type of love for the characters makes me so excited. I feel like I am meeting a friend in person for the first time. I can't wait to see how much more I love him after watching the movie!
Draw images in your mind
I absolutely love reading a book and drawing this image in my mind of the characters and the settings. I think it's fun to make up this world in your head and even more fun to see how someone else interpreted it. If you watch the movie first, you will draw your images from what you've already watched. With The BFG this is especially important because it's so fanciful! There are pieces that don't exist in our "human world" so we have to make them up in our head based on the author's description. It's so much fun! Also, the ending in the book is something so unique that I'm not sure that a movie could pull it off.
Learn the BFG's language
If you know nothing about The BFG then you need to know this – he speaks his own language. Giants don't go to school, so he's never been given a proper education. The language he speaks was learned from a book that he "borrowed" and read over and over again. His sentences are backwords and words sound very silly. I giggled throughout the entire book because of the way that The BFG spoke. It's something that will sound funny on the screen, but is even better to read. Also, it will be interesting to hear how The BFG actually says these words since I know that I'm saying them incorrectly.
https://www.instagram.com/p/BFmcg1zoKzu/?taken-by=joyceduboise
If those aren't enough reasons for you to buy The BFG book right now then I don't know what to tell you! It's a must-read and is going on my annual re-read list! I also picked up Roald Dahl's Matilda and James and The Giant Peach. Those were two of my favorite movies growing up. I had no idea that they were based on the books!
Watch The BFG in theaters July 1, 2016