If you loved the book or the original adaptation, then these The Call of The Wild movie quotes will certainly peak your interest!
With The Call of The Wild being released on digital and Disney Movies Anywhere, I thought it was the perfect time to share my favorite quotes from the film.
Unlike other films, many of the quotes are straight from the narrator – which can actually be very appealing. The Call of the Wild follows a dog on his journey through abuse, hard work, and absolute adventure.
This film may appeal to many audiences but viewer discretion should be advised, as there are very sensitive scenes. I recommend reading Week99er's The Call of the Wild Movie Review if you're considering watching the film with children.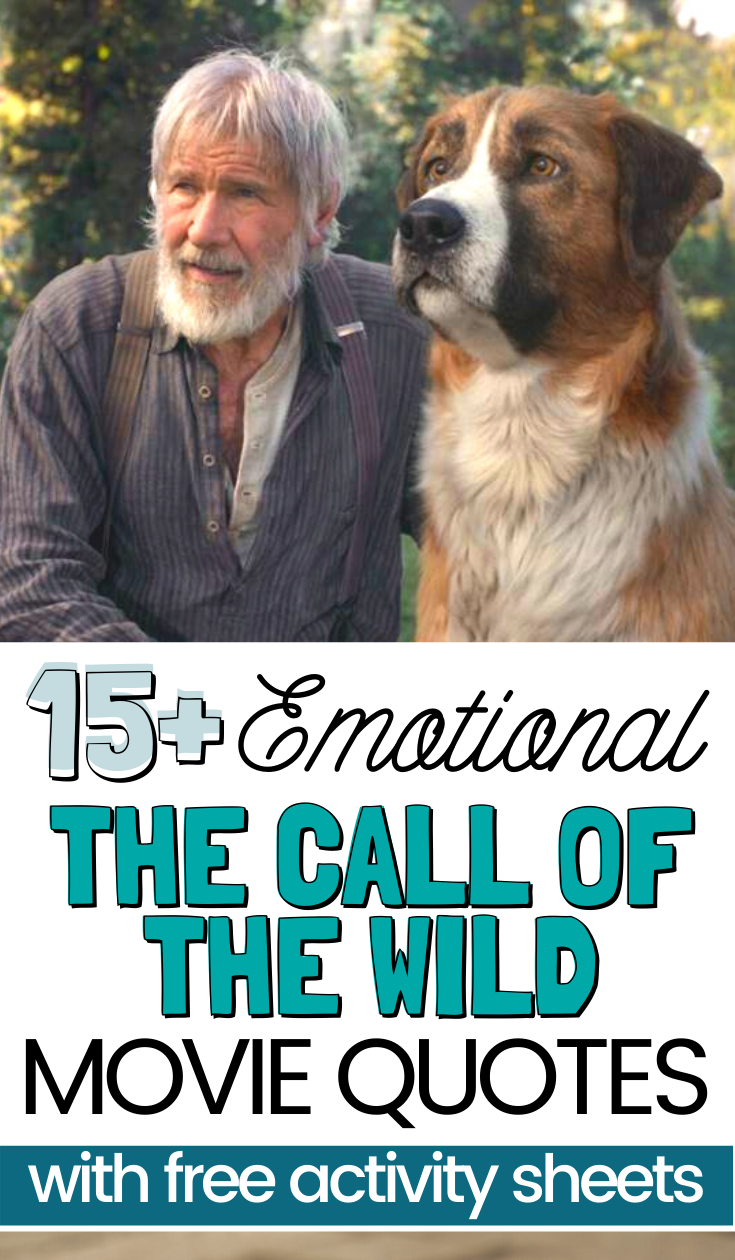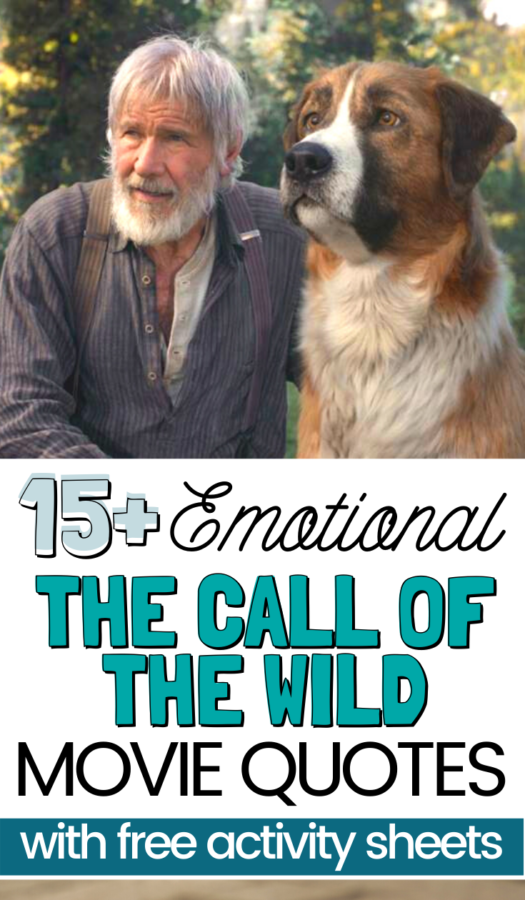 The Call of the Wild Movie Quotes that will make you cry!
Either way, this classic story is sure to capture the attention, and hearts, of many viewers. These The Call of the Wild Movie Quotes from the 2020 adaptation, will give you a sneak peek into this wild adventure. Pun intended.
1. "He was less attentive to his owner's commands than he was to his own instincts." – John Thornton (Harrison Ford)
2. "Buck stood no chance against a man with a club, but he knew that – he was beaten but not broken." – John Thornton/Narrator
3. "Out here, under an open sky, Buck felt a cold he'd never known." – John Thornton/Narrator
4. "Growing up in the world of man, Buck had learned to listen to their voices. Tonight he would learn to hear his own." – John Thornton/Narrator
5. "Doing the work of a sled dog brought Buck confidence and joy. Now he belonged to a pack." – John Thornton/Narrator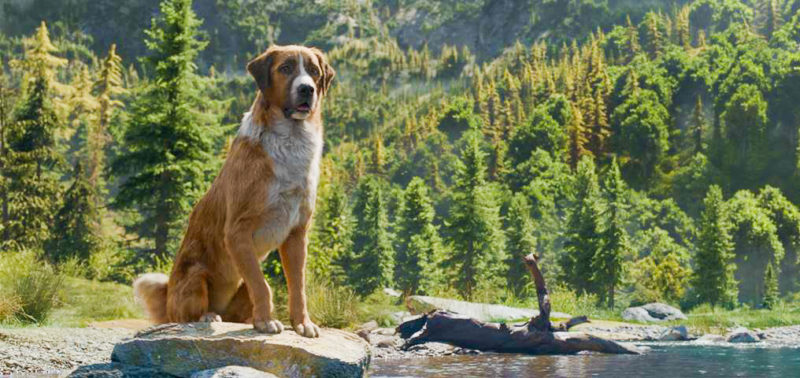 6. "In all his years hauling the mail, he's never been on time but he hauls it every day like he will be – he believes. I've never seen him believe in anything as much as he believes in you; now I do, too." – Françoise
7. "See, Buck, we don't carry mail; we carry lives; we carry hope." – Perrault
8. "I search for a place I will find some peace. But I fear I'll never find it. Because for me there is no home in this world." – Thornton
9. "You're lucky. Buck is the boss!" – Perrault
10. "The ground had shifted under him again. Buck had lost another master" – John Thornton/Narrator
I'm pretty sure you'll also want to bookmark my FULL MOVIE QUOTES Index for the latest and GREATEST quotes!
11. "What are you doing? Begging? You're not my pet!" – Thornton
12. "Your ancestors used to roam here and mine. Back when we were wild." – Thornton
13. "He's still the same dog with me, but its hard to imagine him back in civilization." – Thornton
14. "Is there any house that can hold him? This journey seems to be leading Buck to his destiny. Where is it leading me?" – Thornton
15. "He had been both spoiled and suffered at the hand of man. Now, he has found his own. How far he had traveled… how far I have." – Thornton (Harrison Ford)
16. "There's a new breed of timberwolves in this mountain because the dog that leads the pack." – Thornton
17. "Every summer when he comes down the valley he remembers kind hands before he went to his own, before he heard the call." – John Thornton/Narrator
Adapted from the beloved literary classic, THE CALL OF THE WILD vividly brings to the screen the story of Buck, a big-hearted dog whose blissful domestic life is turned upside down when he is suddenly uprooted from his California home and transplanted to the exotic wilds of the Yukon during the Gold Rush of the 1890s. As the newest rookie on a mail delivery dog sled team–and later its leader–Buck experiences the adventure of a lifetime, ultimately finding his true place in the world and becoming his own master.
As a live-action/animation hybrid, THE CALL OF THE WILD employs cutting edge visual effects and animation technology in order to render the animals in the film as fully photorealistic–and emotionally authentic–characters.
Grab some FREE The Call of the Wild Activity Sheets here!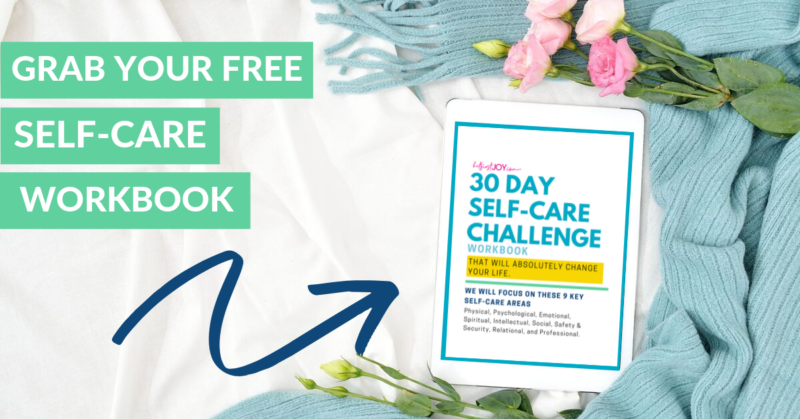 DISCLOSURE
As an Amazon Associate I earn from qualifying purchases. This post may contain affiliate links and/or promotional products, all opinions expressed are that of But First, Joy only. Read my full disclosure.