We all know the story of Snow White. It's a tale as old as time (Ignore my Beauty and The Beast reference – I'm obsessed). What we haven't heard (until now) is the story before Snow White. Aren't you a little curious about what happened before the story that we all know and love? I'm curious about the before and after of every movie that I love. The Huntsman Winter's War is a movie that you want to own. Not only is it an action-packed thriller with a stellar cast, the story is really interesting.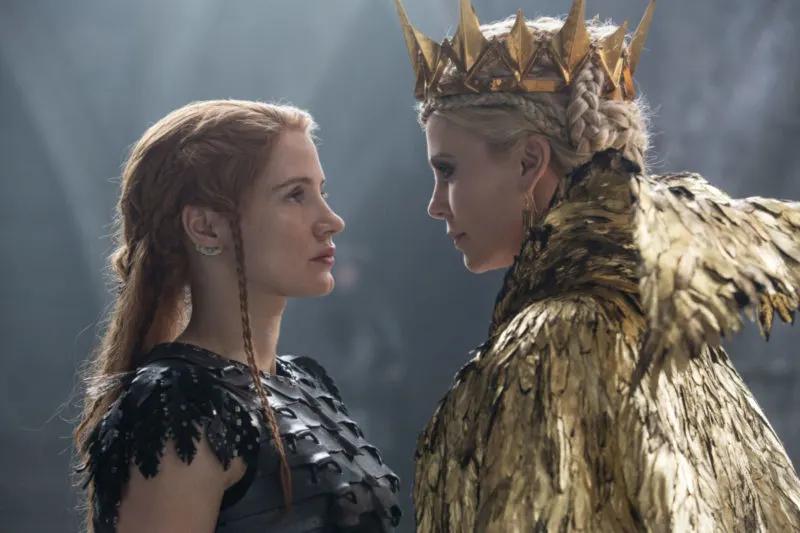 AVAILABLE ON DIGITAL HD AUGUST 2, 2016
4K ULTRA HDTM, BLU-RAY™, DVD AND ON DEMAND ON AUGUST 23, 2016
The Huntsman: Winter's War stars Charlize Theron (Mad Max: Fury Road, Monster) as the evil Queen Ravenna, who betrays her good sister Freya (Emily Blunt: Sicario, Edge of Tomorrow) with an unforgivable act, freezing Freya's heart to love and unleashing in her an icy power she never knew she possessed. Retreating to a kingdom far to the north, Freya raises an army of Huntsmen as her protectors, with the only rule that no two of them should ever fall in love. As a war for domination escalates between the two queens, the hero standing between good and evil is Freya's most elite Huntsman, Eric (Chris Hemsworth: Thor, Star Trek Into Darkness). Alongside fellow warrior Sara (Jessica Chastain: The Martian,The Help) — the only woman who has ever captured his heart — Eric must help Freya vanquish her sister or Ravenna's wickedness will rule for eternity.
We can't forget the bonus features! The entire reason to own this (besides having it in your hands to watch over and over again) is because of the bonus features! This Blu-ray not only has bonus features, it has Blu-ray exclusives and extended & theatrical versions. It's basically everything you could ever want in a Blu-ray of a movie that you love.
BLU-RAY DISC EXCLUSIVES
Two Queens and Two Warriors – The true heart of The Huntsman: Winter's War is found in its three powerful women, Ravenna, Freya, and Eric's lost wife, Sara. Learn how the strength and complexity of the film's female roles drew potent new star power in Emily Blunt and Jessica Chastain, as well as convincing Charlize Theron to reprise her role as Ravenna.
Meet the Dwarfs – Nick Frost's Nion and Rob Brydon's Gryff brought a sense of levity and fun to the adventure — especially once they met their female counterparts. Explore the importance of all four dwarf characters in the film and on set, where the actors who portrayed them earn a reputation for keeping the fun rolling, even when the cameras stopped.
Magic All Around – Rooted in history, but inhabited by magic, the world ofThe Huntsman: Winter's War is a true visual spectacle. Follow along and see how the magic made it to the screen. From Freya's icy freeze to the gold-laden goblins of the forest, explore the visual effects at work with an exclusive peek behind the curtain.
BLU-RAYTM AND DVD BONUS FEATURES
Deleted Scenes with Commentary

Gag Reel
Dressed To Kill – Academy Award®-winning costumer Colleen Atwood returns to help reignite the splendor she brought to Snow White and The Huntsman. A visual feast, her costumes often border on the supernatural in their beauty while helping bring the characters to life.
Love Conquers All — From the infectious enthusiasm of director Cedric Nicolas-Troyan to the sisterly bond shared by Emily Blunt and Charlize Theron, the set of The Huntsman: Winter's War was filled with laughter and life. Actors and artists came together to help create a fairy tale about the pure power of love — and had a blast along the way.
Feature

Commentary by director Cedric Nicolas-Troyan
Lucky for my readers, I am giving a Blu-ray copy of The Huntsman Winter's War! Just use the form below to enter and be sure you scroll all the way down to enter the other giveaways in The Last Hurrah hop!
The Huntsman Winters War Giveaway
Welcome to The Last Hurrah Giveaway Hop brought to you by The Hopping Bloggers!
Hosted by: Mama Smith's & Women and Their Pretties
A group of bloggers have come together to give you some amazing giveaways, all with a minimum prize value of $15 – but some are much more! Be sure to enter them all because there is no limit to how many you can win. Good luck!