Seriously, I couldn't be more excited! Growing up, The Land Before Time was an absolute favorite. I have mentioned many times on my blog before that I've always been into dinosaurs. I find them interesting. I think that my love came from The Land Before Time, We're Back!, and The Flinstones. It's funny how movies inspire us, help us find our passions, and brings out all sorts of emotions in us. The Land Before Time: Journey of the Brave will do just as the others did, it will make you smile, make you cry, and have you connecting with every character on an emotional level. This is a movie that will bring the nostalgia out in all of the adults and will create a new love for all of the children. Parents can introduce this classic film to their families and share the love from generation to generation.
Inspired by the 1988 classic feature film produced by Steven Spielberg, George Lucas, Kathleen Kennedy and Frank Marshall comes
The Land Before Time: Journey of the Brave
from Universal 1440 Entertainment arriving on
Digital HD and exclusively on DVD at Walmart February 2nd!
The world's most beloved dinosaurs return in an all new animated
movie
featuring the voices of Reba McEntire as Etta and Damon Wayans Jr. as Wild Arms. In this exciting adventure five best friends set out on a courageous quest to find Littlefoot's missing dad where they make new friends and learn valuable life lessons along the way. The DVD is packed with laughter, thrills and new music!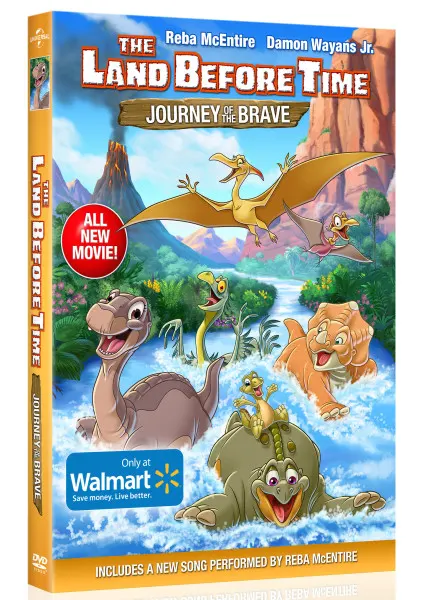 Bonus Features
Sing-A-Long Songs

– "Today's the Day," "Look For The Light," "Hot and Stinky" and "Better off Alone"
Synopsis
Join your favorite young dinosaurs, Littlefoot, Cera, Ducky, Petrie and Spike, on their exciting adventure to rescue Littlefoot's father. As they travel across strange landscapes and meet new friends, Etta (voiced by Reba McEntire), Wild Arms (voiced by Damon Wayans Jr.) Littlefoot and friends discover that by pulling together they can overcome any challenge. Filled with fun songs, surprises and laughter, it's an inspiring tale of friendship and courage that the whole family will treasure.
Connect on Social Media: Facebook #LandB4Time