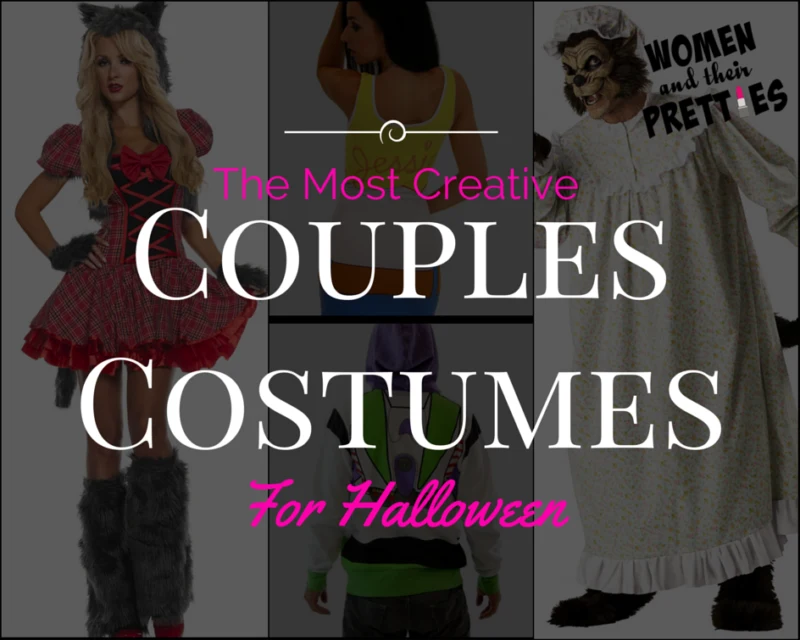 This is my first year dressing up for Halloween since I was a kid. Since I don't have kids, a lot of the holidays are lost on me. This year my boyfriend and I decided to find the best couples costumes to dress up in. Him and I are all about being funny and creative, so we were very selective with our costume choices. I know that there are the typical "plug and outlet" couples costumes out there, but this article is all about being creative. I hope that you find something you enjoy here. We had a lot of fun with these costumes!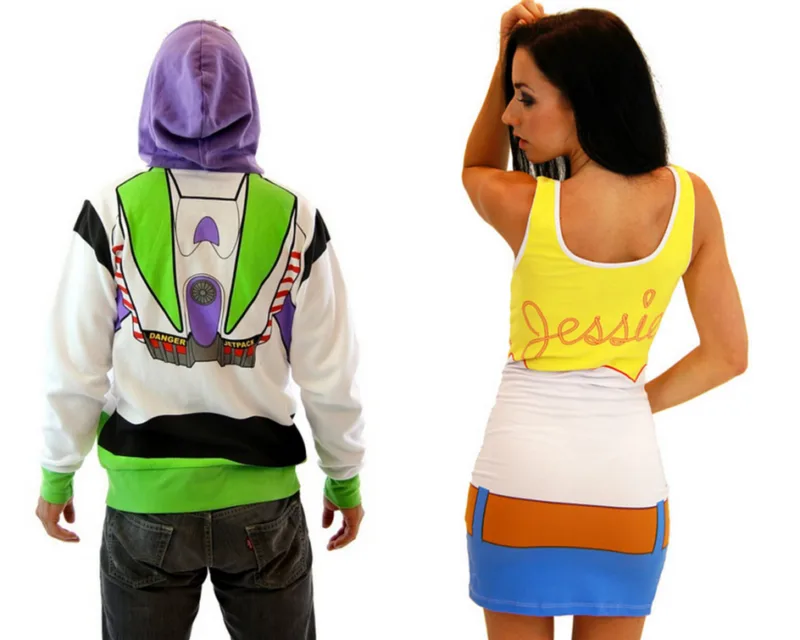 Toy Story: Buzz Lightyear and Jessie
We all love Toy Story. It's one of the most beloved Disney movies to ever hit the big screen. While most people would choose to be Buzz and Woody for Halloween, I thought the Buzz and Jessie would be a perfect couples costume combination. Another fun one is Little Bo Peep and Woody. hehe. So, I go the idea for us to dress and Jessie and Buzz after visiting TvStoreOnline.com. They have a ton of awesome costumes and apparel from movies and tv shows. When I seen the cute Toy Story Tunic Tank Dresses, I thought, "Hmm. I wonder what kind of Buzz Lightyear costumes they have." Then I discovered the Buzz Adult Costume Sweater. I thought that this would be perfect because it can be worn for Halloween and on a regular day. This is perfect for a guy that wants something practical.
I chose the dress in a size medium. I must say, I am not confident enough to squeeze into a dress this small. It ended up being very tight on me, but I am totally making it work! I bought a little blue skirt and white tights. I am going to add some felt cow spots to the leggings to look like Jessie's chaps. Since this dress is see through, I will be wearing a blue spaghetti strap shirt underneath. I also purchased a "To Infinity and Beyond" necklace from a different shop. I thought it would be cute to rep my boyfriend's (Buzz) slogan! hehe. My boyfriend will just be throwing on the Buzz sweater with some jeans. I tried to talk him into wearing purple pants, but he isn't going for it haha.
Keep your eyes on my Instagram and Facebook on October 13, 2015 because we are wearing these costumes to the Mickey's Not So Scary Halloween at Walt Disney World!
Isn't this a fun couples costume? Their website has a ton of other fun couples and group costumes. They have costumes for some of our favorite movies and shows like Breaking Bad, Saved By The Bell, and even Dumb and Dumber. If you want something unique, they have it!
---

Little Red Riding Hood and The Big Bad Wolf
This is SUCH a cute couples costume. It combines sexy, creepy, and humor altogether. I honestly would have never even thought of this idea had in not been for the Couples Costume Selector from HalloweenCostumes.com. I spent at least an hour browsing through their hundreds of couples costume ideas. I must say, they have the best couples costumes that I've ever seen. What's really cool is that the couples costumes have options. For example, there are 36 Little Red Riding Hood costumes to choose from and 18 Big Bad Wolf Costumes to choose from. They even have plus size costumes and additional accessories that you can add onto each costume. How cool is that?
Keep your eyes on my Instagram and Facebook because we will be getting all dressed up in these near Halloween!
I went with a non-traditional Little Red Riding Hood. I wanted something a little sexy, but not too revealing or too "cute". The Exclusive Sexy Red Riding Wolf Costume was the perfect choice for me! I love that LRR has a bit of wolf in her. I think it's cool to imagine that the wolf bit her and she turned into a wolf. haha. This includes the dress, tail, hood, and fingerless gloves. You can purchase furry leg warmers separately. The Elite Big Bad Wolf Costume was too funny to pass up! It's the perfect Big Bad Wold dressed as grandma. This includes everything that you need: granny nightgown, tail, shoe covers, fingerless gloves, night cap, and the mask!
Purchase here: Little Red Riding Hood / Big Bad Wolf
---

Thing 1 and Thing 2
Okay, I love Dr. Suess, so this idea is so cute and fun to me. I have seen this costume idea before, but I love it because it's family-friendly. This idea was recommended by a Elope.com. They have a ton of fun and unique accessories and costume pieces. I love that you can buy so many items individually and basically create your own costumes. This means your options are endless!
Keep your eyes on my Instagram and Facebook because we will be getting all dressed up in these near Halloween!
I love that they have the full Thing 1 and Thing 2 costumes. They have a few different styles, but I really love the women's Thing 1 tutu costume. It's so cute. It comes with the printed t-shirt, fuzzy headband, and tutu! I think this is perfect for the ladies who want to look cute and feel confident! The Thing 2 costume that I like for my boyfriend is the Deluxe Costume. It's so funny! It's basically an adult jumpsuit with "Thing 2" on it and it has the faux fur wig. What's really cool is that the Thing 2 patch is attached with velcro, so you can change out the numbers if you want.
Purchase here: Thing 1 / Thing 2