On Valentine's Day I like to give quality gifts. It is a time to celebrate love, so I like to make it as special as possible. When I heard of the Rove Red Diamonds Collection, I couldn't help but to be ecstatic. Rove is an eco-friendly brand that creates stylish and functional on-the-go products. Their products are perfect for travelers and for anyone that lives an active lifestyle.
What I love about Rove is that every product is made to the best of it's ability AND it is eco friendly. I received 2 pieces from the Red Diamond Collection: 22 ounce Tritan Flavor Infuser Bottle and 24 ounce Stainless Steel/Polypropylene Double Wall Party Cup.
They are so beautiful that I leave them out on my kitchen counter because I don't want to keep something so gorgeous hidden in a cabinet. Not to mention that that they are the most gorgeous red color. My kitchen is full of beautiful red kitchen essentials, so this fits right in. The diamond design on the bottles is what really makes it stand out! It makes it easy to hold and it looks like an expensive glass bottle. Something that I notice in a lot of water bottles is that the lids aren't thoughtfully made. They are typically a cheap and flimsy plastic material that either leaks or breaks easily. The Rove bottles are leak-proof and durable.
22 ounce Tritan Flavor Infuser Bottle
I love Infuser bottles and this one is especially nice because it is leak-proof, BPA-free, shatter resistant, and stylish. My favorite thing to drink with an infuser bottle is cucumber lime water. I thinly slice the cucumbers and add a lime wedge to the infuser basket and I have a delicious, healthy, and fresh drink! I love the flip and sip lid. You push a button and the lid flips open, making it easy to use while walking or driving. The lid click shut, so leaking or spilling is not a concern. I still cannot get over how beautiful the diamond design is! Very beautiful!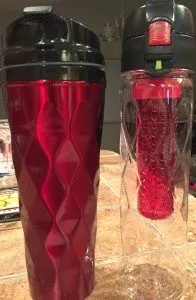 24 ounce Stainless Steel/Polypropylene Double Wall Party Cup
I love the size of this insulated cup! It's PERFECT for a picnic or a day at the beach. It holds enough to share it with others. It keeps your coffee warm or your water cold. It doesn't sweat, so you don't have to worry about a mess. This also has a flip and sip lid, making it easy to drink and easy to protect from spills. I could definitely see myself carrying this on a long car ride. It is large, but it isn't too large to fit right into a cup holder perfectly. The color is just gorgeous!
Gift Idea: Purchase one of these and fill it with candies, makeup, drink mixes, etc and give it to a friend, coworker, mom, or anyone that would appreciate an eco-friendly, functional, Rove product!
Check out all of the TTU products by visiting www.ttustore.com/shop/
Connect with TTU on Social Media: Facebook / Twitter / Pinterest
The Rove Red Diamonds Collection For Valentines Day #BPAFree #LeakFree #ValentinesDay http://t.co/5uQBy3jDiO

— Joyce Duboise (@JoyceDuboise) February 6, 2015
Thank you for reading The Rove Red Diamonds Collection For Valentines Day. Make sure to click on the Valentine's Day graphic below to see all of the items in the 2015 Valentine's Day Gift Guide. Also be sure to retweet this!