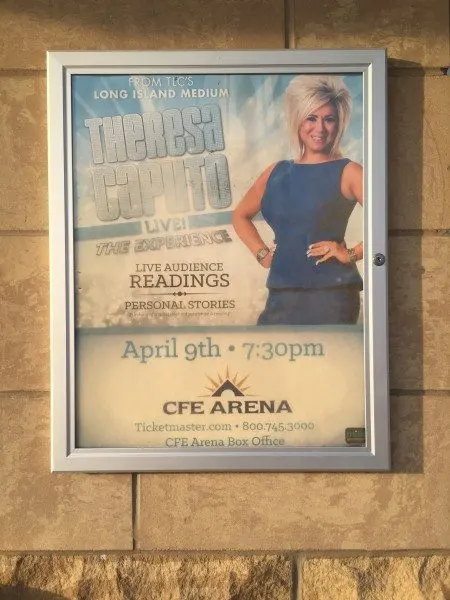 I was given the wonderful opportunity to attend the Theresa Caputo Live! The Experience at the CFE Arena. The CFE Arena is on the UCF campus in Orlando, FL. This arena is the go-to venue for a lot of Central Florida sports and entertainment events throughout the year! In fact, I attended a Cirque De Solei show in this arena a couple years ago. This is on of those venues that you can sit anywhere in and still get a great view. Not that your seats matter because Theresa walks around the entire venue during the show. Something else that is important to mention is that we felt very safe in this arena. There were employees walking around everywhere checking tickets and making sure that everyone was where they were assigned to be. Not to mention how friendly they all were. We got smiles and "hellos" every time we walked past them. What a pleasant surprise that was.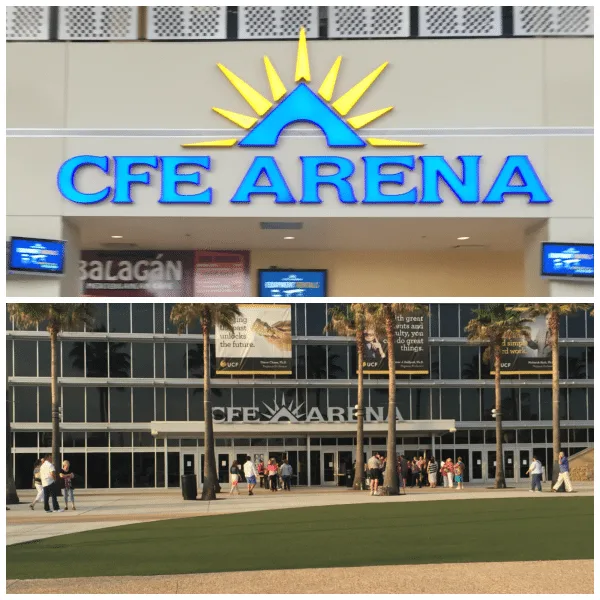 We were even more surprised to see Larry, Theresa's husband, walking around before Theresa came out. He was so friendly, taking photos with people, shaking hands, and hugging people. It is so nice to see someone so supportive and kind. They are famous without being famous, if that makes sense. The crowds were a little crazy when Larry was making his rounds, but the CFE Arena staff made sure that it didn't get too out of control.
While we were waiting for the show to begin, the screen on the stage gave us two keywords to text for a chance to meet Theresa and take photos after the show and for a chance to win Theresa Caputo Merch. That was a nice surprise! I wish more events did this! After running through a few important rituals, Theresa announced the winners of the meet & greet. The winners of the merch received their announcements via text.

When Theresa comes out she has a couple of things that she does. The very first thing is she asks soldiers and veterans to stand up, so we can applaud them and thank them for their service. That was a very touching moment. Next, we all stand and someone in her team (I can't remember her name) sings the National Anthem. It was nice to see how patriotic Theresa is. After the National Anthem, Theresa told us a few stories of her most memorable readings at her shows. There is one thing that Theresa said that really stuck with me. "You don't have to believe. You just have to respect that people are being healed and their lives are changing from this experience." I am paraphrasing, but you get the idea. She also mentioned how you may not receive a reading, but you will walk away filled with so much joy because we are seeing others being healed.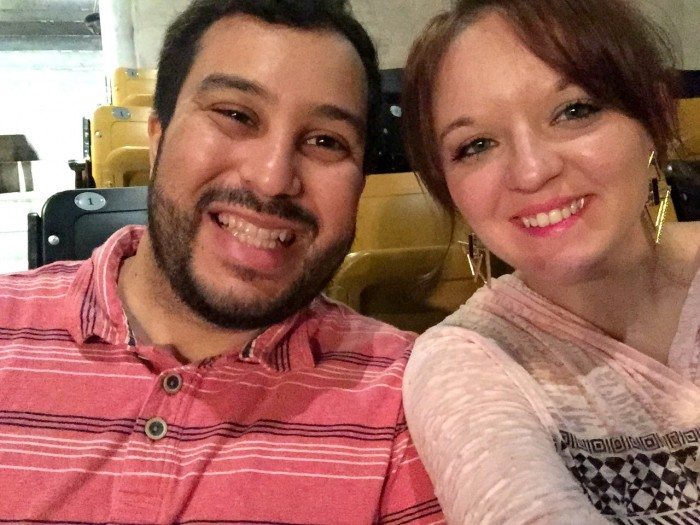 First of all, we were not allowed to take photos or videos during the show, so I don't have many photos to show you. The way it works at a Theresa Caputo Live show is she walks around the venue, as Spirit guides her. Camera men follow her around and live stream the video onto the screen on the stage, just in case you cannot see her. Each person who is receiving a reading is handed a microphone, so we can hear them. I am not going to mention every single reading that she did. Only the few that really stood out among the rest. First of all, I want to mention that I walked into this show, not as a skeptic or a believer. I've always been a fan of Theresa's show The Long Island Medium but I never really knew if I believed or not. I walked in with an open mind and no expectations. I walked out of the show as a believer feeling so much satisfaction for the people who's lives were completely changed during the 2-hour show.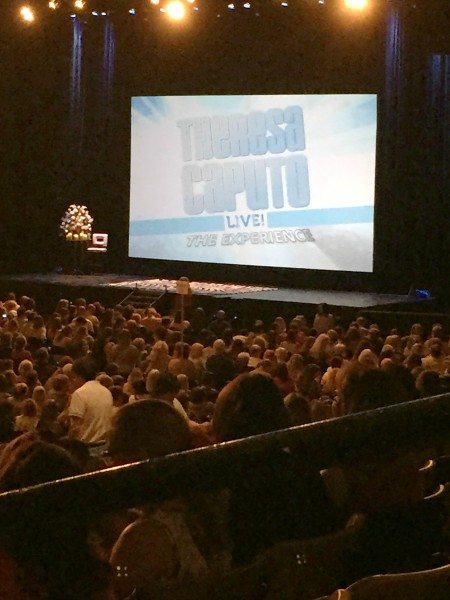 At one point during the show Theresa walks over to a section of the arena and asks who was in a boating accident. I sat thinking, "Yeah right. I doubt anyone was in a boating accident." Theresa described that she felt like she was drowning, which is why she knew it was an accident in the water. To my surprise, a woman and her family stood. 3 of the 4 women were already bawling, so one women took the mic to speak. Theresa then asked, "Who was the young girl?" The woman told her it was her niece and she was hit by a boat when she was in the water. Theresa said, "Spirit is telling me that they didn't find her right away." They said yes, it took 5 days for them to find the poor girl. This was all crazy enough, but it didn't end there. Theresa then asked about a red journal. She said that spirit is showing her writing everything in a red journal about the vents of that dreaded day and about feelings afterward. The woman speaking started to bawl. She said that she used to write everything in a red journal and she burnt it about a year ago. It's things like this that really make you believe. "You can't make this stuff up" as Theresa would say.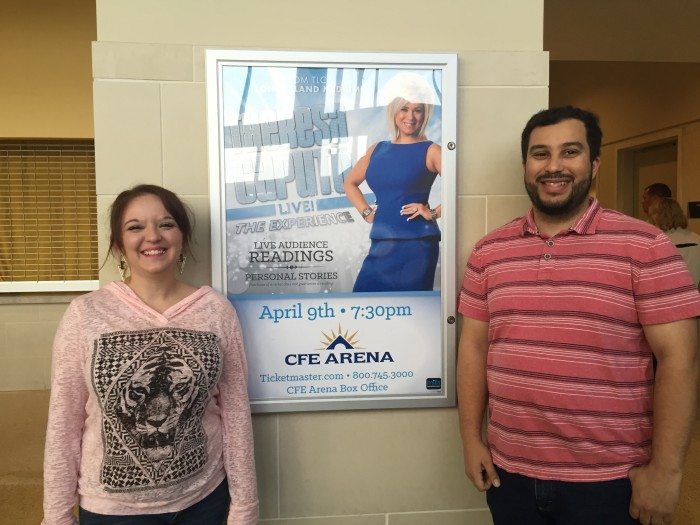 Another story that I have to mention was the most emotional one of the night. She walked past the front of the stage and asked who has a necklace with a thumbprint on it. Again, I was being doubtful and thought, "Obviously she seen the necklace." A woman and man stood up. Theresa said she was seeing a young boy and asked if he died from Cancer. Which was all true. It started with Theresa speaking to the mother. Then her attention was turned to the big tough father. Theresa asked if he had a tattoo is memory of his son. She said spirit is telling her it has his name or face on it. It was his name. The father started crying right away. She then told him that she is being told that he questions all the time if he was a good father and that his son wants him to know that he was the best father. Everyone is crying at this point. She said she is seeing someone covering the little boys face with their hand. The father said that after his son passed, he took his hand and closed his eyes. He said that he waited until everyone left the room to do that, so nobody could have known. Theresa asked what everyone was doing with their hands because she sees a bunch of hands all together in the room with the son. The couple explained how the entire family was there when he died, all holding hands, and holding the boy as he died. One of the other specific things she mentioned was a window. She asked if he (the boy) used to look out a window or had a window in his room. The parents said no. They seemed perplexed. Before the reading was over, she said "Okay, he wont quit talking about this window. He told me to bring it up again and now he is showing a bird in the window." The father looked like he was in shock! He said that there was a bird that would always land in his window in the garage. It was always the same bird and he couldn't believe that she brought that up. Theresa said, "Just know, that when you see the bird it is your son visiting you."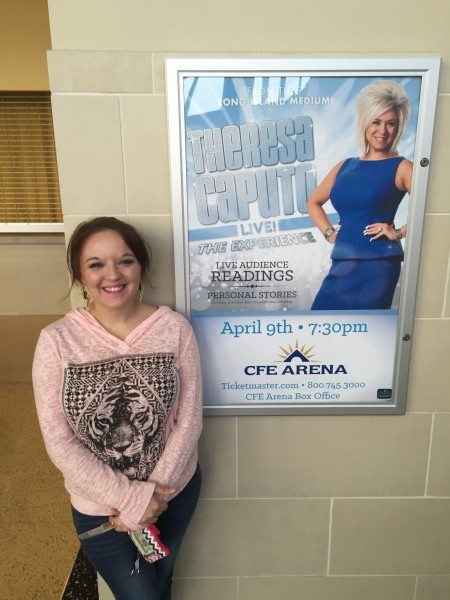 The question I have been asked a few times is, "Is it real?" If you've read this far and you are still skeptical, then I would have to say to go to one of her shows or go to a live reading. We sat watching skeptics become believers. We watched as their mouths fell open when Theresa mentioned personal things that only the loved one who passed would have known. So is what Theresa does real? Are mediums real? Well, I can't speak for all mediums, but I can tell you that what Theresa Caputo does is real. It is life changing. It is not creepy or weird. It isn't evil or against God. She is speaking to the spirits of the loved ones who have passed on and are with God. Theresa Caputo is a healer in a way that many don't understand unless they have experienced it or witnessed it first hand. This experience was real. It was incredible! Thank you to the CFE Arena for hosting this event, along with many other great Central Florida Events! We will definitely be returning to this arena for future events!
Click here to see Theresa Caputo's tour dates
Connect with Theresa: Facebook / Twitter
Click here to see the upcoming CFE Arena events