Maybe you're living in the olden days before television or maybe you have a terrible taste in shows, whatever your excuse is for not watching NBC's This Is Us – throw it out the window because I can't even right now.
Back to the subject at hand, people are taking to social media to ask "why are so many women watching a show that makes them cry so much?" Well, my pretties, I'll tell you why.
It makes them FEEL something.
When was the last time you watched a tv show that genuinely touched your heart? And don't you dare say The Walking Dead or Game of Thrones. We're talking about a show that touches the depths of your being; a show that makes you ache as hearts break; a show that sets your soul on fire; one that makes you belly laugh and yes, a show that makes the toughest woman ugly cry (Seriously, I bet Rhonda Rousey weeps every Tuesday night).
This Is Us is wildly popular for a reason. And it's not because Justin Hartley has a smoking hot bod (although he's quite the eye candy). This Is Us was picked up for a second season after the first episode because it's a show about people like us.
This Is Us doesn't have fairy tale endings that make us feel bad about our own lives. It's quite the contrary. This Is Us reminds us that a perfect life is any love-filled life that you build for yourself. It's a life packed with mistakes, dirty laundry, shameful pasts, family traditions, and unconditional loves.
Women across America are ugly crying because of the love, loss, and reality displayed in this masterpiece.
We're reflecting on relationships with our own estranged parents as Randall and William build a road made of forgiveness and connection.
Suppressed childhood memories are resurfacing as we watch young Kate all alone at her birthday party.
We're all of a sudden more understanding of young men and women, like Kevin, who don't have it all figured out.
We're realizing that the grass isn't always greener on the other side, even if you're a big TV Star.
We're bawling and laughing hysterically as we watch perfectly imperfect parents, Rebecca and Jack, struggle to support a family of 5.
We're hugging our loved ones a little bit tighter every night as we watch this real family deal with real situations.
This Is Us touches on obesity, infidelity, loss, equality, self-worth, and more!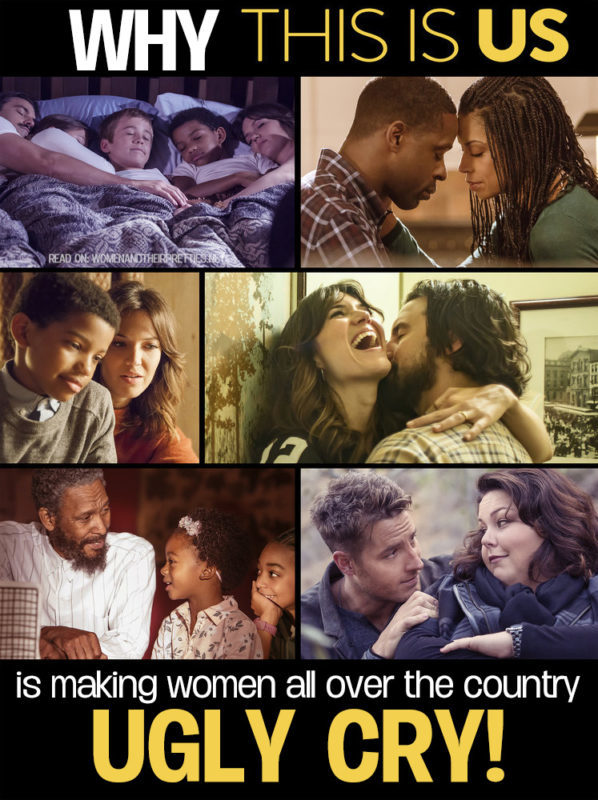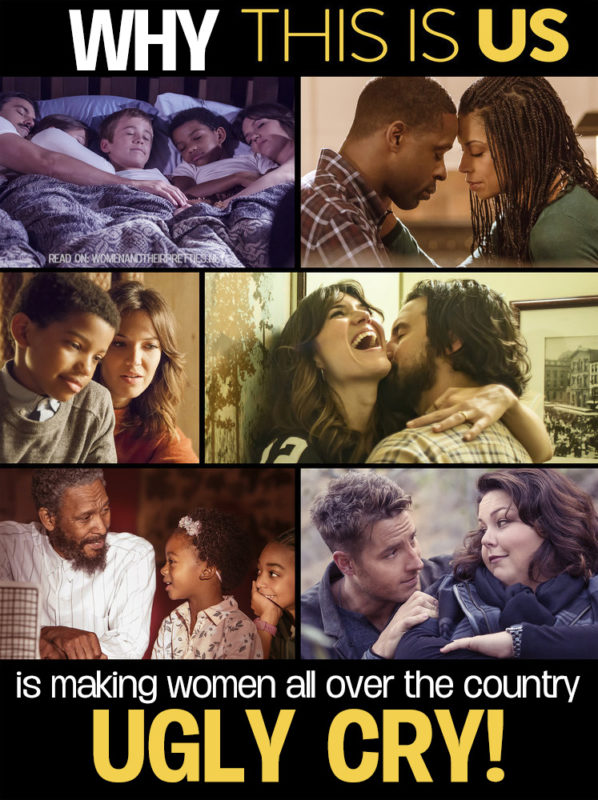 This Is Us isn't just entertainment. It's not a show you watch as you're cooking dinner or playing board games. This Is Us is therapeutic for women like me, who need a little reminder that sometimes things are going to be really bad – but that's okay. With every storm comes a rainbow and as long as you have family, love, and hope – then you have everything.
So why are women all over America ugly crying over This Is Us?
Because they are us. This is us!
Watch This Is Us on NBC 9/8c – Returning March 7th