Cabeau is a brand that travels. I mean, they MUST travel. A company could not create travel products THIS useful if they did not travel. How fun would that be, to just take a drive, a flight, or a train for "research and testing purposes" of the products? I'd say that the innovators know what is important when traveling. Whether you are traveling for business or pleasure, COMFORT is a MUST. Traveling can be very overwhelming as it is, you don't need to add comfort on the list of things you hate about traveling. Cabeau knows what travelers want and they give them what they want. Their travel products are seriously some of the best I have ever used.
The Cabeau Complete Travel Kit has everything that you could possibly need on a trip in regards to comfort and convenience. This 5-piece travel kit will make your travels a lot more comfortable. I promise. You can buy the complete kit or you can purchase the items individually. Each item is well designed and will be the first items that I pack for my next trip!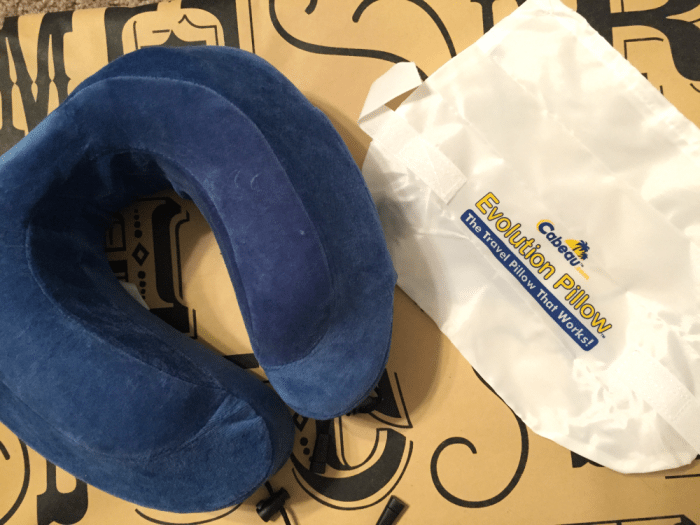 I LOVE this pillow. I have always hated travel pillow because they were always uncomfortable. I have tried the blow up pillows and the regular cushioned pillows. I have even tried other memory foam pillows. No neck pillow has ever satisfied my comfort. I would always end up just using it like a regular pillow, which defeats the purpose. I am not kidding when I say the Cabeau travel pillow is the best I have ever used. The cloth material is very soft, so your face and neck wont get irritated. The design of the pillow is what really makes it special. The raised sides and memory foam are what I have fallen in love with. My neck doesn't fall to the side uncomfortably like with other pillows. It rests nicely on the memory foam and the best part is that I can use the adjustable toggles to keep the pillow exactly where i want it. It also has a side pocket for your ipod or cellphone and it rolls right up into the bag that is included!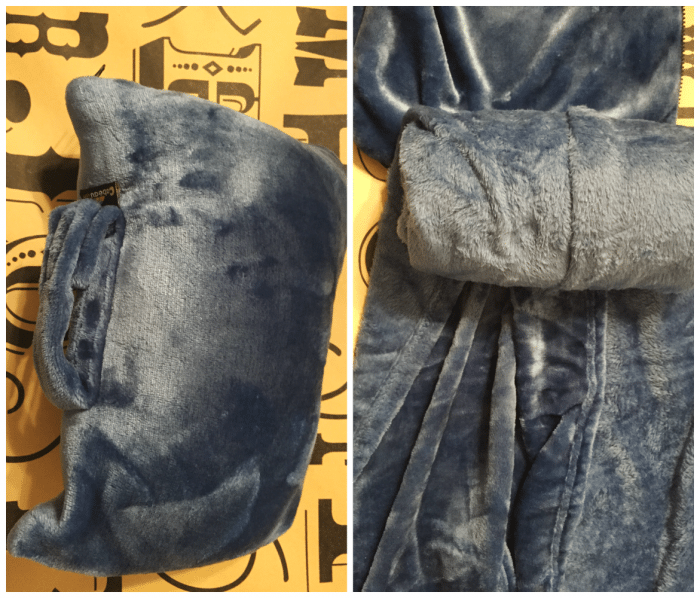 The very first thing you will notice about this blanket is how unbelievably soft the carrying cover is. It's so soft that you just want to hold it forever. hehe. It's really adorable and perfect for anyone. It has an adorable handle to carry it with. The handle can be attached to your luggage because it has a Velcro closure. It unzips and you can pull your blanket out, which is just as soft as the case! I don't only use this blanket when I travel. It's perfect for a nice cover up while watching movies on the couch. It's a very thin and light blanket, giving you just enough warmth. It's actually longer than a lot of throw blankets that I have (I collect them). When you aren't using the blanket itself, you can keep it in the case, using it for a pillow or for lumbar support.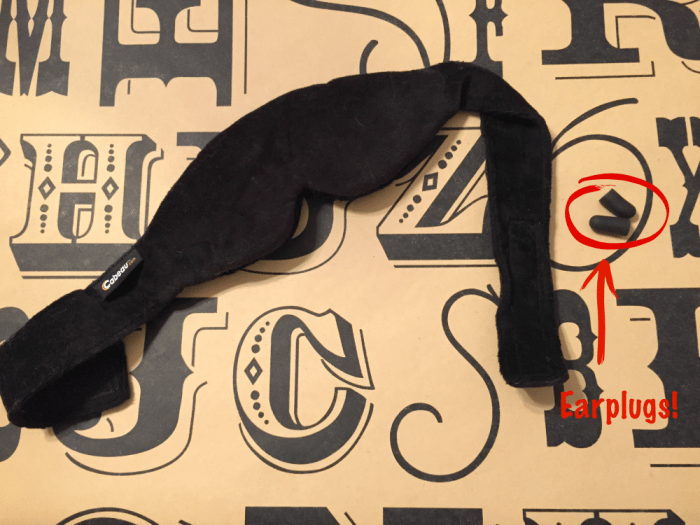 3. Midnight Magic: Adjustable Sleep Mask
I have never used a mask that literally keeps ALL light out. No matter how bright it is around you, you will see pitch black. The mask completely blacks out all light. Because of the inner, rounded eye liners, you can move your head around and no light will shine through the sides. It wraps around your head with velcro, so it's a PERFECT fit for you! It is cushiony and comfortable. It even includes a free pair of earplugs which are tucked neatly into a pocket on the side of the sleep mask. Even the nose bridge on the mask is adjustable! It is such an innovative sleep mask. They have really thought of everything!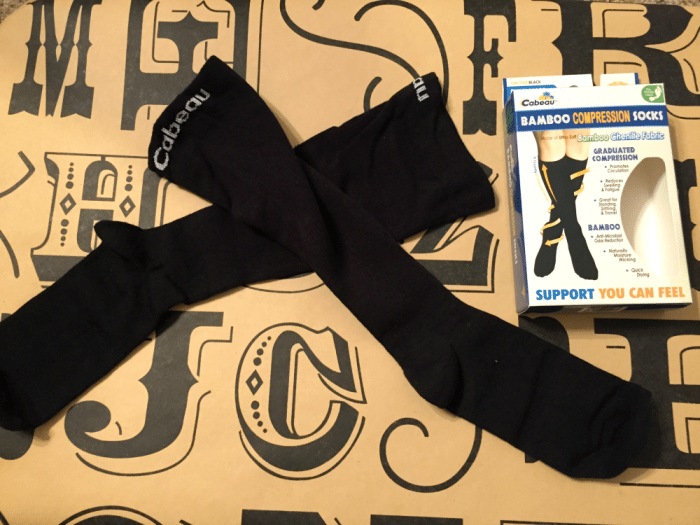 I never would have thought to wear compression socks while traveling. It's a genius idea!! It reduces swelling and fatigued legs because it helps with circulation. There are nights when my legs ache when traveling! I will definitely use these on my next adventure whether it be on a vacation or during a busy day out. They are quick dry so you don't have to worry about sweating. This is a great addition to this kit!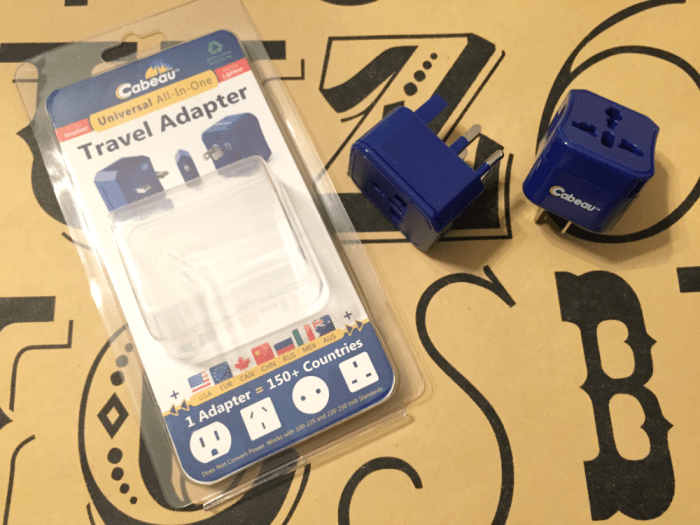 5. 4-in-1 Universal Travel Adapter
Another incredible idea that I would have never thought of on my own. I have never traveled out of the country, so I haven't really thought of needing this, but I am glad I have it for when I do. This is really great for those who are lucky enough to travel the world. The universal adapter works in over 150 countries! Great idea.
I am absolutely in love with this kit! It has everything you will need while traveling. My entire kit is a pretty blue, but when you order you have options for colors and the socks size. I think this would be a GREAT gift for travelers or for yourself. Cabeau literally thinks of everything with their travel products. All of their travel products exhibit convenience, like the secret pocket for the earplugs on the sleep mask. There's nothing better than comfort and convenience with Cabeau!
Connect on Social Media: Facebook / Twitter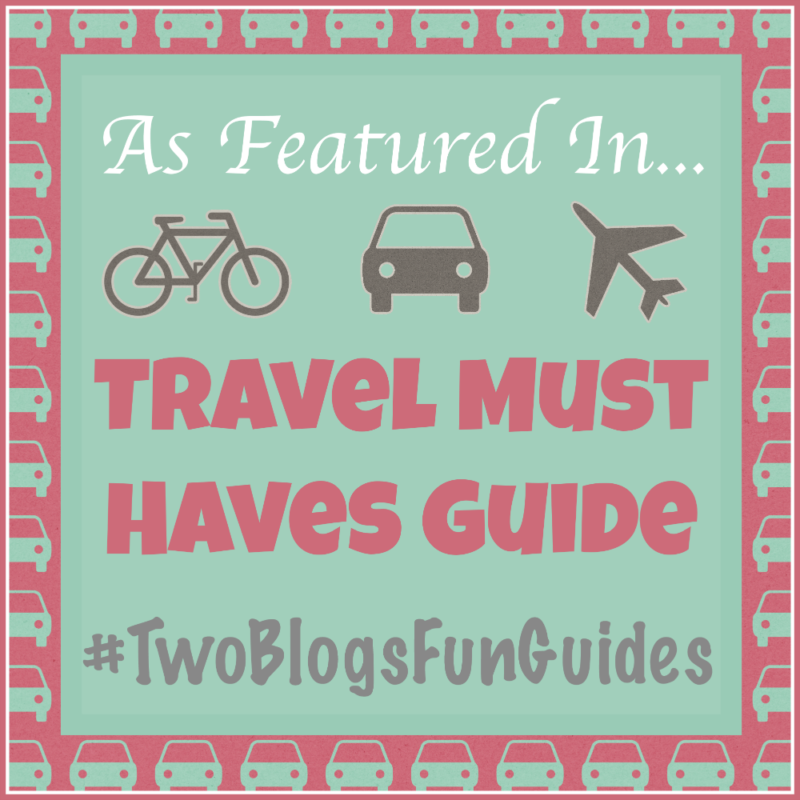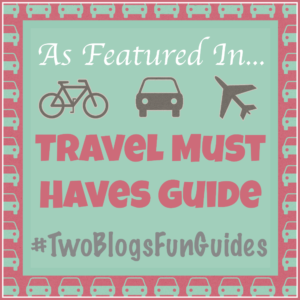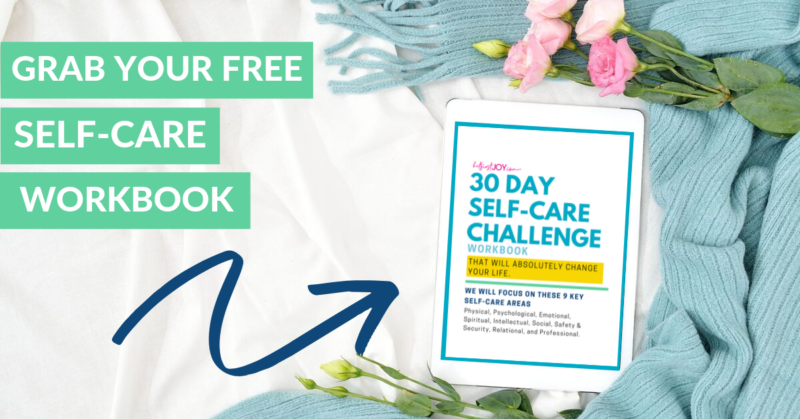 DISCLOSURE
As an Amazon Associate I earn from qualifying purchases. This post may contain affiliate links and/or promotional products, all opinions expressed are that of But First, Joy only. Read my full disclosure.