Want the scoop of the Trollhunters Season 2 cast, storyline, and other juicy little details? I've got all that and more here for you after my exclusive interview with the Trollhunters creators. This event was hosted by DreamWorks, but all wild opinions are my own.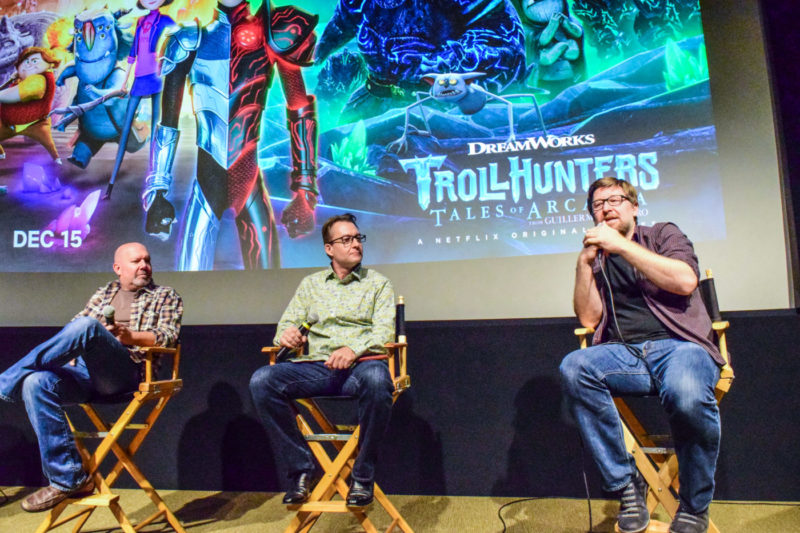 Okay, so Trollhunters is kind of a big deal. In fact, it's one of the top rated animated Netflix shows of all time. That's a huge honor for a show that was created on a whim. It doesn't surprise me considering the wild world that's been created from basically nothing. This animated show has turned mythology into something for the geeks to introduce to the cool kids. So what's the scoop that I'm talking about? Well, I've got all the best details here for you in this exclusive interview with the Trollhunters creators. Before I get into that, check out this Trollhunters Season 2 exclusive clip!
Interview with Trollhunters Season 2 Creators
I had the pleasure of interviewing the Trollhunters Executive Producers: Marc Guggenheim (Arrow, Legends of Tomorrow), Rodrigo Blaas (Alma), and Chad Hammes (Dragons: Race to the Edge) about bringing Trollhunters back for a second season. They gave us an insiders look at what it takes to make such an epic show that grips an audience from episode to episode. After all, Season 1 was an ambitious 26 episodes long!
1. Building & Expanding the Dark Lands in Trollhunters Season 2 was a lot more difficult than it may seem. 
While the seed was already planted for The Dark Lands, the Trollhunters Season 2 producers wanted to ensure that the Dark lands lived up to everything an audience wanted. The land is much larger than they ever imagined, so they took their time perfecting every little detail. Marc Guggenheim elaborates:
It was a really defining moment for our team to separate the lands and our characters to be individuals that stand on their own as opposed to Jim and the rest of the group. I think that is really one of the stronger points in Season 2. It definitely gave us a canvas that was more rich.

2. The characters' choices have consequences – as shown in S2
In Season 2 you can expect to see the characters deal with the consequences of their decisions. Rather than each episode having a story (as with many animated shows) this is a long journey throughout the season. Basically, it's not all sunshine and rainbows and it's not always a happy ending. Chad Hammes elaborates:
You get to see the growth with the characters like Jim and also Clair and Toby.
Hmm. What do you expect to see from them?
3. What's in store for Trollhunters Season 2?
Trollhunters Season 1 was all about setting up the characters and introducing an audience to the world of the Trollhunters. We got to see the creation of the Trollhunters team. In season 2, we get to see all of these stories build into something much greater, as described by Marc Guggenheim:
We get to play in Season 2. You get to meet different kinds of trolls and go to different places. It's really comes across in the second season that there's this strong team of Trollhunters. Toby and Claire really come into their own in Season 2. Instead of being cliché characters, you really get to see who they are as individuals.
4. We get to see Clair as a very strong, powerful female character
While Clair was basically labeled as the love interest in Trollhunters Season 1, her character doesn't just stop there. We get to see her as a strong, powerful female character – which has me even more confident in sharing this with my audience!
The Shadow Staff is a very powerful & dangerous weapon and that's going to bring Claire to wrestle with that. We always saw this season as the season of Claire.

Claire's arguably the most powerful of the 3. Because her weapon is powered by emotion, it really takes a toll on her. You'll get to see the consequences of her actions especially towards the end of Season 2.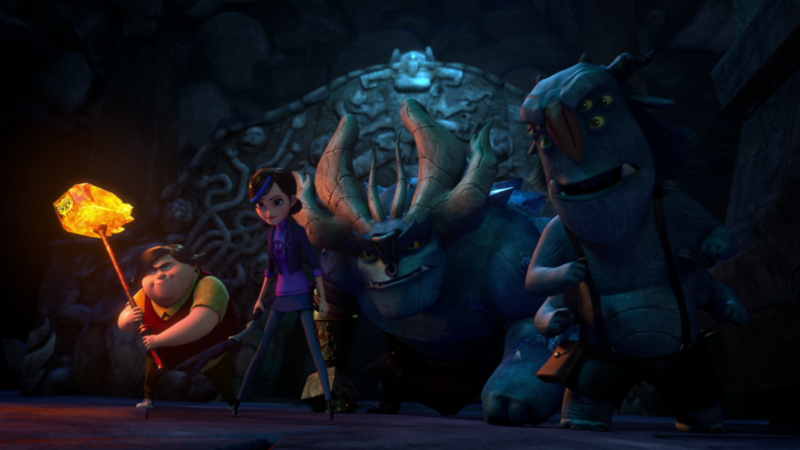 5. AAARRRGGHH!!! will definitely come back in Trollhunters Season 2
It was officially confirmed by the creators. That it all.
6. There's a new form of Goblins in The Dark lands
You can expect a lot from Season 2 and specifically a new form of goblins, a mythology back story on the villains, and more!
7. "Wizards" will be the third series in the trilogy
A new mythology is slowly being built in Season 2 based on Claire's incredible powers and we get to see it completely come to fruition in Season 3.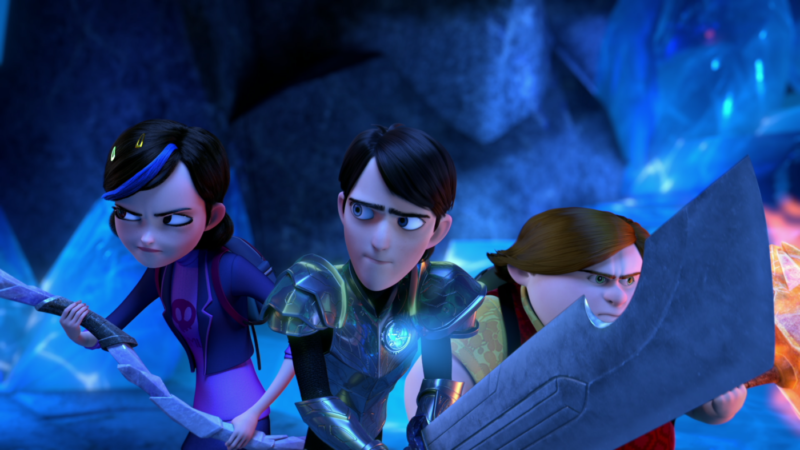 8. Trollhunters Season 2 Cast Spoilers
Mark Hamill plays Kelsey Grammar's character's evil twin brother. That should be fun!
There's a very fun and interesting family reunion with those two. It's very easy to just think of Mark as Luke Skywalker and you kind of forget that he's nothing like Luke Skywalker. He's such an unbelievably talented actor. Even as a voice actor he's got such control of his instrument.
What about Lena Headey…
The only thing we can tell you about Lena Headey is that the first day she came into record she said, "Finally I can play a villain that I can show to my kids." David Bradley and Lena Headey are total pros. It's such an honor to work with someone of their caliber. You'll get rewarded from these characters all throughout the trilogy.

Her character has very significant connections to our trilogy mythology and very specifically Clair's staff and Jim's armor.
Part 2 features new voices Mark Hamill, Lena Headey and David Bradley, who join Kelsey Grammer in his Emmy-winning role as Blinky, Steven Yeun (Steve), Anjelica Huston (Queen Ursurna), Jonathan Hyde (Strickler), Amy Landecker (Barbara) and Charlie Saxton (Toby). The late Anton Yelchin, who completed recording through Part 2, voices the lead role of Jim Lake, Jr.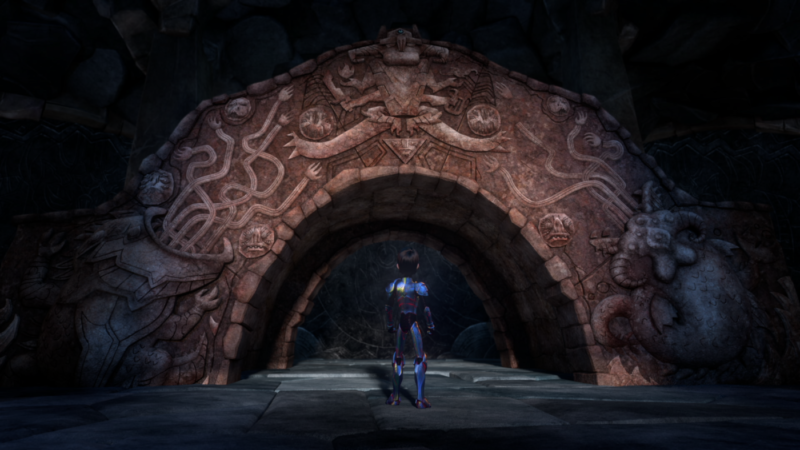 9. There's a big twist coming with Queen Ursurna that will affect all of the characters!
That's all I can say about that.
10. Trollhunters is meant for kids to introduce to their parents, rather than the other way around.
When it comes to mythology, we're familiar with introducing it to our children. These are stories we've heard our entire lives so we want to bring our children into the stories. However, Trollhunters is meant to be the other way around. Since this is a new mythology it's meant for children to watch & fall in love with and then draw their parents in. It's a family show that everyone can relate to in some way.
Available on Netflix Dec. 15th!
In Part 2 of the epic saga DreamWorks Trollhunters, ordinary teen-turned-Trollhunter Jim Lake Jr. faces new challenges in his continued battle to protect his hometown of Arcadia and the fantastical Troll world he inherited. Jim's risky decision to enter the Darklands unearths startling discoveries, forcing him and his friends to face gripping consequences as they race to end the battle against evil.
This global family viewing event from acclaimed filmmaker Guillermo del Toro will bring viewers of all ages together, debuting only on Netflix, Friday, December 15.
The Netflix original series premiered on Dec 23, 2016, with the first-ever 26-episode debut, which lead the Creative Arts Daytime Emmys with six wins, more than any other program, including writing for an animated program (Marc Guggenheim), directing (Rodrigo Blaas, del Toro), casting (Ania O'Hare, Mary Hildalgo) and a voice acting win for Grammer.
DreamWorks Trollhunters is created and executive produced by del Toro with Marc Guggenheim (Arrow, Legends of Tomorrow), Rodrigo Blaas (Alma) and Chad Hammes (Dragons: Race to the Edge) and Christina Steinberg (Rise of the Guardians) serving as executive producers. Dan Hageman (The Lego Movie, Ninjago) and Kevin Hageman (The Lego Movie, Ninjago) serve as co-executive producers.
Enter to win a Trollhunters Giveaway
You're entering to win the following in a Trollhunters Toy prize pack valued at over $100:
Trollhunters: Tales of Arcadia – FUNKO FIGURINE; AAARRRGGHH; "3 3/4 INCH FULLY POSABLE ACTION FIGURE" STICKER 

Trollhunters: Tales of Arcadia – FUNKO FIGURINE; BLINKOUS GALADRIGAL; "3 3/4 INCH FULLY POSABLE ACTION FIGURE" STICKER

Trollhunters: Tales of Arcadia – FUNKO FIGURINE; BULAR; "3 3/4 INCH FULLY POSABLE ACTION FIGURE" STICKER
Grab Trollhunters Gifts on Amazon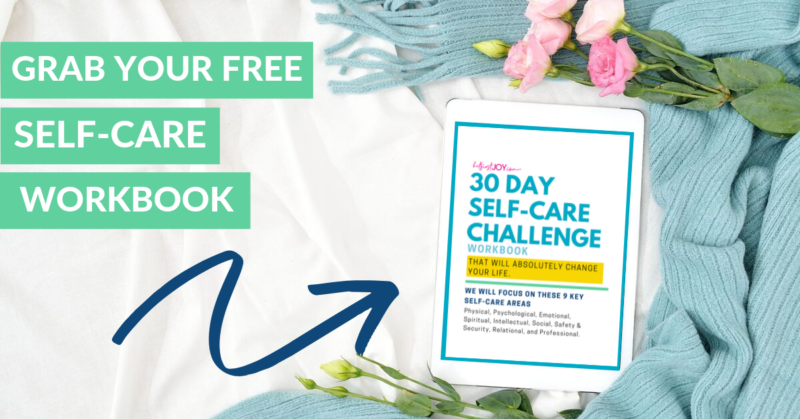 DISCLOSURE
As an Amazon Associate I earn from qualifying purchases. This post may contain affiliate links and/or promotional products, all opinions expressed are that of But First, Joy only. Read my full disclosure.