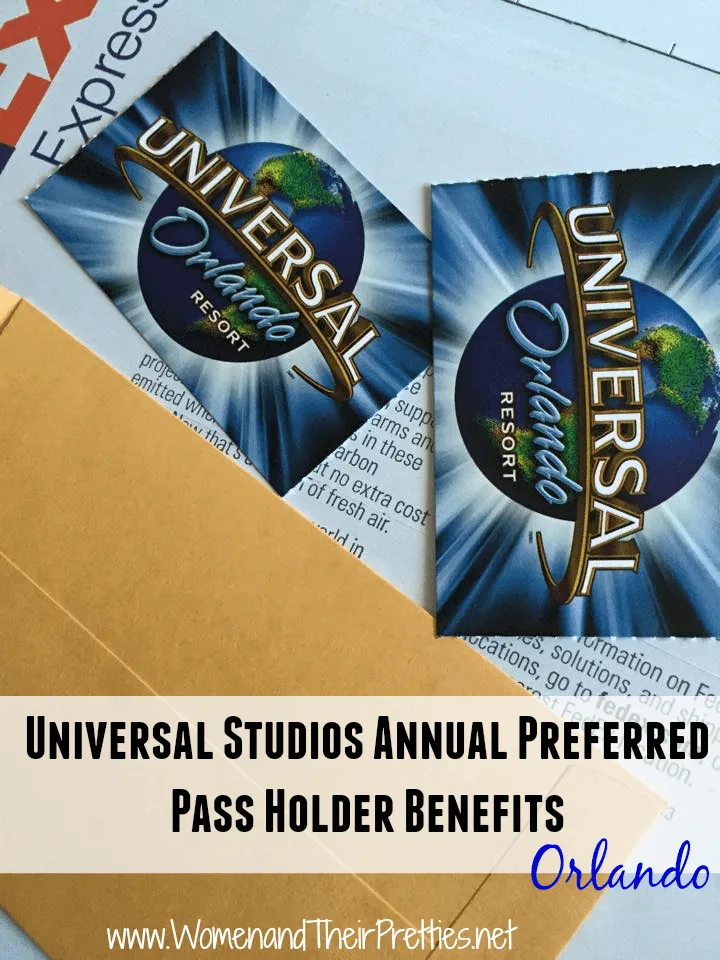 #CentralFloridaSaturdays
I have lived in the Orlando area for about a year now. I am a good 40 minutes from Universal Studios and all of the other amusement parks in Orlando. I am a 20 somethin' year old that loves amusement parks! Since I was a kid, I was a HUGE fan of Universal Studios. Being a Floridian, I have been to Universal at least 20 times in my life. My boyfriend and I have been weighing the pros and cons of purchasing an annual pass at one of the amusement parks, but we wanted to get the best bang for our buck! After much research, my boyfriend decided to surprise me with a Universal annual pass to Universal for Christmas!
My boyfriend is very careful and particular about his purchases. In other words, he makes sure that he doesn't regret them later. The Universal Studios Annual passes were one of the best purchases that we have made. The benefits are incredibly worth it! I know that many people have concerns when purchasing an annual pass to an amusement park. I am here to answer all of the questions that we had before taking the big leap. I will also explain to you all of the perks!
There are 3 options when purchasing an annual pass: Prices are as of Jan 2015
Power Pass ($189.99 pp) – Park to Park with blockout dates
Preferred Pass ($259.99 pp) – Park to Park no blackout dates
Premier Pass ($384.99 pp) – Park to Park with all the perks
---
What are the benefits of an Annual Universal Preferred Pass?
1. Free Parking. This is one of my favorite perks of the annual pass. Parking is really expensive ($17-$25). Even if you are taking a trip to CityWalk, it is completely worth it. If you go enough, you will pay off your tickets! haha
2. CityWalk. Whether you want to shop, eat a nice meal, see a movie, or play a few rounds of mini golf, City Walk has it all. They have casual and fancy restaurants. The AMC theater is very nice and they are always playing the biggest films! They recently added a fun mini golf course and they are currently building something new there. The nightlife is incredible! You can hit up the nightclubs or watch the street fun (DJs, Hoola-hoop contests, etc.)
3. Discounts on food and shopping. Obviously, as with everything, restrictions apply. However, most of the places in Universal and City Walk will offer you a discount for being an annual pass holder. In fact, we have visited twice in the past month and every place we visited offered a discount, even the AMC theater. Yes it may be a little bit here and there, but it does add off and it chips away at the annual pass cost.
4. Two parks, one pass. You can visit both parks as much as you want 365 days a year! You can take a ride on the Hogwarts Express from one park to another. This isn't your ordinary ride though! It's an experience and a bit of a show. There is nothing like a sweet ride from one park to the next! You get the best of both worlds. Adults and kids alike will LOVE picking and choosing which park or restaurant they want to eat at. Each park is unique and fun. You can't visit one park without visiting the other. It is just too tempting to pass up!
5. Concerts. Every year Universal has a a month full of concerts. With the Preferred annual pass, you can attend these for FREE! These aren't measly musicians or local bands either. These are well known artists! For example, this year Kelly Clarkson and Barenaked Ladies will be there, among 14 other musicians. You can attend these at no additional cost.
So, Is it worth it?
If you factor in all of the money you are saving with the discounts, frequent visits, free concerts, and parking- you are really making out like a bandit! Visit 2-3 times and the annual passes have already paid for themselves. Don't forget that you don't have to pay for the tickets all at once. You can pay them off monthly if you choose to.
The only thing that I would like Universal to consider changing is the pass itself. Every pass is just a piece of paper. It would be nice to get some sort of card, especially since you have to keep it safe and in good condition for a year! It would be cool is annual pass members got a free lanyard or something similar to make them feel a little bit more special! If you're considering picking up Universal Orlando tickets, I hope you keep these perks in mind.
Purchase Yours Universal Pass Holder Tickets Here
The views expressed here are my own. I was not compensated in any way to write this post.